One thing that inspires me to write this blog is getting the chance to introduce you to new denim brands. In this case that "new" denim brand has been around since 1995. FOB FACTORY is a brand you may, or may not have heard of. But I'm betting that even if you have, you probably don't know a whole lot about them. I didn't. In any case, join me as I dive into the brand that has been making high quality denim garments in the city of Kurashik, of the Southern Okayama Prefecture, for over two decades.
FOB's highly experienced craftsman take pride in creating their garments with custom fabrics and meticulous sewing techniques. They focus on fit and minimal classic styling. "Simplicity is beauty" ~ FOB FACTORY
One interesting aspect of FOB is that they continually research and develop sewing machines. modifying old American machines, in attempt to reproduce "old-fashioned details." Something that is "impossible with mass production."
They are influenced by the texture of military garments. They use organic cotton and rope dying (dyeing method which does not dye the core of thread) when making their own proprietary fabrics. As you will see a beautiful example of in this review.
To me this brand has two sides to it. One is classic, vintage inspired denim and work wear. The other side is more modern and less purist, like pre-faded jeans and stretch denim. The latter not being my personal cup of tea, but the important thing is always quality. On that end, FOB FACTORY definitely delivers.
Take a look at the video showing some of the behind the scenes work.
FOB FACTORY G3 "MAGICAL LOOM" DENIM REVIEW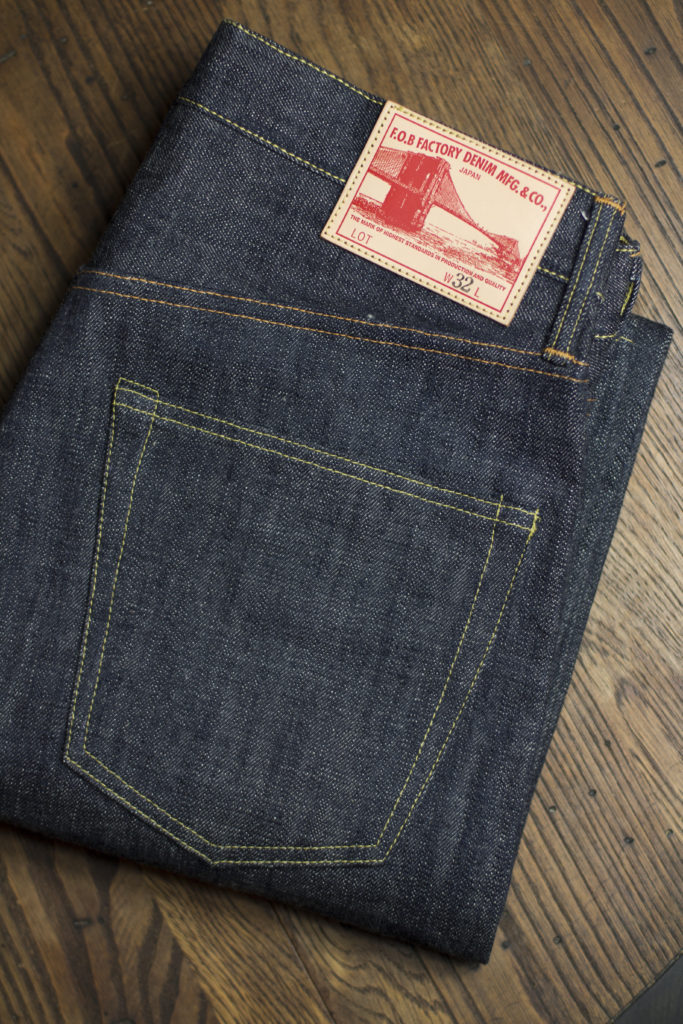 For this very limited run project, FOB Factory has reproduced the 1950's classic style denim, cut into a slim tapered jean and type II jacket.
Fit: (Jeans) Relaxed Tapered cut. A good amount of room in the top block and thigh that slims down nicely through the leg. (Jacket) A slim fitting type II jacket with a longer body leingth.
Fabric: 14oz unsanforized right hand twill selvedge denim using 100% American and Australian organic cotton. Rope dyed indigo warp and white weft. Ultra rough and ridged denim, slubby loose weave. the look and feel of this denim is balance perfectly. All the texture you could ever want without it looking too slubby or extreme. This is by far one of my personal favorite denims. This denim shrinks up to 10%(about a whole size) So I would size up!
The denim is woven using the restored vintage TOYODA "G3" type shuttle loom that was originally invented in 1924 by Sakichi Toyoda, the founder of TOYOTA. This world's first non-stop automatic shuttle was called the Magical Loom. FOB Factory restored this "G3" magical shuttle loom especially for making this denim. Only skilled and experienced artisans can operate this very vintage machine. This exquisite, special denim can be woven only 5 yards an hour.
ABOUT TOYODA "G3" SHUTTLE LOOM
The G-Type Automatic Loom, which Sakichi Toyoda invented and completed in 1924, with 24 automatizations, protection, and safety devices, including the world's first non-stop automatic shuttle change device, enabled weft supply by smoothly changing shuttles without slowing down at all while operating at high speed, which greatly contributed to the increase in productivity. The G-Type Automatic Loom was lauded as the best in the world in terms of overall performance and economic evaluation and contributed to the advancement in the textile industry of many countries.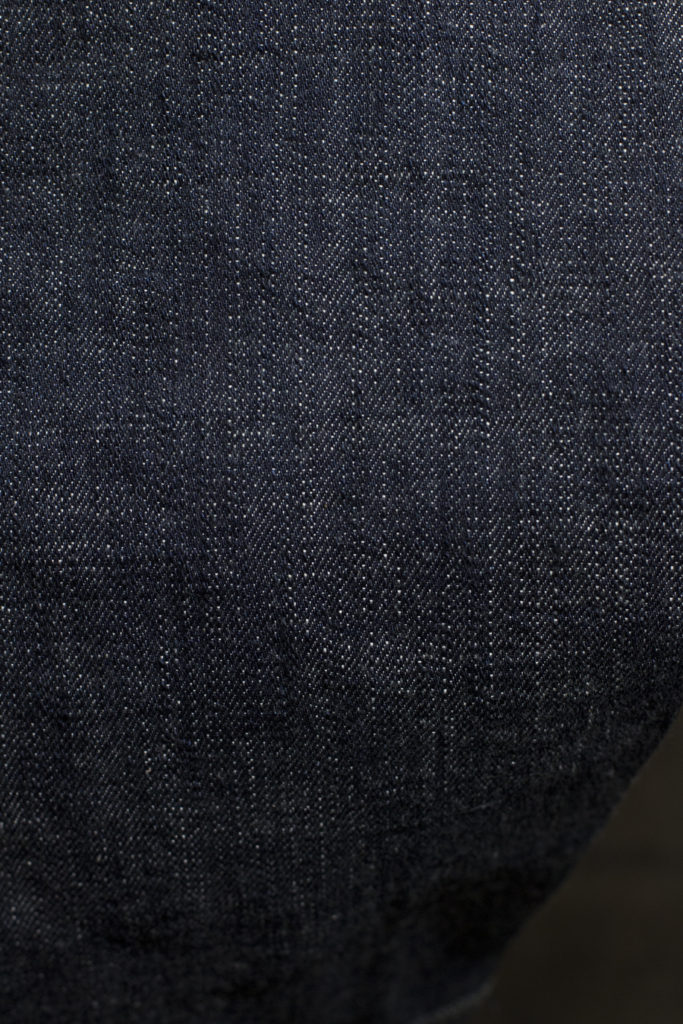 The perfect stitching with 100% cotton threads are all done by Union Special Sewing Machine. The original tanned leather patch will age beautifully as well as the denim itself. You absolutely will get them feel proper. Entirely handmade in Okayama, Japan.
Zip fly with YKK Universal zipper
Branded copper rivets
Hidden rivets on back pockets
Steel front button with F.O.B Factory​ branding
Hidden selvedge on coin pocket
Pink and white selvedge ID​
Tanned leather patch
Zipper made by Universal Sewing
100% Cotton Thread Throughout
Constructed using "Union Special" Sewing Machine
Entirely Handmade in Okayama, Japan
Details (Jacket):
Exposed copper rivets with brand engraving
Steel buttons with F.O.B Factory​ branding
Pink and white selvedge ID​
Tanned Leather Patch
Two Patch Pockets
Knife pleats
Waist adjuster
Rivet Reinforced Cuff
Inner Placket Selvedge Detail
100% Cotton Thread Throughout
Constructed using "Union Special" Sewing Machine​
First Impressions: The denim used is absolutely undeniable and going to be hard to compete with in my rotation. The fits on both pieces are perfect for me. The jeans make my legs look longer and the jacket is the right proportions for my longer torso. The stitching is very clean and well done. Although I have one worry, the fly is stitched in what FOB calls vintage style, where the bartack at the bottom of the opening is omitted. This seems like it may be a bit less reinforced but only time will tell. All in all I couldn't be happier with these pieces and for the price it is a really good deal. FOB Factory is officially on my radar for my Japanese denim fix.
The exclusive preorder for these pieces is only open until March 10th, at Atriumsf.com so I'd suggest getting on it soon if you are interested.
~The Denim Hound 2-21-19