This is a guest review by Alexander Deleersnijder (IG: @booby_voltron)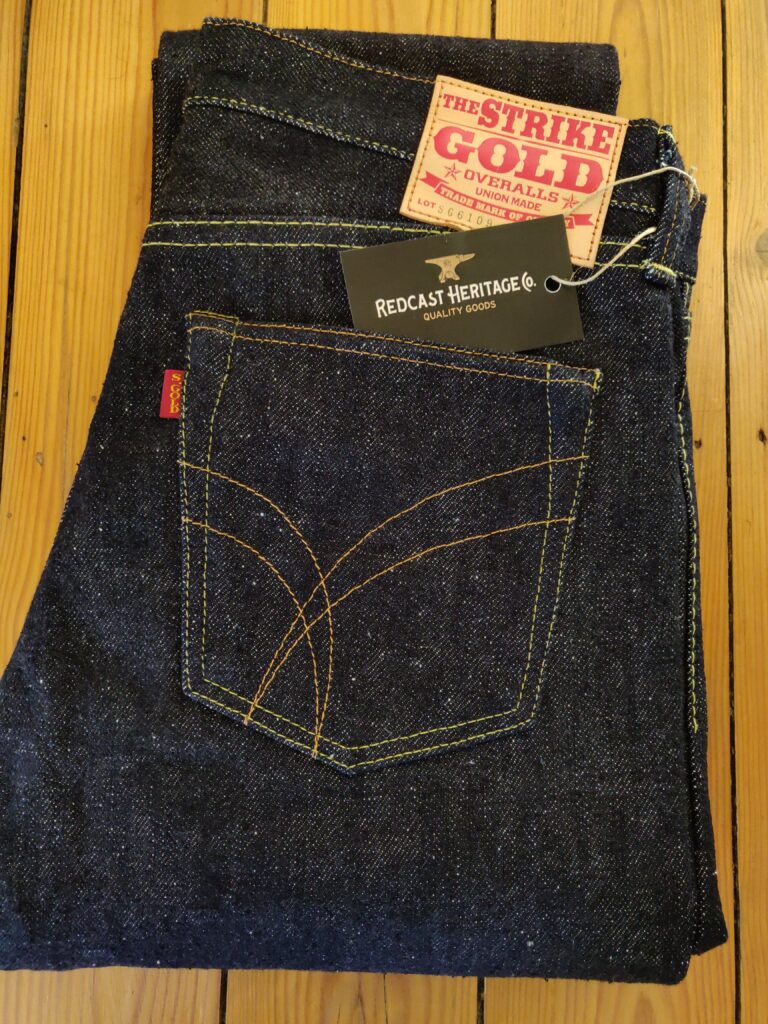 Out of Kojima, Okayama prefecture in Japan, the Hamamoto family has been working for many years to become a denim manufacturer of great renown: The Strike Gold. 
Their garments are mostly inspired by the 1950's, and are known for outstanding quality due to the use of the finest materials and traditional techniques. 
Today I will be reviewing their SG6109 slim tapered jeans. 
Fabric: 
A 16.5 ounce unsanforized indigo dyed fabric with a natural coloured weft, made from 100% Zimbabwean cotton. The cotton used is a short staple, which demands a very slow spinning process to avoid the yarn from breaking, and makes for a rugged and very uneven texture (whereas long threads make for a more luxurious, softer hand feel). 
This 6xxx series is dubbed 'super slub', so one would expect very clear vertical streaks of thick thread popping out, instead the slub effect is much more randomly divided across the surface, creating no discernible vertical pattern. I believe the extra dimension of irregularity is formed in spinning the short staple cotton, even before the fabric is woven. The weft side has a nice bit of blue nep poking through, a pleasant dusting of indigo snow.
Cut:
TSG's xx09 cut is slim tapered, it has enough room in the top block with a medium rise, and tapers below the knee.
| | | |
| --- | --- | --- |
| | PRE-SOAK | POST-SOAK |
| Waist | 34.6 | 33.2 |
| F rise | 10.6 | 10.2 |
| B rise | 14 | 13.5 |
| Thigh | 11.4 | 10.8 |
| Knee | 7.6 | 7.2 |
| Leg opening | 7 | 6.8 |
| Hem | 37 | 35.4 |
Details: 
Gold selvedge ID

Original iron TSG top button

Iron male x copper female rivets

Hidden rivet pockets

Hidden selvedge coin pocket

Deerskin leather patch

Raised belt loops
First impressions:
The Strike Gold has always had a fabled aura, they were mostly unavailable to me, but the evolution and fades I saw online were simply astonishing. Now that I have received my first pair, I know what the fuss is about: these are some very high quality jeans!
I mostly own jeans from brands which focus on innovation, adding modern touches to the decades old 'blue jean' design, like super slim cuts, brightly coloured inseam threads or wefts, sashiko pocket linings and painted back pockets. This pair is a welcome change to that, the details are on the classic side, with thick yellow and orange stitching, white cotton pocket lining and a pale leather patch.
After soaking these 'Super Slubs', the cotton really puckered up and the character became even more apparent, they feel extremely rugged because of the weaving process and the cotton used, without being necessarily stiff… The words burly and burlap keep coming to mind. 
The surface looks unique for a pair of jeans, it's almost like a woven rug! I wouldn't mind having a word with Tohru Hamamoto, the label's chief, to know how they manipulated their looms to achieve this intriguing technique.
When I put them on, they immediately felt really comfortable, contrary to the look of the fabric, it's surprisingly nice to the touch and feels lighter and airier than expected. The cut is flattering and modern, quite slim but less tapered than what I'd expected.
The iron rivets have already started showing a but of rust after the drying, which adds a ton of character but might be a weird idea for some… rusty jeans, anyone?
I'm absolutely falling in love with this pair of jeans, it's plain to see that the level of expertise and work that went into these is among the best available from Japan.