Hello. It has been quite a while since my last post. What happened? To be honest, in 2018 I started getting burned out on reviewing denim. I still love denim and never stopped learning about it, but the process of writing reviews became draining. I never got into this for it to be a job, just a passion. I had tackled about 100 reviews in two years and needed a little break.
I want to thank you for sticking around and thank you to all of you who have sent me emails this past couple of years with questions and just to talk denim. I have responded to as many as I could, I apologize to any I have missed. A huge thank you to those following me on IG. I have a few reviews in the works and will be posting throughout the next few months. 
The landscape has changed quite a bit since I started reviewing. There is so much more well curated info available then ever before and coming back to reviewing, I have carefully considered how I can be most valuable to you. As always, I will be reviewing the denim and brands that are most interesting to me, but I will be trying to focus on the less covered brands and models. Maybe I will be doing some Op Ed pieces, maybe some more denim 101 guides. 
Now! I have just finished a large cup of very strong coffee and I am feeling the juice. I am excited to get some new reviews posted and have been working on some that I think you will be interested in. So, without further adieu, here is… The Return of The Denim Hound, The Hound Strikes Back, Revenge of The Hound, Hound 2.0! First up… Ciano Farmer.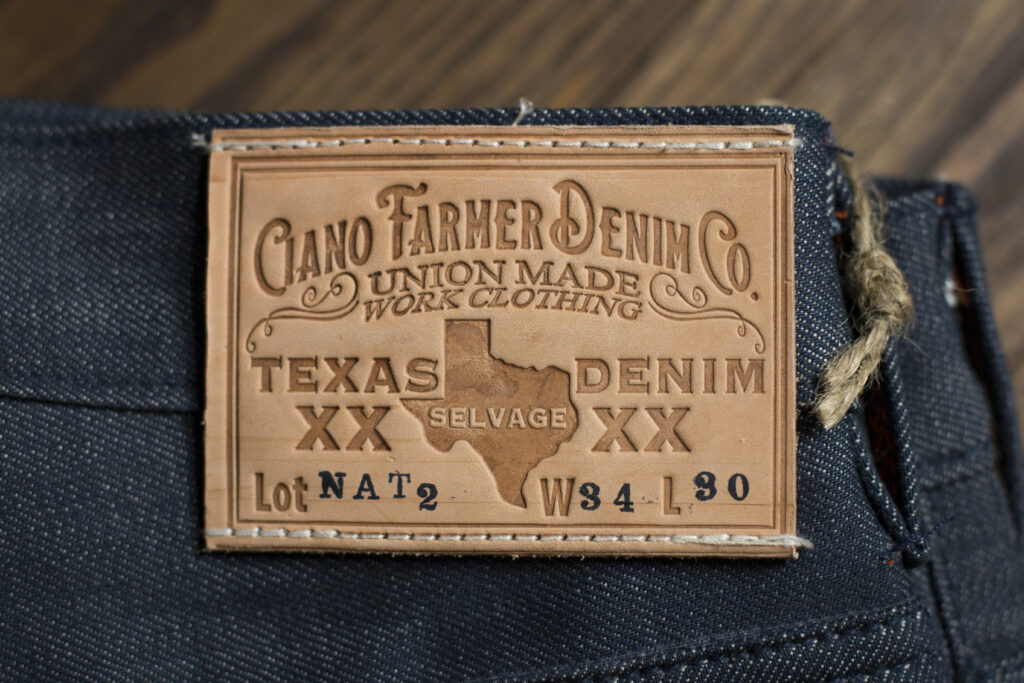 CIANO FARMER DENIM
Ciano runs a small shop in Denton, Texas and makes jeans, shirts, and jackets one at a time using vintage tailor techniques to make each pair. Going all the way old school from the vintage scissors used to cut the denim, to the vintage Singers and Union Special sewing machines used to construct the denim, every detail is considered to replicate the process as it was in the 1800's. He makes ready made and custom made garments.
"It takes around 12-15 vintage machines to make one pair of jeans, compare that to only 5-6 machines on a modern production line. Our vintage machines do not have a back stitch function like the modern ones so we have to tie off each tread after it ends or use vintage back stitch techniques. That is some of the reasons why it takes a little longer for our jeans to get made." ~Ciano Farmer
Ciano has an internship program working with the University North Texas, Fashion Dept. "I have a couple of kids every year that I help teach the old vintage ways of tailoring workwear…and they help me sew parts." Aside from that, he is a one man band, making every pair of jeans himself as well as running every aspect of the business. 
13.5oz TEXAS Organic Denim "NATURAL" Lot #2 Red Selvage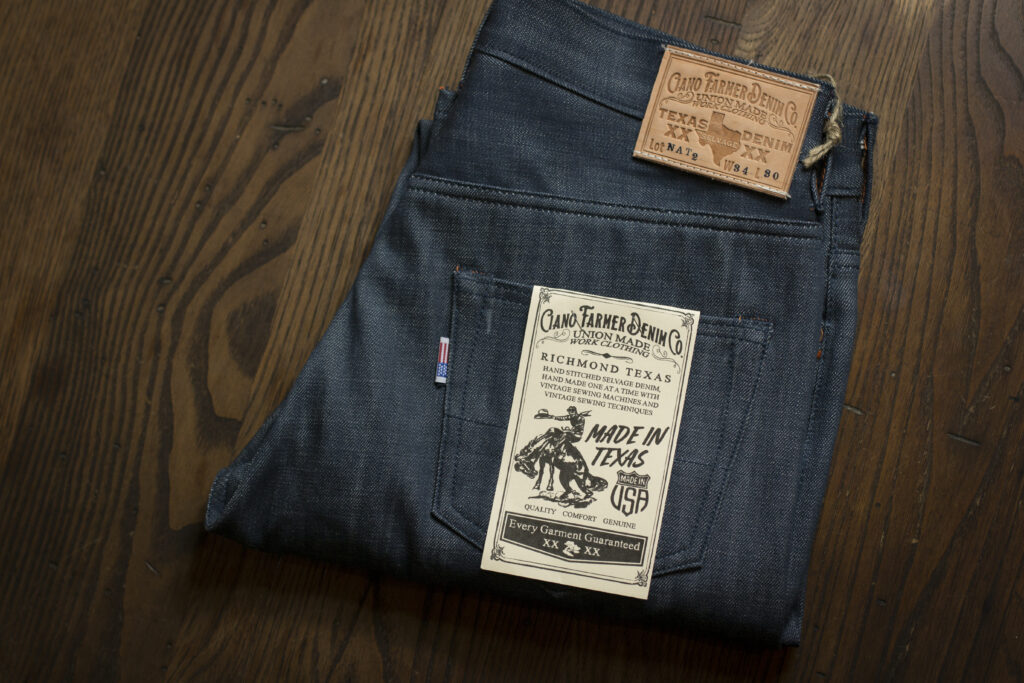 I was very happy to snag a pair of this very limited denim. This pair has one of the rare distinctions of being 100% made in the USA, from the growing of the cotton, to weaving the denim, to the final construction. Not only that, but it is steeped in American denim heritage, I will explain more, let's dive in!
Fit
I had Ciano construct a custom fit for this pair. I feel like this is the way to go if you have the extra time and money to do so. I based it off of his 997 cut and made some modifications.
| | | | | | | | | |
| --- | --- | --- | --- | --- | --- | --- | --- | --- |
| | Waist | Rise | Back Rise | Hip | Thigh | Knee | Hem | Inseam |
| Raw | 37 | 13.5 | 17 | 20.25 | 13 | 9 | 8 | 30 |
| Hot Soak | 36.5 | 13 | 16.5 | 20 | 13 | 9 | 8 | 29.75 |
| 2nd Hot Soak | 36 | 12.85 | 16 | 20 | 13 | 9 | 8 | 29.25 |
When I received the jeans, the measurements came in pretty close to what was requested but the shrinkage was less than was expected based off of Ciano's prediction, so the final result was slightly big, especially after some wear. This is always preferred to slightly too small in my opinion. 
This fabric acts differently with soaking then many other denim fabrics I have worked with. Usually with sanforized denim, the initial soak gets most of the shrinkage out, a second soak rarely gets any more shrinkage. Although this denim shrank the usual amount for sanforized denim on the first soak, it shrank about the same amount on the second soak. This is more characteristic of unsanforized denim, which continues to shrink for the first three or four soaks. 
When I asked Ciano about this, he said the fabric he gets from this particular maker is very hard to predict and is different every time. He said he thought that this roll of denim must have not been fully sanforized. I will get more into this below.
Fabric
13oz sanforized(?) 100% organic long staple Texas cotton right hand twill denim, woven in Texas. Rope dyed natural indigo warp and natural undyed weft. Med to high tension warp and med tension weft, woven into a goldilocks weave (not too tight, not too loose). 
This denim is very interesting and subtly different from any denim that I have experienced. After a soak, it is very starchy and crunchy with a slightly rough and gritty feel but the long staple Texas cotton also gives it a soft and slightly silky feeling, especially on the weft side. Before I found out that it was Texas long staple cotton, which I had never experienced before, the way I was describing it was like a Suvin or Zimbabwe cotton but with a very little bit of short staple Texas cotton woven in. I guess I was pretty close.
There is talk on the Ciano Farmer site of an "old man" who is behind making this denim. I like to imagine overalls, and a straw hat somewhere in this picture. I did some digging in hopes to shed more light on this shadowy figure.
His name is Mr. Williams.
"Mr. Williams has a feed bag company and he use to work for Cone Mills back in the 50's as an engineer fixing and maintaining the looms. He has one of the original Draper looms from the White Oak Plant and brought it to Texas and he uses it today to make feed bag material for his customers. He contacted me when I launched my Kickstarter and asked if he can make denim for me. So the deal is that if he makes denim for me that I give his customers (farmers) a good deal and also to always repair his customers jeans for life… and I have to bring a bottle of TEXAS bourbon when he makes the denim for me or I can not take delivery, haaaaa! His wife is a GOD fearing church lady and yells at me everytime I come see them to pick up the denim and give him the bottle of bourbon, but she always manages to make me the best meal before I head back home. He only makes denim for me…he loves that bourbon!!!! An ornery old man at 72 years old." ~Ciano
Details
Leather backed rivets

Signature orange stitching inside

8-9 oz. Texas veg tan leather patch

Hand dated and numbered

Pocket bags made from heavyweight 12oz duck canvas from Mt Vernon 

Back pockets half lined with heavyweight canvas

Hidden Ciano tag inside left pocket

Rivet tacks with Ciano "C" imprinted

5 button fly using start and wreath buttons
Exposed selvedge watch pocket
Made in Texas label sewn into waistband
Hidden rivets in back pockets
Tucked Belt loops
First impressions 
The charm of Ciano Farmer is that the details and construction have a very strong workwear flavor. Even though it is constructed well and the stitching is pretty clean, it doesn't have the polished feel or look of some high end Japanese brands. Rivets un-buffed and hammered, stitching hand tied, pocket bags that would be just as at home carrying 100 pounds of potatoes as it would your keys. These jeans are carefully considered and proudly rough around the edges. I wouldn't expect any less from Texas.
Upon soaking, the heavy canvas used in the pocket bags and in the lining of the back pockets shrank more than the denim itself, causing wrinkling in the denim and a distortion in the back pocket shape. I am hoping the canvas will stretch back out enough with some wear to sort itself out. Although canvas usually does not stretch out much.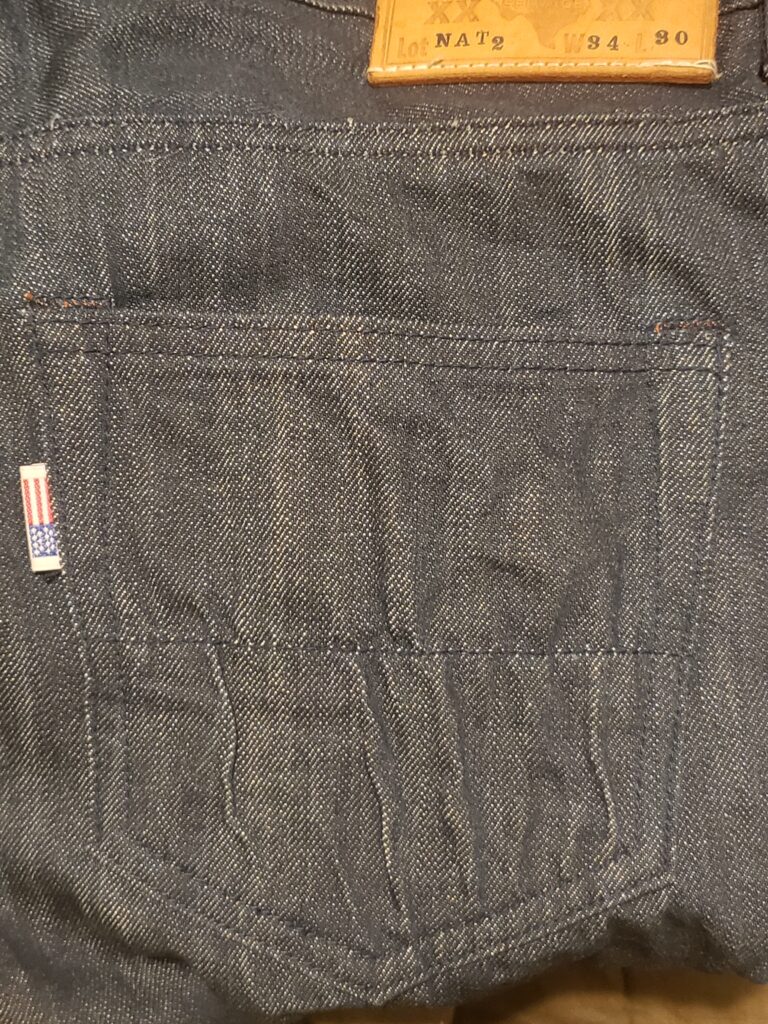 Another thing to be aware of, because Ciano runs the business by himself, you may have to wait a while for responses to emails and delivery dates while he juggles customer service and production. The site states 11-15 weeks standard production time but I would say plan on 16 weeks and you may get it earlier. Imo it is worth the wait.
All in all, a very solid pair. The only brand in the world you can get a pair of jeans 100% from Texas, from the growing of the cotton to the trimming of the last stitch. I would recommend this brand to someone who is heavy into the workwear side of the denimhead spectrum and looking to go custom made in the USA.
Head over to cianofarmer.com to check out his ready made line as well as his custom options.
~The Denim Hound 10-24-20