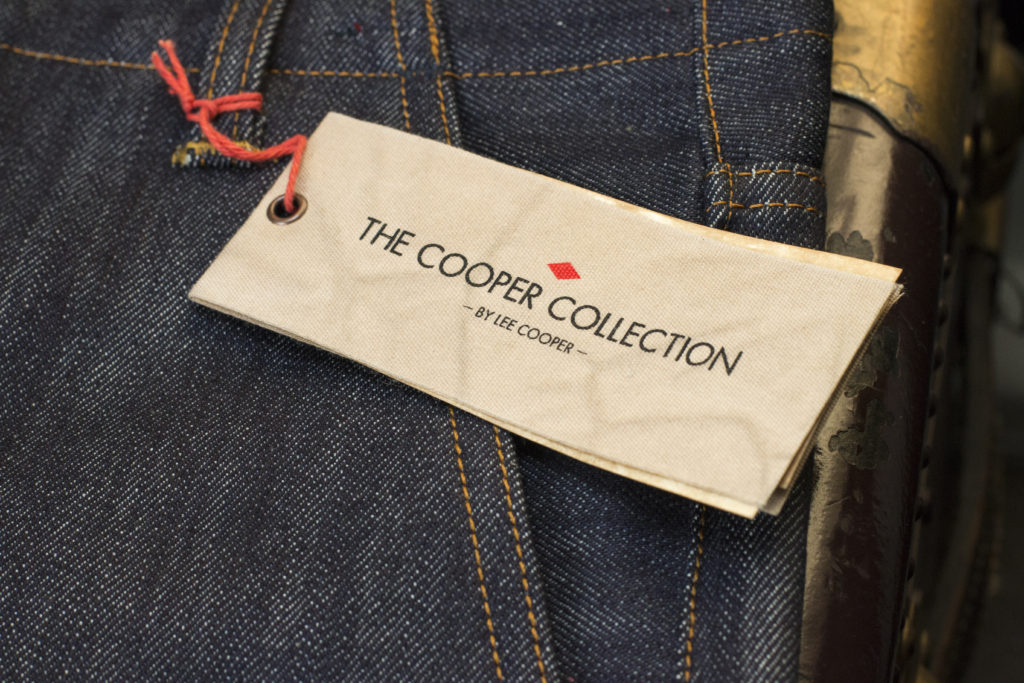 With the The Cooper Collection's Archie Tapered 15.3 oz, one of the UK's first denim brands, Lee Cooper, reminds us that denim was born Europe. Featuring a modern take on vintage details, these work wear inspired pants are definitely one of a kind.
In 1908, Lee Cooper began as Europe's first serious denim brand. Morris Cooper established a workwear production company called The Morris Cooper Factory. Cooper produced durable, long lasting workwear and overalls. After Morris Copper's death, his son, Harold Cooper, took over the factory and established the new direction of workwear to jeans production and 'Lee Cooper' was born.
Eventually, in the successful decades to follow, one of the biggest UK denim brands would lose touch with its serious denim and workwear roots. Now with the release of The Cooper Collection, Lee Cooper is revisiting it's origins.
Walking up the stairs of my apartment in Los Angeles, I started to pick and peel at the packing tape which tightly hugged the box from the UK. I have been curious for about 6 months now and as I opened the box I pulled out a very nice pair of denim. I began going to work on 'em, inspecting. Searching for info online, I quickly realized there is almost no info to be found on the construction or materials.  Holding this clearly well made and interesting denim in my hands, I know their is a lot of thought and hard work behind them and I want to know their story. I decided to dig and see what I could find.
On The Hunt
Along with the denim, I received a very cool book by David Hellqvist called The Cooper Collection – Document, that colorfully illustrates The Cooper Collection's world. It has interviews and conversations with pillars of the denim comunity such as Amy Leverton (Denim Dudes), Thomas Stege Bojer (Denim Hunters), and Rudy Budhdeo (Son of Stag), just to name a few.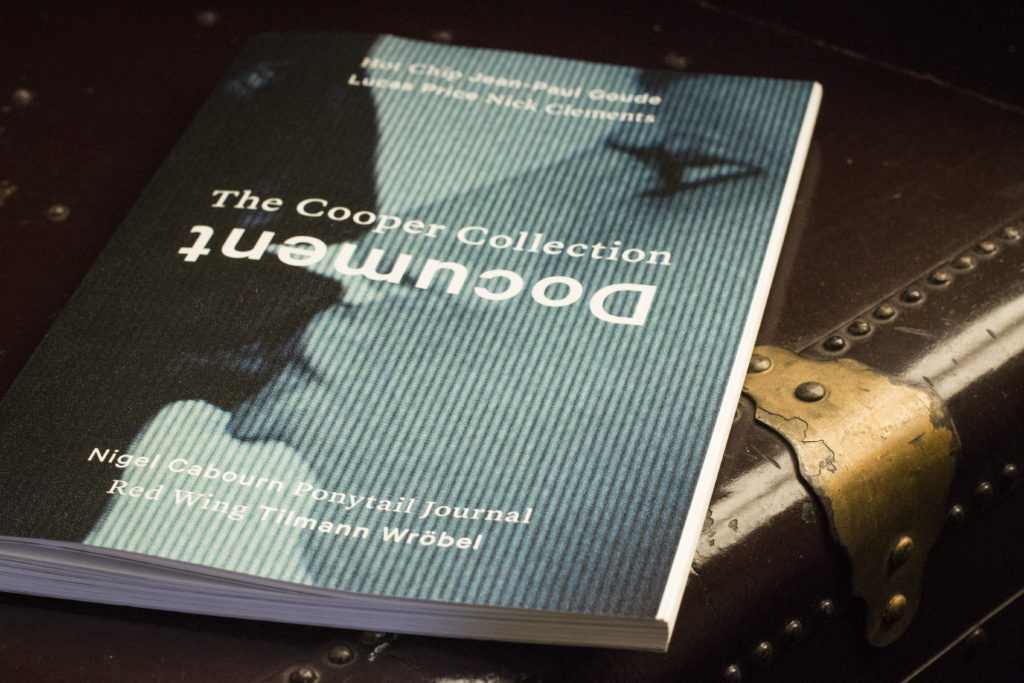 A great read for any denim lover, but still, nothing about the quality or materials of the jeans.
I wanted to talk with the person behind the denim, the one responsible for the design. I was lucky enough to get in contact with Tilmann Wrobël, the Creative Director of The Cooper Collection. Through my correspondence with Tilmann, I was able to get the details about the Archie Tapered 15.3oz used in this review.
"Long before any company in America worked with denim – long before America even existed – there was a thriving market for denim in Europe. Back then denim was a real workwear cloth from Nîmes, hence jeans… look back further… with indigo of course; before then being appreciated in Japan, and before that in India and Bangladesh. Thinking about the fact that denim is not all-American, or all about ranches – was central to creating The Cooper Collection. Of course there will be people who look at what we've done with The Cooper Collection and say that it is just a marketing exercise, but I think that idea will be dispelled when you look at the detail…" Tilmann Wrobël, The Cooper Collection Document.
Cut: mid to high rise, roomy top block and thighs with a taper down the leg.
Measurements: Waist 33″, rise 10.75″, back rise 15″, thigh 11″, knee 8.5″, hem 7.3″, inseam 34.5″ (very little shrinkage with two hot soaks. only lost 1″ on inseam)
Fabric: 15.3oz, sanforized selvedge denim, shuttle loom woven at an undisclosed mill in Italy (not Candiani). 100% long-fiber cotton blend Rope-dyed with indigo. A very high tension yarn used in this tightly woven right hand twill. This is a very interesting denim, I don't have anything quite like it in my collection. I have an urge to call it "British Denim," although that would be incorrect and probably confusing.  There is a small and tightly wound slub yarns found in the warp causing a faint vertical pattern. This denim has a soft, flat hand that creases very easily, which is very promising for honeycomb development. To me, some denim feels very dry like it could absorb moisture and some denim feels like there is moisture in the fabric. This denim feels a little inky and sticky, like it is full of moisture, another confusing statement for "Dry Denim" lol. Very little shrinkage or stretch. This denim crocks a lot and has A green-cast weft and a warp that I feel has a slight red hue to the indigo.
DH: I noticed a sort of green-cast on the weft and a bit of a red-cast on the warp. Is that correct?
Tilmann: To me, the red-casts have always been a sign of american / southeeuropean denim culture. For this range we have selected a more green-casted fabric, which to us corresponds better to the urban & british denim-flavor. Also the slightly softer hand-feel made us think about the very first british denim-products, way back from the early 1500's, which contained often wool… ( warmer & softer ).
Smell: I am introducing a new category to my reviews. I think its only fitting as I am a Denim Hound. 😉 I opened the nicely wrapped box sent by The Cooper Collection and was instantly hit with the strong smell of… brown sugar and graham crackers? Crazy. I had my girlfriend smell it and she immediately said "Brown sugar". Not a bad thing, just interesting. After a soak and couple of wears the smell faded down to unnoticeable.
Details:
Bold red line on white selvedge ID
Reinforced Fly
Back pocket hidden selvedge ID
Belt loop selvedge ID
Double felled inseams
2 ply waistband
Watch pocket selvedge ID
100% solid red copper trims
Unvarnished hardware (so they oxidize faster)
5 button fly
Cotton wrapped poly thread, two tone copper and yellow stitching
Bar tack stitching sewn beyond the edges for extra durability
"1908" stamped rivets
210g cloth pocket bags
Red Lee Cooper "Red Diamond" on back pocket
Tonal Lee Cooper pocket arc's
Rivet on fly
Rivet and bar tacked reinforced fly
Slanted work pockets
Fit: I really like the nice medium-high rise. Nice roomy thighs and top block. A moderate taper down the leg. A flattering fit that you could actually do some work in. Because of how the pockets are cut and the characteristics of the denim, the front of the top block bunches differently than the usual 5-pocket jean. At first before it is fully broken in, instead of the usual two or three waves that form along the fly, one big bump pops up. This starts to settle a bit as you break it in but it still bunches differently than usual jeans, more like chinos.
First Impressions: Definitely different that any other pair I own. Very well made, solid construction, pretty clean stitching and a strong denim with a smooth surface that is perfectly suited for some hard work. This denim crocks like crazy. the white weft was tinted blue after a soak and already seeing some electric blue popping up after just a couple days of wear. The core of the warp yarns are not a pure white because they have been penetrated a little by the indigo. So although it seems to fade quickly, it will not be as high contrast as some rope dyed denim. It will hopefully produce a vintage look fade in a shorter than usual time compared to say, Cone Denim.Very interested in seeing how these evolve. Although the denim feels heavy and rigid, it is also very soft and comfortable from day one. I really like the bold, slightly darker shade red line on the narrow selvedge ID. I find myself using the slanted work pockets more often than my usual pockets because of ease and accessibility, definitely a plus for work pants.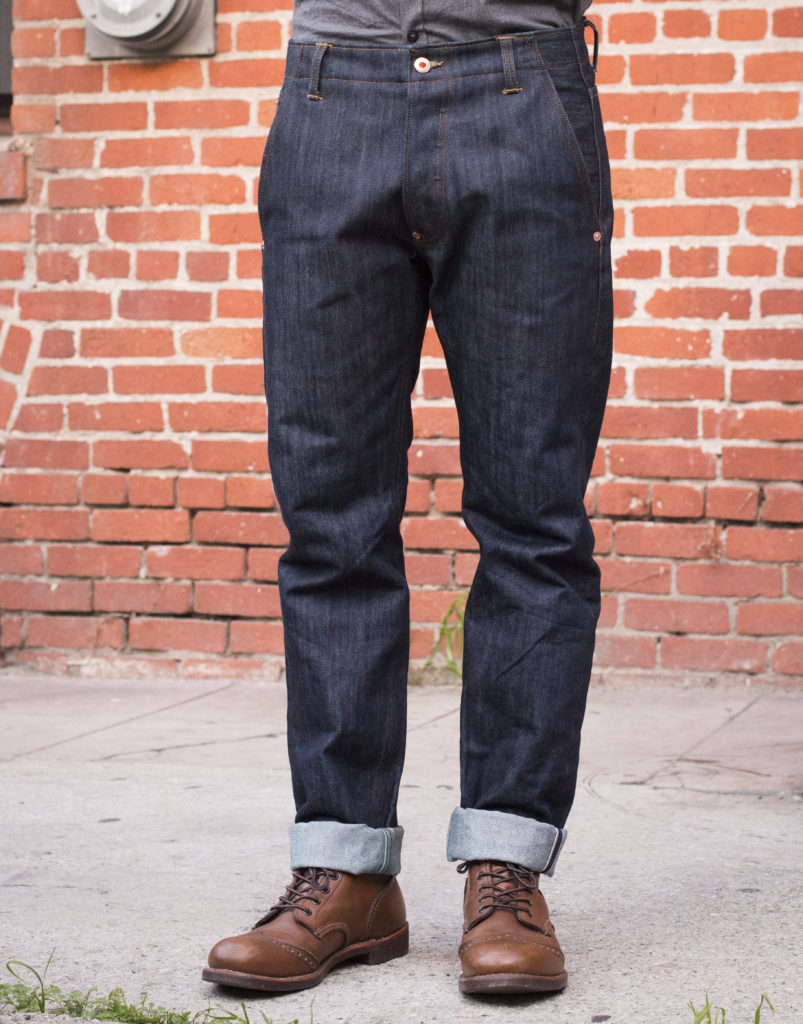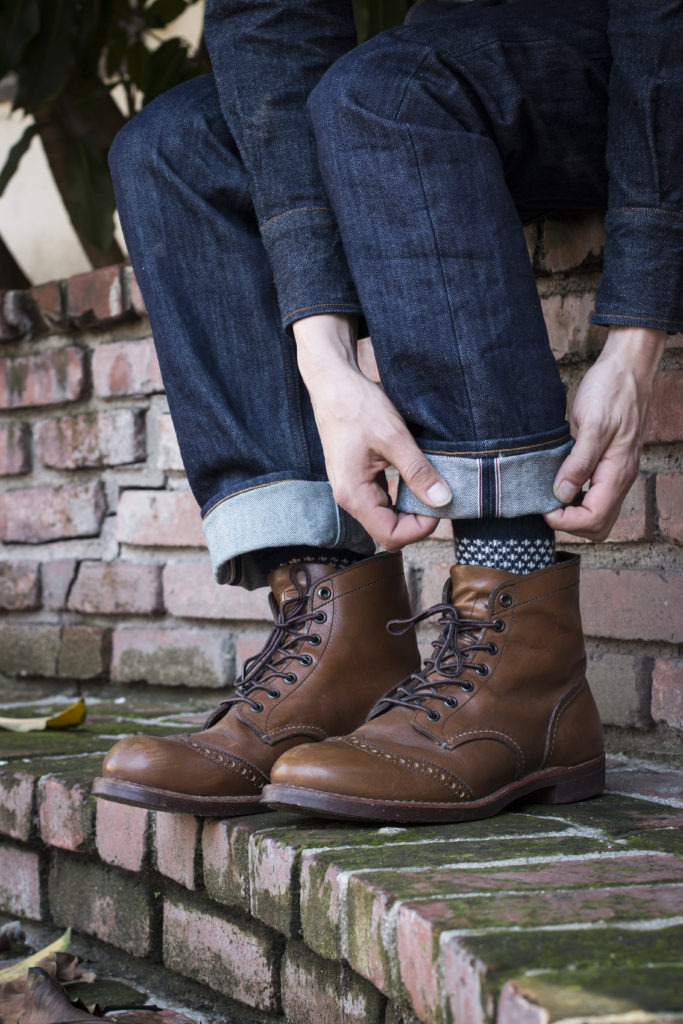 You can pick up a pair from The Cooper Collection's
website.
~The Denim Hound 3-22-17