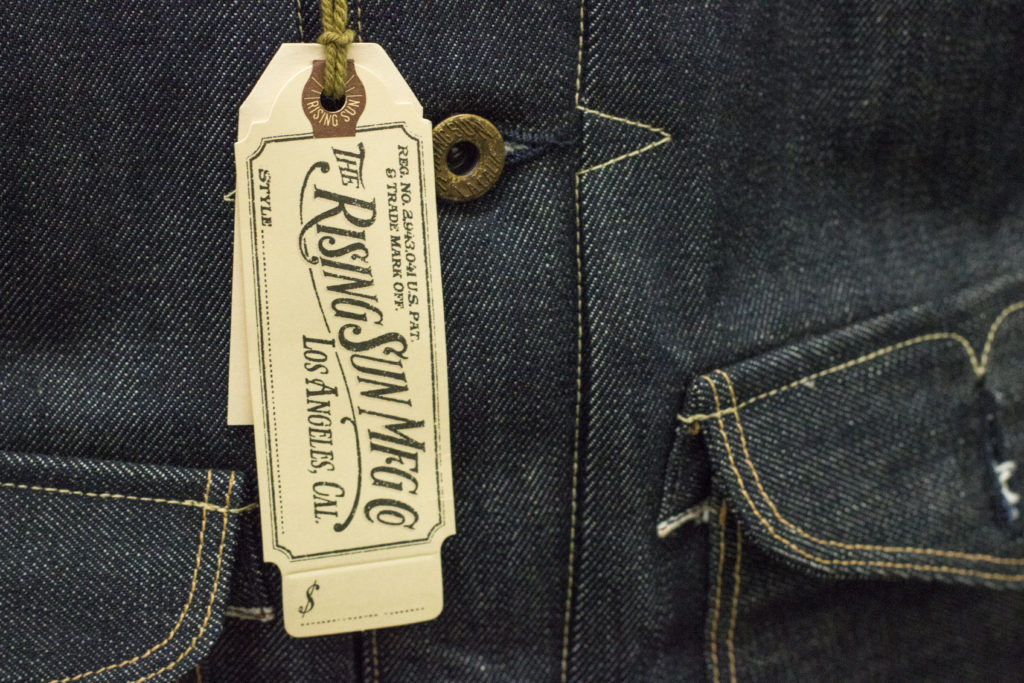 This article is long overdue. Found right in my own back yard, Rising Sun Mfg Co. has been one of LA's distinguished denim brands for the past 10 years and counting. I've always respected Rising Sun's commitment to their vision and crafting quality goods.
Today I find my self in Downtown, Los Angeles. Walking through the bustling streets at the edge of LA's garment district, I'm excited to be finally checking out the Rising Sun HQ . I've arranged to meet Allan Burdine and talk about the brand and thier denim.
Rising Sun has been crafting jeans for over 10 years and was originally conceived by Mike Hodis. Mike designed the entire Rising Sun aesthetic that is still firmly in place today. At about the 5 year mark, Mike passed the baton to Allan Burdine who has been at the helm ever since. I'm interested in hearing Allan's thoughts on where the brand is now, and his plans for the future of Rising Sun MFG Co.
The storefront is pretty low key and easy to pass in a car without noticing. But walking up, you start to see jeans and jackets in the front window. I enter the high ceilinged, painted cinder block and steel shop. Along both walls are shelves displaying Rising Sun's full line of pants, shirts, jackets and hats.
A peek behind the back curtain reveals the sewing area, where they construct all of their garments.
I was greeted by Allan, who is a very laid back California kinda guy. Allan's chill, I like Allan. We started talking denim and Rising Sun and a couple hours later, the conversation veered off onto travel, family, the beach, etc.
Allan explained that Rising Sun has been making pretty much the same jeans since day one. "I've made a point to keep most of our pieces true to Mike's original designs and concepts. Most of our line consists of the same pieces as when we started. We may roll out a different fabric from time to time, but it is still the original cut and details, and it is always USA made Cone Denim."
Even though Rising Sun's steeped in 1900's style, you don't have to be a repro-dandy to be able pull off their clothing.
"We often think of ourselves as actually working in the early 1900's with our 21th century minds intact. We believe in the meticulous pattern making and sewing techniques employed by master tailors of a bygone era. We believe in crafting garments that are certain to last just like in the old days when clothes were tools that helped people provide a living and build a nation. For us the workmanship is crucial. It's our belief that the sum of all the small details make a world of difference. It is this conviction that sets us apart." ~ Rising Sun
Today, I'm very excited to be reviewing Rising Sun MFG Co.'s Bloke Jean IND RAW. Read full review here
~ The Denim Hound