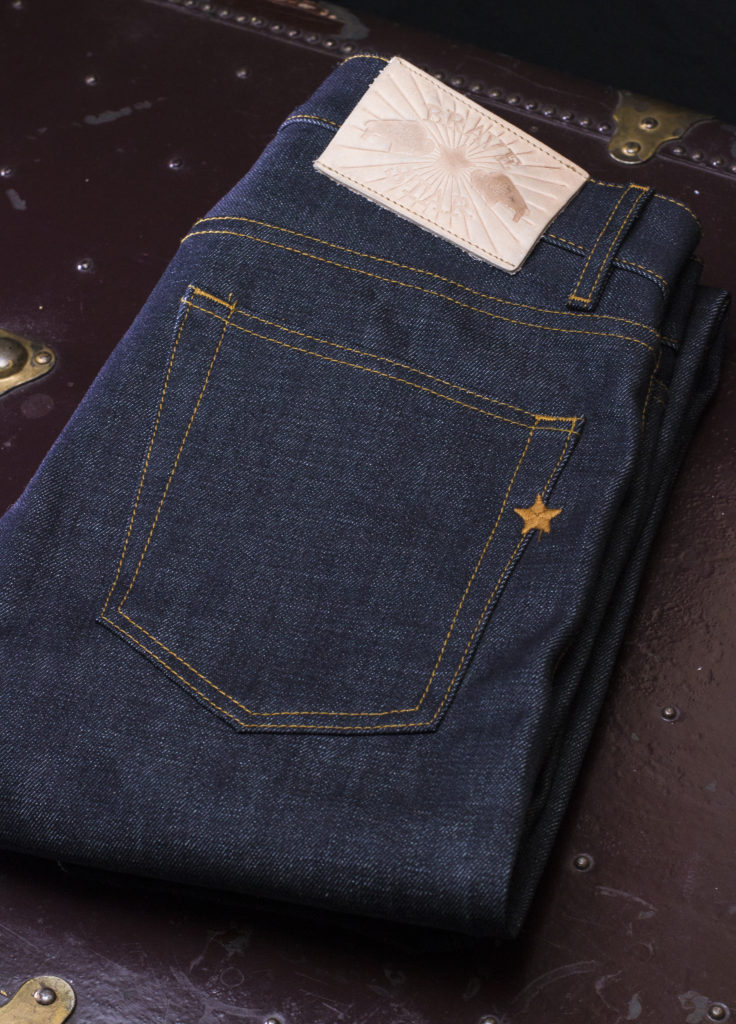 Measurements (tag size 30): waist: 32″, rise 10.2″, back rise 14.5″, thigh 10.5″, knee 7.75″, hem 6.6″
Cut: Med/low rise, slim cut with a tapered leg. A hybrid of their Slim Straight Fit (top block) and Skeleton Fit (knee down). The result is a true
Fabric: Cone Mills 14.5 OZ selvedge using 100% long staple cotton. Pure indigo with a red cast and white weft.
Details:
Sewn on vintage Union Special, Reece & Singer machines.
Tucked belt loops
Copper stitching
Red and white selvedge ID
Left side, vertical watch pocket selvedge ID
A & E core spun poly thread for maximum strength & durability
Embroidered star insignia on the right back pocket
Button fly with double prong, donut style buttons.
Vintage style copper pocket rivet burrs
All hardware is made in Kentucky
8/9mm ultra heavy veg tanned leather patch
100% made in the USA
Waistband label and leather patches made in 

Downtown Los Angeles

Bar tacked back pockets
Chain stitched hems with bar tacked reinforcements
Double felled inseams
Hidden fly white selvedge ID
First Impressions: Right off the bat I fell in love with Brave Star's Slim Tapered Fit. For me it fits like a bespoke pair, in other words, Perfectly. I really like this denim, It's not your standard Cone Mills. I've actually never seen a Cone denim like this. It's got a red cast that you can see when the light hits it in just the right way and there is a cross hatching in the weave that looks more Collect Co. than Cone Mills. Still very rigid for a 14.5oz with a nice roughness to it. I can tell these are going to fade quickly as one day of wear is already showing signs of fading already. Solid craftsmanship with well executed stitching. This pair would definitely be selling in the $200 range at a retailer. Almost no shrinkage but will stretch out. I would recommend buying nice and snug. Even with the very skinny cut of the jeans they were not restricting at all, as you can see below.