BEAUTIFUL BEASTS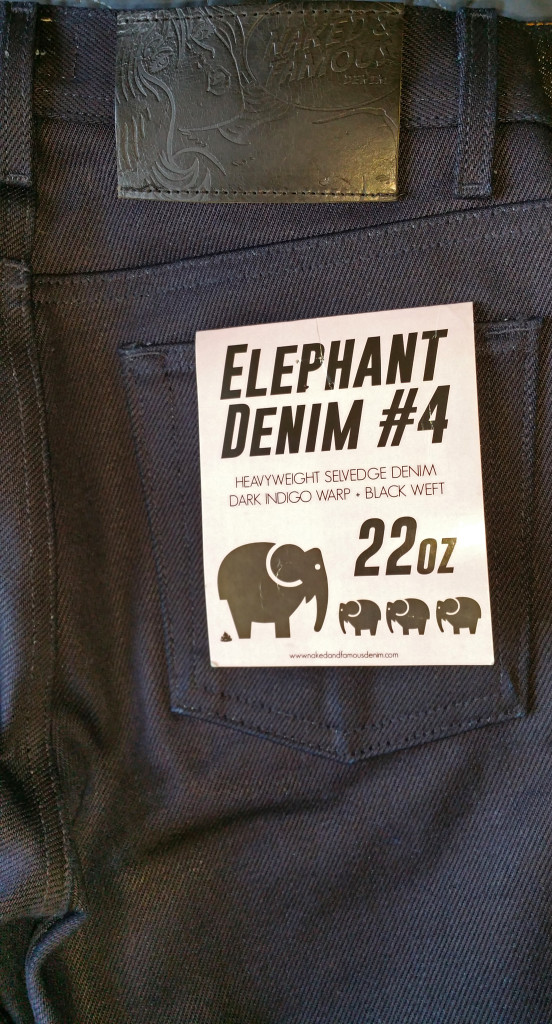 FABRIC: 22oz sanforized selvedge raw denim woven on vintage shuttle looms in Japan. Cut and sewn in Canada.
FIRST IMPRESSIONS: Very thick with an inky feel. Uniform weave, moderately tight, not slubby or neppy. Weave looks similar to a Navy canvas. The super deep indigo warp and black weft give this denim and a subtle reflective quality. Under the sun you can see a purple and navy hues within the deep indigo.
AFTER A FEW WEEKS: The denim breaks in to feel softer, closer to normal denim. It loses its glossy sheen with time. It also gradually gets a little hairy. Very quick fading, one of the fastest I've experienced. This looks so different depending on the lighting situations. Inside it looks like super deep indigo with light blue and white fades. Out side it has a wide range of colors. I actually prefer the flatter weave for these jeans. It really puts the focus on the beautiful colors and fades.
MEASUREMENTS (raw) W 31″, Rise 10.75″, Thigh 12″, Knee 8.25″, Inseam 34.25″, Leg Opening 7.25″
MEASUREMENTS (After 1 soak & 1 wash) W 31″, Rise 10.75″, Thigh 12″, Knee 8.25″, Inseam 34″, Leg Opening 7″
(Day 1 – E4's arrive in the mail)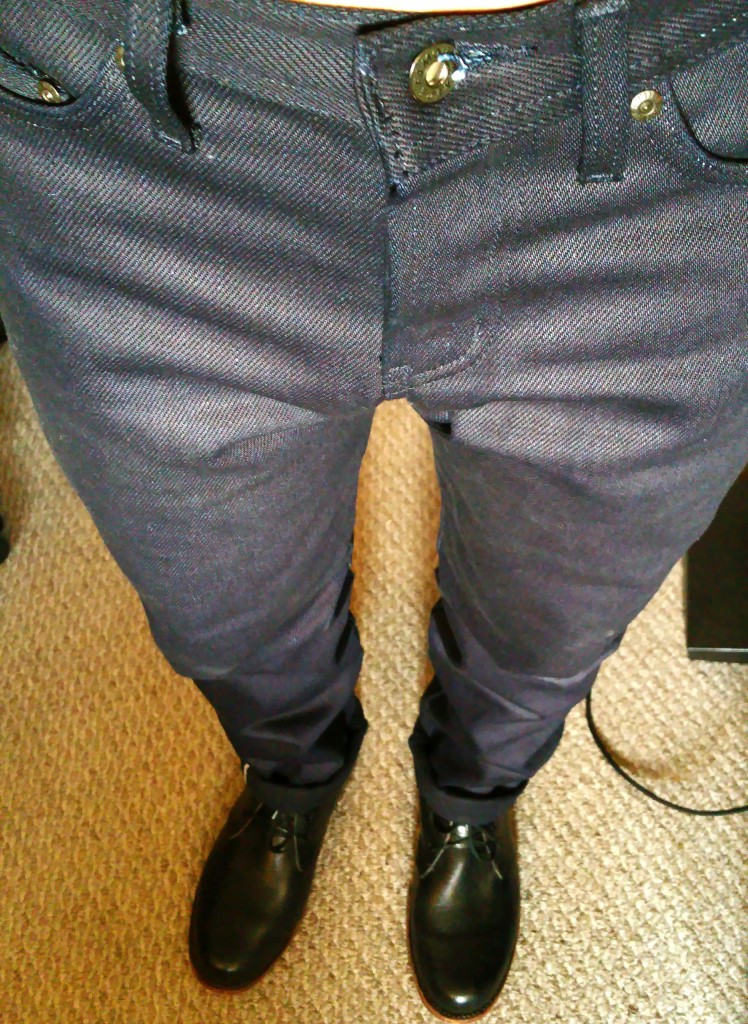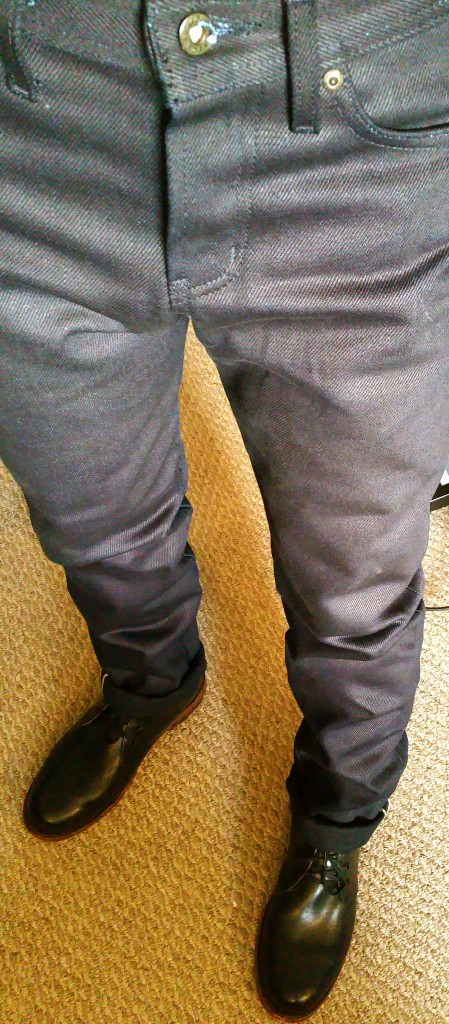 This would be my 6th pair of N&F denim I purchased in 3 months. It could be officially described an obsession. Not as much with the brand per-say but more with interesting heavy weight fabrics, which inevitably leads one to N&F …repeatedly. I ordered this pair from Blue Owl Workshop. At the time I had been wearing the Elephant 5's, Weird Guy cut, size 30 for a couple of weeks so I chose the same in the E4's. When they arrived I noticed the waist was a little tighter and the rise was considerably lower, to the point of being slightly uncomfortable. I really liked how the legs and waist felt and I loved the fabric so I decided to stick out lower rise. On first glance the fabric is at the same time unremarkable, aside from the weight and unlike anything else i've encountered. Not slubby, neppy or hairy but uniform and some what tight weave. The intriguing qualities were in its inky, almost sticky feeling, Deep color, and heavyweight thickness. It would be a slight over exaggeration to say it felt like there was a coating on the cotton but …kinda.  When I first put them on I noticed there was not much breathe to the jeans. They would be strictly winter. It only gave me a couple months to wear. So I threw 'em on and didn't wear anything else for two months. It took almost 3 weeks before they started to feel broken in. The rise stretched out to fit comfortably and the waist fit perfect. The legs were the slimmest out of all the Weird Guy fits i've tried. The colors were evolving from a super deep indigo/dark navy to a range of purples and electric blues. A very impressive show of color evolution. My appreciation of these jeans was changing from the spectical of 22oz denim and the challenge of breaking it in to realizing its amazing colors and textures that change rapidly before your eyes. An entertaining show that starts of with a bang. I'm glad it's getting warm outside, I want to savor the process of this denim more than achieve its results.
(Week 3 before soak, close up of E4 fabric)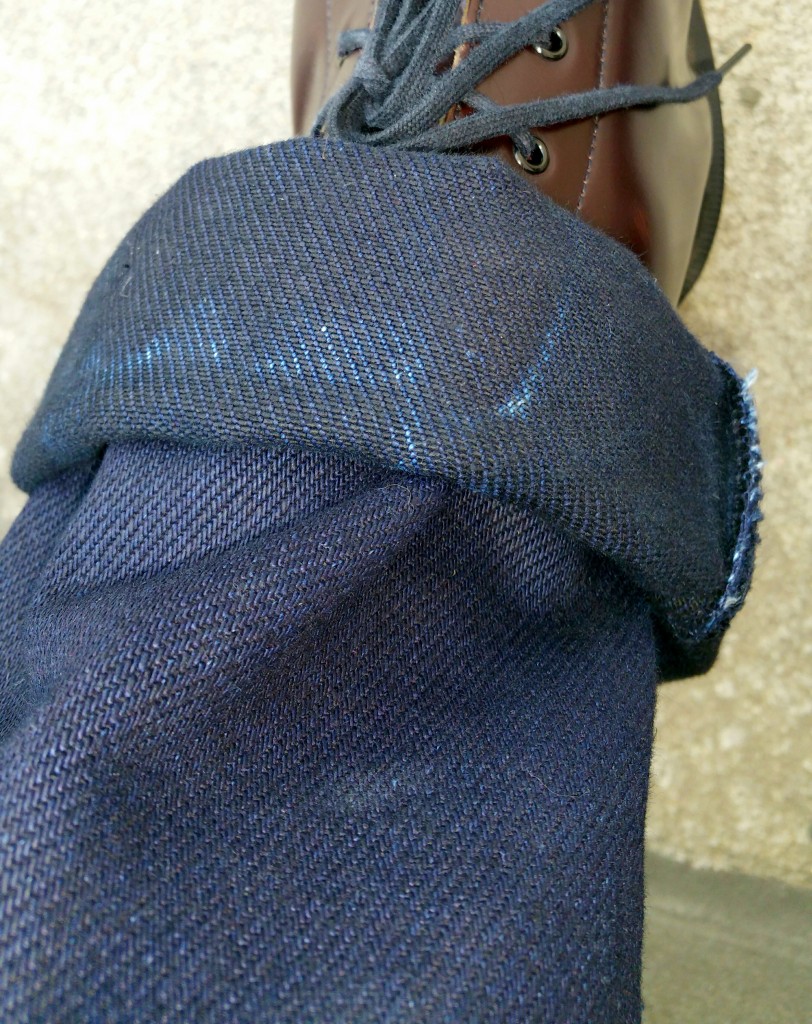 (Week 3: I decided to give them a warm soak to get rid of some of the starch in order to prolong the life of the denim. I plan on having these until they absolutely fall apart. I was also very interested to see how the fabric would react. I was worried about the rise shrinking so I wore in the tub for 30 min., stretching out the waist and rise as I soaked and I wore them while they dried.)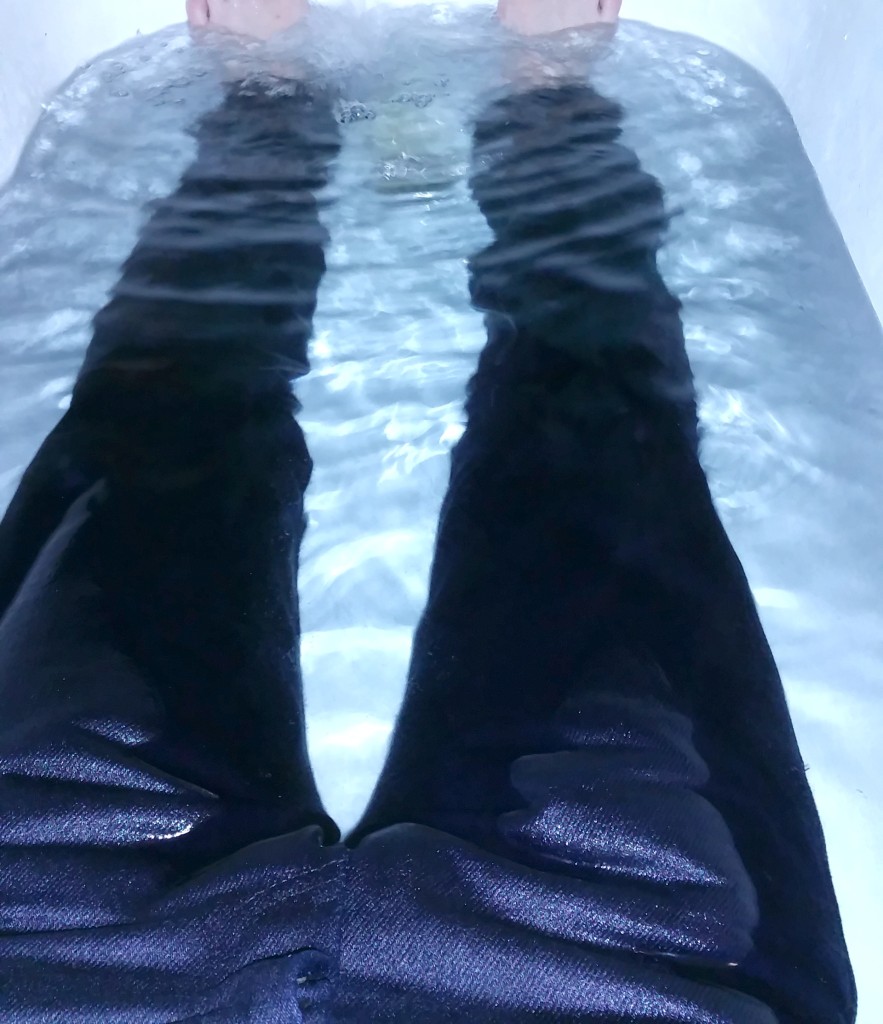 (after drying they can stand on their own!)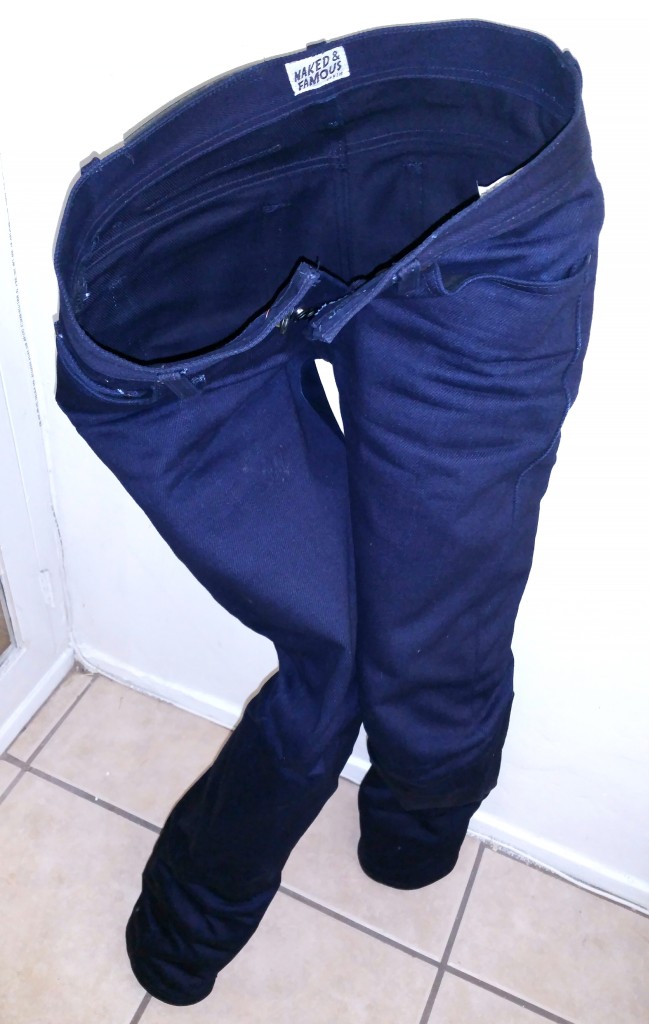 After the soak the denim became very, very ridged but had a drier hand. More of a starchy and ridged cotton feel than the previous, almost synthetic (not in a bad way) coating. The sheen was lifting. Little shots of electric blue started to surge at the creases. Sitting there staring at them, I was excited.
(Week 4, after 1 soak: Taking a hike in Simi Valley. Wearing: Polo Ralph Lauren sweater, Pendelton Mills flannel shirt, Elephant 4, Bullboxer boots)
I found that 75 F. is about as hot as it can get before I start to become uncomfortable in these jeans. Around week 6 it's looking like its warming up outside and I'm gonna put these to bed for the summer. First a wash, I have a hunch that storing them clean will promote a longer life of the denim. I took photos under several different lighting situations to show how the colors react.
(Week 6: Fades before 1st wash)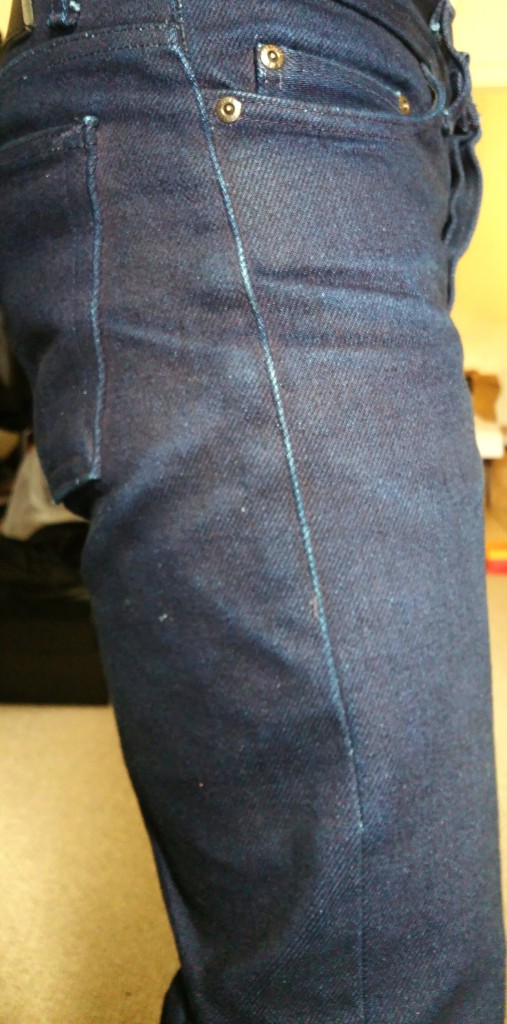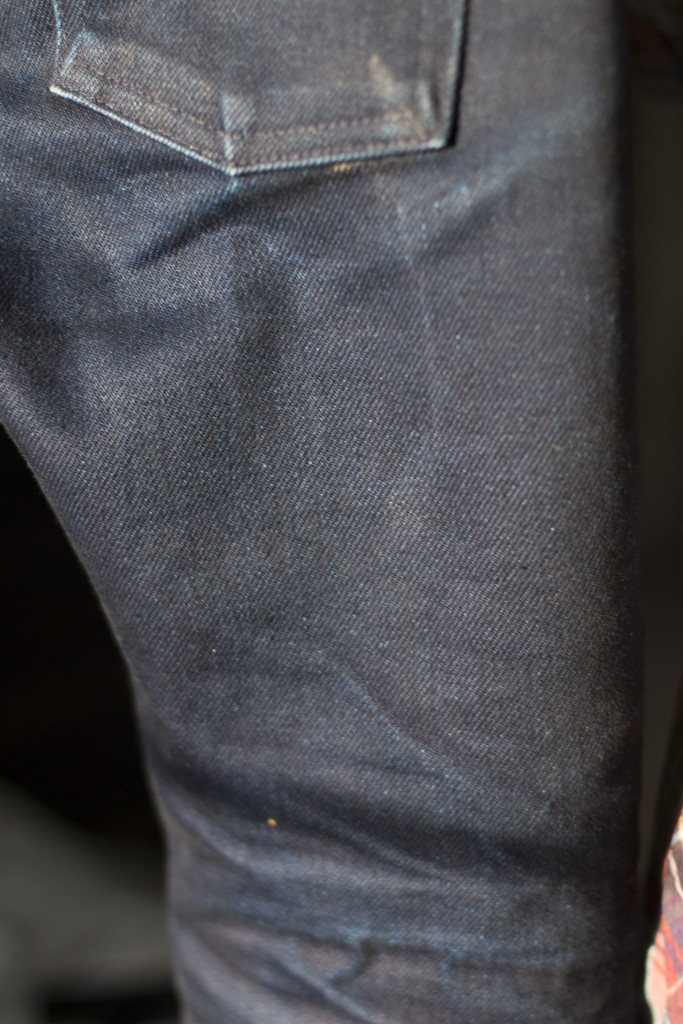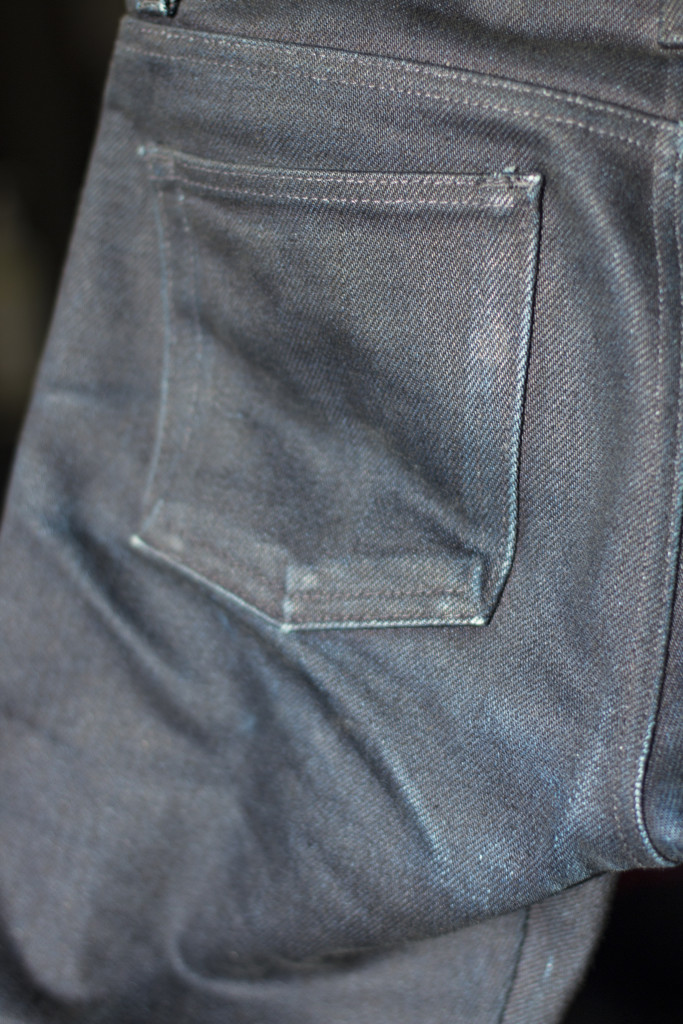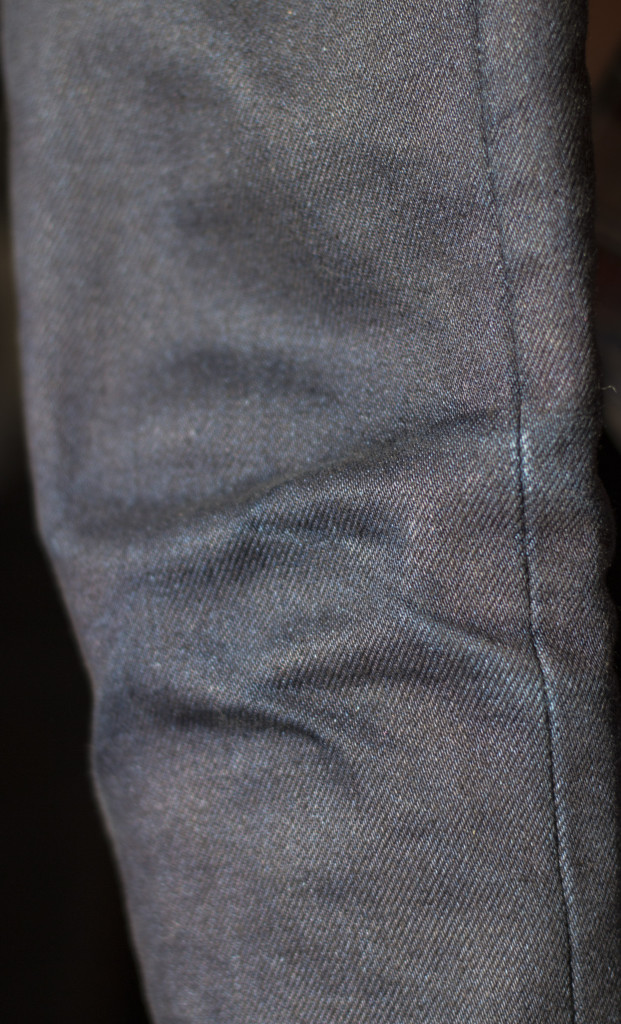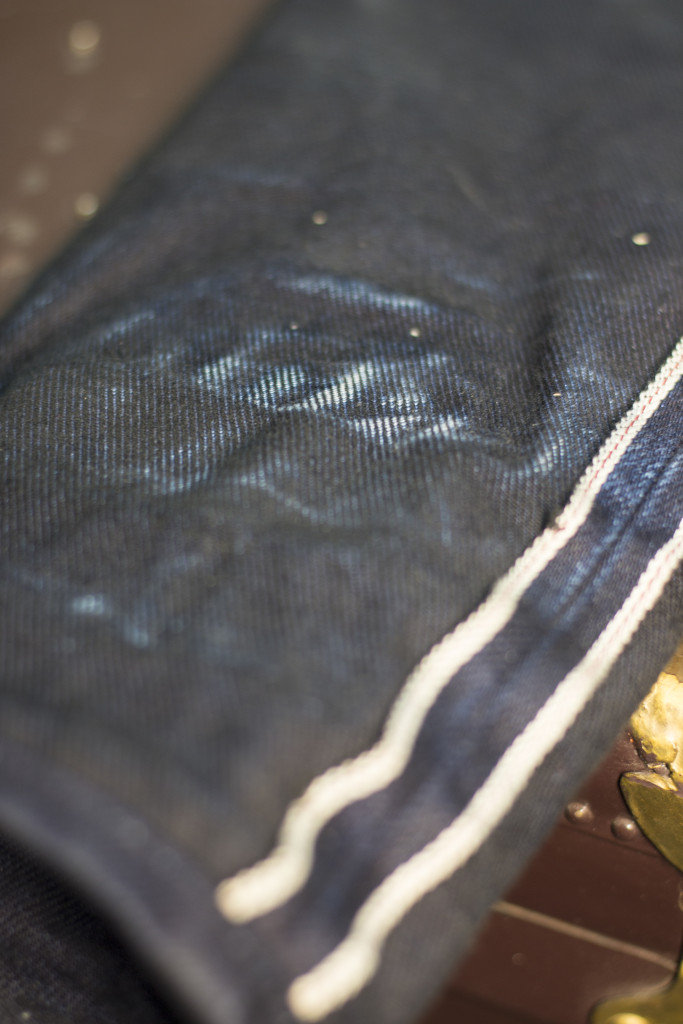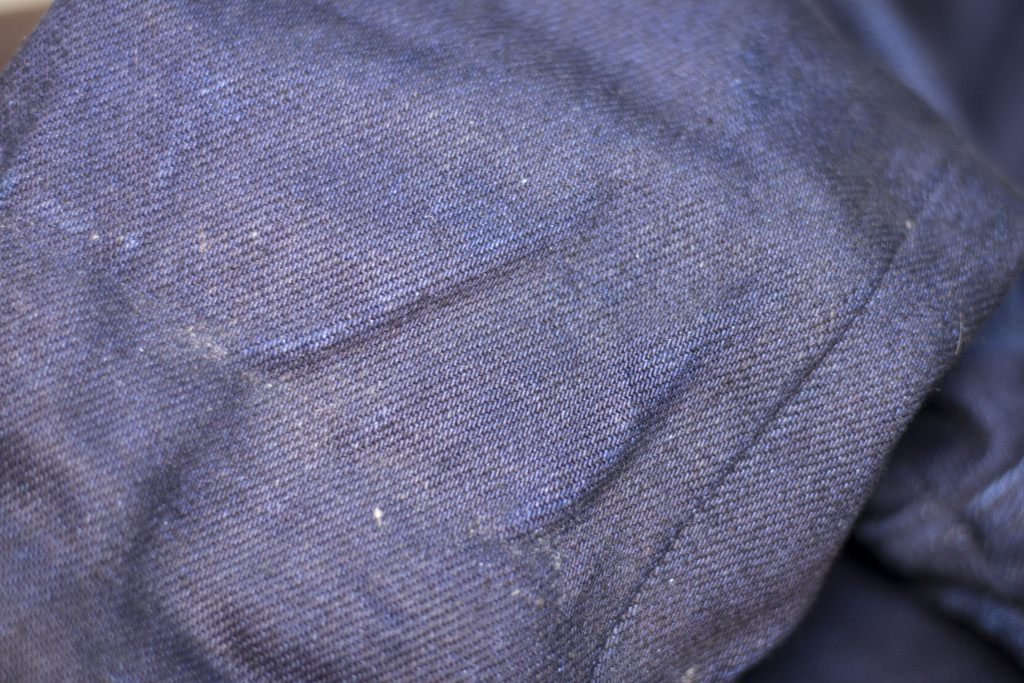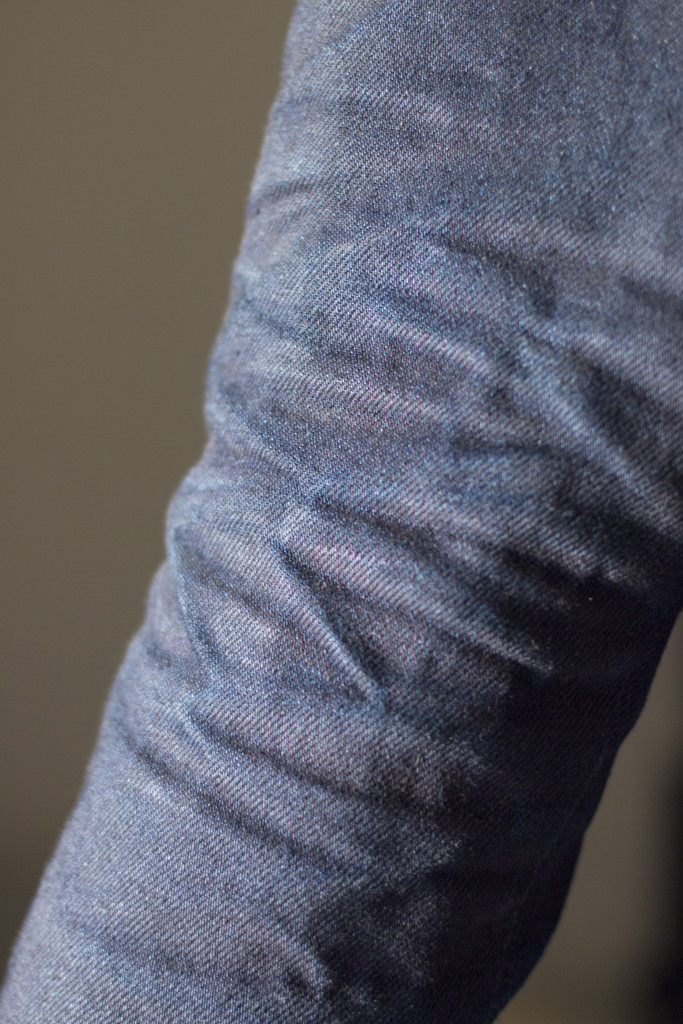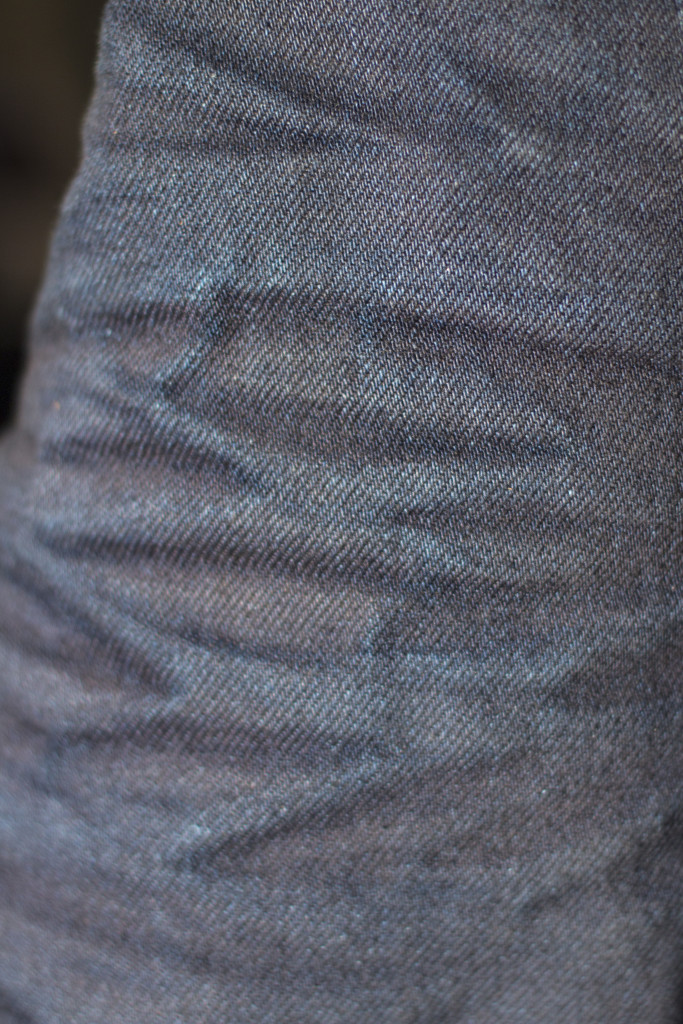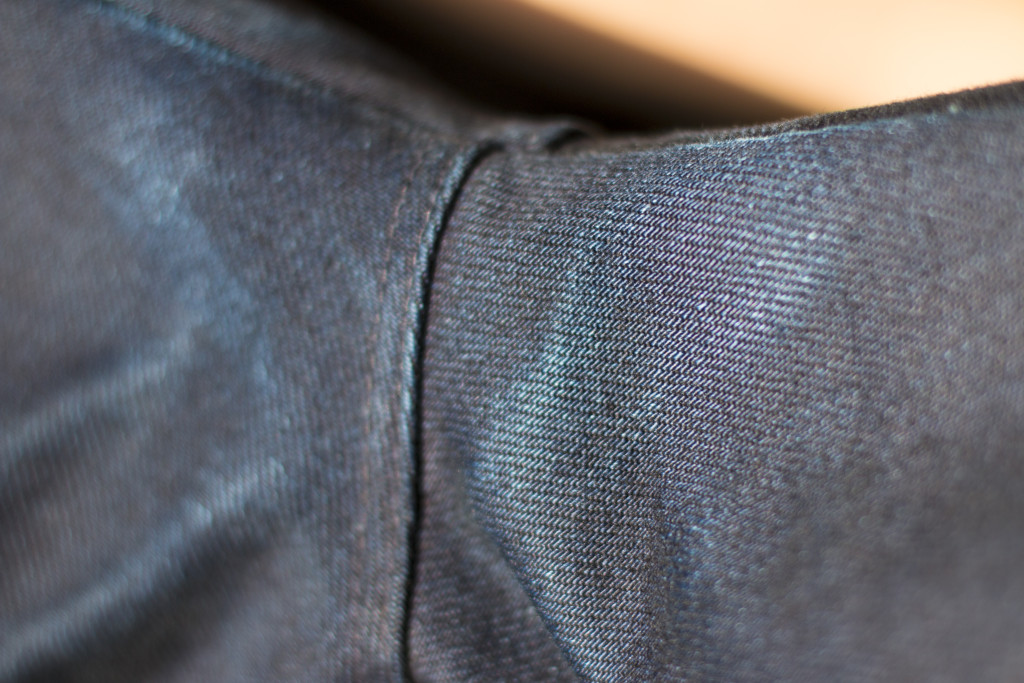 (Week 6: Fades after 1st wash)
Will update the progress next winter!