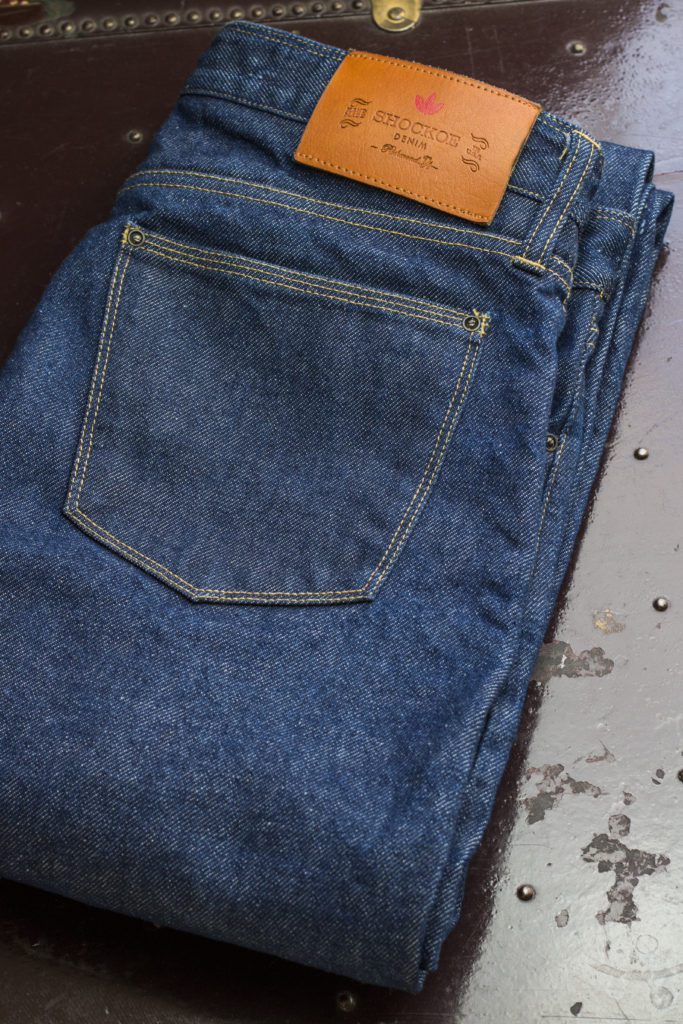 I'm very suprised to say that one of my favorite jeans are non-selvedge. This super limited deadstock fabric from the late 60's / early 70's is a rare find and something I couldn't pass up. Not to mention that it is very cool that Shockoe is only charging $95 for them because the fabric was free! I got the chance to speak with Matt Rho who was happy to tell the story about the origin of this mysterious denim. This is what he had to say.
Story of the deadstock fabric: "About a year ago, we ventured into an abandoned factory in Petersburg, VA (about 20 minutes south of Richmond) to scout some vintage furniture and equipment.  We did find some very cool fixtures and furniture, but more importantly, in one corner of the factory, we found a large pile of deadstock fabric rolls, including several rolls of denim dated 1970 – 1972.  The Slim Deadstock Dungarees are made with denim found in this pile. This particular roll wasn't labeled, so it is of unknown origin, but we are guessing it's from the same time period as the rest of the rolls.  Other rolls in the pile were from all over the place…from Cone to "Twin Dragon Marketing Inc.", a Taiwanese exporter.  The factory where the fabric was found was once the production space of ATU (American Textiles Unlimited), who manufactured both under their own label and we believe for other brands as well, such as Landlubber (of bell-bottom fame).
Cut: Low-Mid rise / Slim seat and thighs with tapered leg.
Fabric: Found dead-stock of unknown origin. 13oz wide-width denim with a vintage, true indigo shade. Sanforized, one-wash. 3×1 right hand twill. A slightly coarse indigo warp and soft natural weft. A neppy and hairy denim with a tight weave. The closest I can compare this denim to is vintage Wrangler fabric.
Details: 
Rolled and tucked belt loops
Double-pronged copper rivets with black finish
Old-school Shockoe Denim ("SD") buttons with tobacco-leaf stamping on backs
Shockoe Denim veg-tanned leather patch
Two-piece waistband, Lock-stitched yoke and waistband
High-density serving on inside fly, inseam and out seam
Chain-stitched hem
Hand-numbered
triple stitched back pockets
Made in USA

Free repairs for the life of the jean!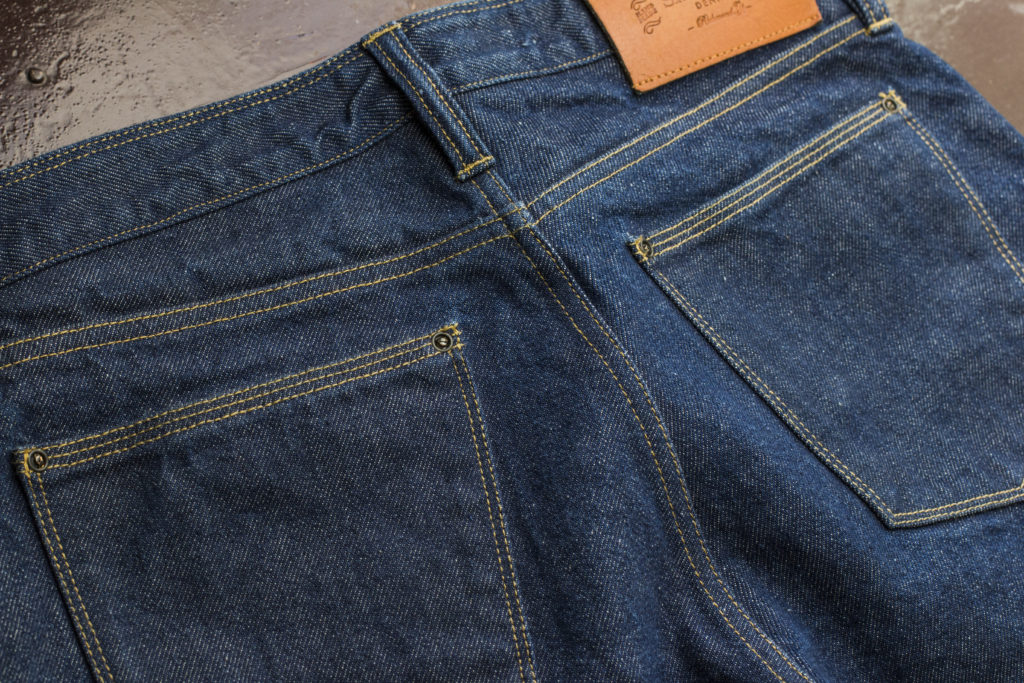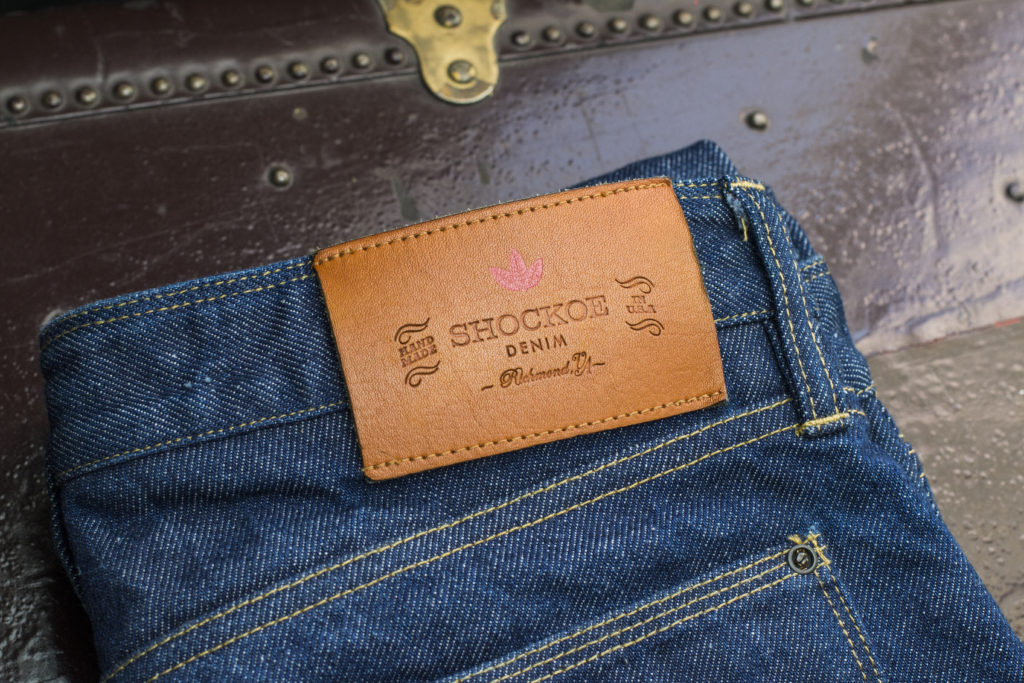 First impressions:
I think this is my favorite pair of Shockoe's I own. The Shockoe Slim cut is defiantly my favorite cut they offer. The rare deadstock fabric is really nice and like nothing else in my collection. I don't care that its non-selvedge.
There is a nice soft, one-wash, broken in feel to the fabric. The 13oz denim feels substantial and the tight weave is a little warmer than you would think. Besides the high quality construction and nice details, the vivid vintage color is really one of the most beautiful aspects of these jeans. TI wish they would have kept the inner back pocket detail featured on the
Standard Deadstock Dungarees
. Definatly going to be wearing these a lot this spring! I wish Shockoe made a jacket with this denim!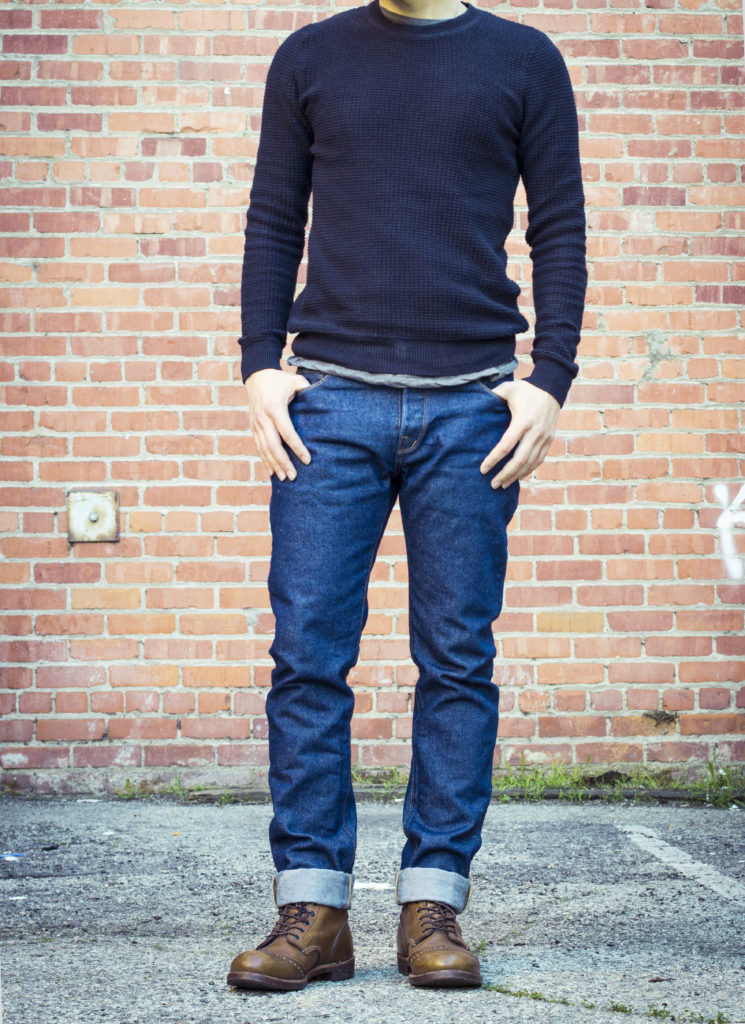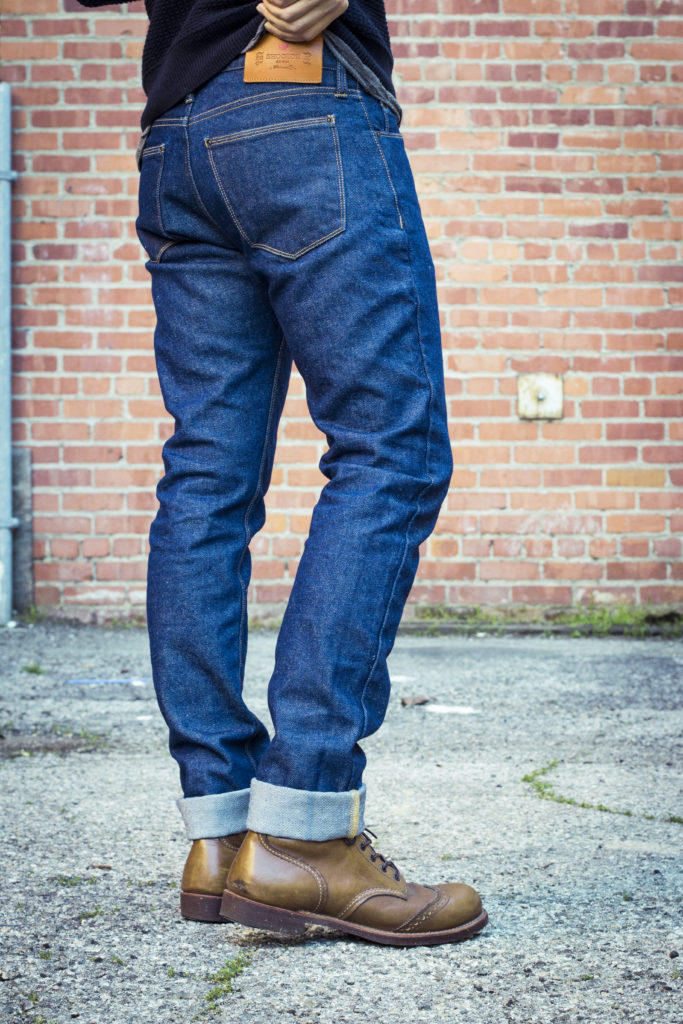 ~The Denim Hound 3-8-17