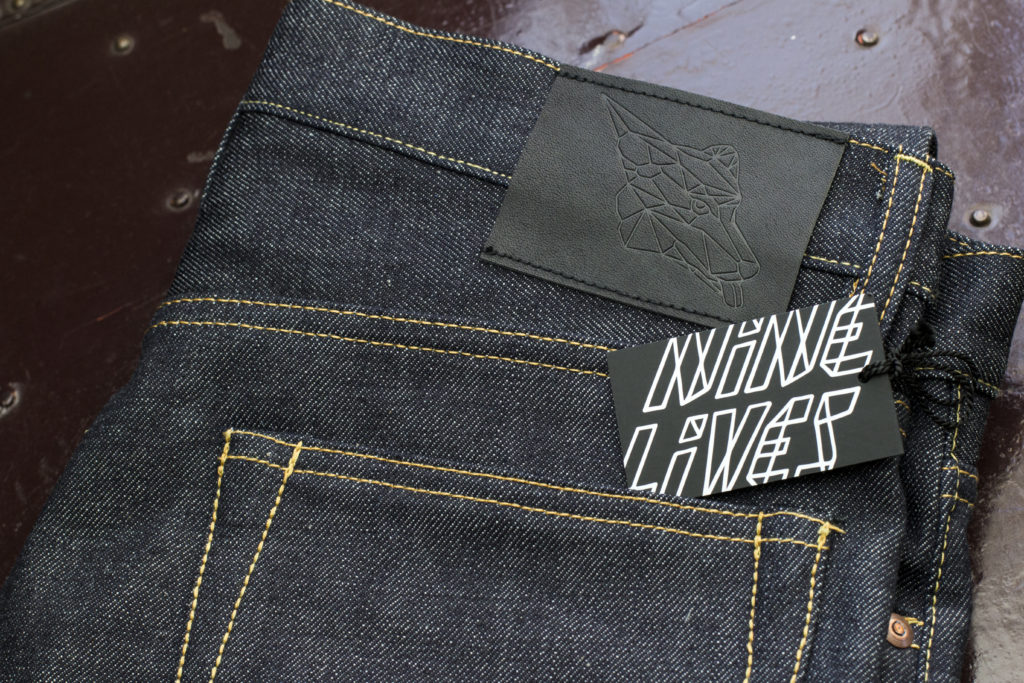 If you are not yet familiar with Nine Lives, then I am very excited to introduce you to this new Tokyo based hi-end menswear brand by Kotaro Sato and Ian Segal. Nine lives combines traditional Japanese craftsmanship, timeless pieces, top quality materials and puts it all together in a new way. In 2016, Nine Lives released a line up of top shelf menswear (like insanely cool, sashiko varsity jackets and dusters) that in my opinion, really put them on another level.
I am very excited to be reviewing Nine Lives Indigo Slim Tapered denim. I was introduced to this brand a couple of months ago by my friend Mike (@wildfrontiergoods). I reached out to them on Instagram and soon started chatting with Ian Segal, one of the two owners and minds behind Nine Lives. He seemed like a cool guy and was coincidentally from LA as well. I had a chance to met up with Ian when I was Out in Japan. Not only is he a really cool guy, but his jeans and whole clothing line is extremely well made, super cool, and one of the most impressive brands I've reviewed this year. So let's get into it, shall we?
INDIGO SLIM TAPERED
Cut: A slim tapered cut with a mid rise and roomy top block. A generous inseam length.
Mesurements – size 31: waist 33″, rise 10.5″, thigh 11″, knee 8″, hem 7″, inseam 38.5″
Fabric: 13.5 oz sanforized right hand twill selvedge denim from Okayama. 100% Zimbabwe cotton. Indigo warp and white weft. A tight weave with a bit of nep and a little slub. The Zimbabwe cotton gives the weft side an immediate softness that gets even softer with wear. This denim will be manageable enough for the casual denim wearer but with enough texture and fade potential to interest a serious denim enthusiast. Rope dyed with pure indigo.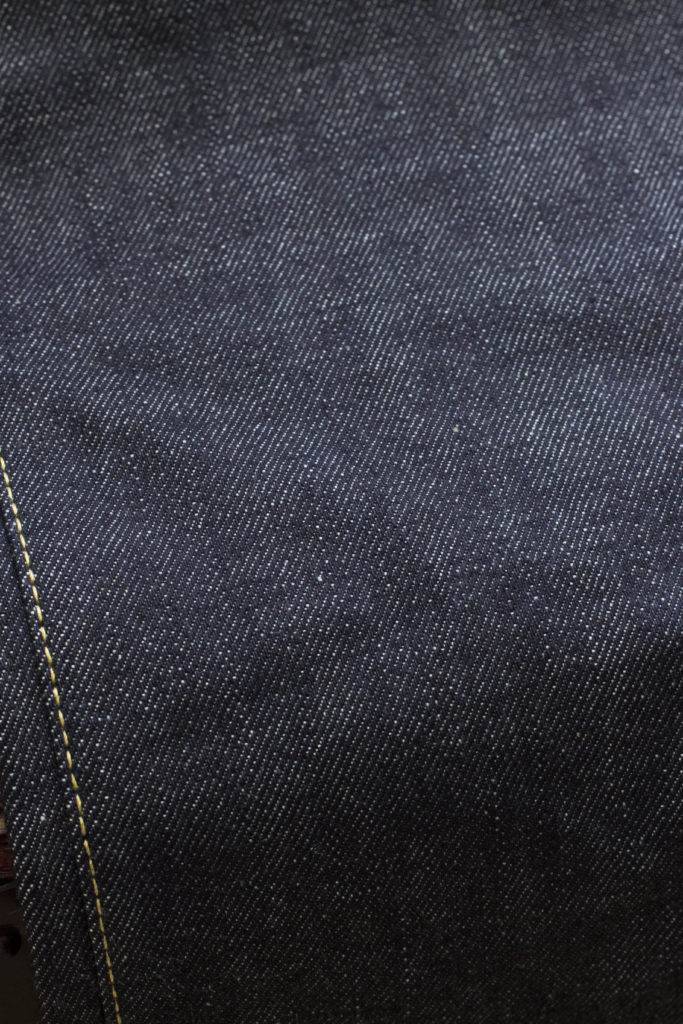 Details:
Selvedge ID inside fly
Black leather patch
Double-stitched front and back pockets
Smooth faced rivets
Chambray lined back pockets
Rolled and tucked belt-loops
Tack, dougnut style buttons
Custom top button
YKK hardware
"Tears of a Clown" single descending tonal stitch arcuate.
Slanted, asymmetric coin pocket
Red and white selvedge ID
Hidden rivets
Fit: One of the best fitting jeans I own. I'd say Nine Lives has pretty much come up with a close to perfect, slim tapered fit on this one. Comfortable while being slim, and tapered just right.
First Impressions: One of the most exciting pair of jeans I've come across this year! The greatness of this pair isn't immediately apparent to the untrained eye. Nine Lives has subtilely refined the standard details to support function and durability. Everything is there for a reason and nothing is purely cosmetic, except for maybe the arc, which itself is already… outside the box. 😉 The slight modifications to the classic details show how much thought was put into the design. For instance, I really like the slanted watch pocket. It sits on the relative flat of the thigh for use with credit cards without them bending too strongly or digging into the body. It actually looks straight when sitting down. Really digging the smooth rivets, designed so you wont scratch your guitar, car, or anything else you rub up against. The cut is spot on and a quality denim. I'd love to see this cut in a couple of denim fabric variations. A crazy textured denim or a heavyweight denim would just put me over the edge. I am sure theres more to come, I feel like this is only the beginning for Nine Lives. The only things I can find that could use a little improvement is the cosmetic element of the stitching. There are spots, like on the back pockets that could be a little cleaner. Really isn't that off, so a little bit cleaner would mean perfect. Also, the pockets are a little on the shallow side. Maybe one or two inches deeper would be nice. These are going straight into regular rotation. I will be posting fade updates off these regularly.
You can purchase this pair in indigo or black from Nine Lives's website. The black version is also available at Snake Oil Provisions for all you out there in the LBC!
~ The Denim Hound 1-15-17