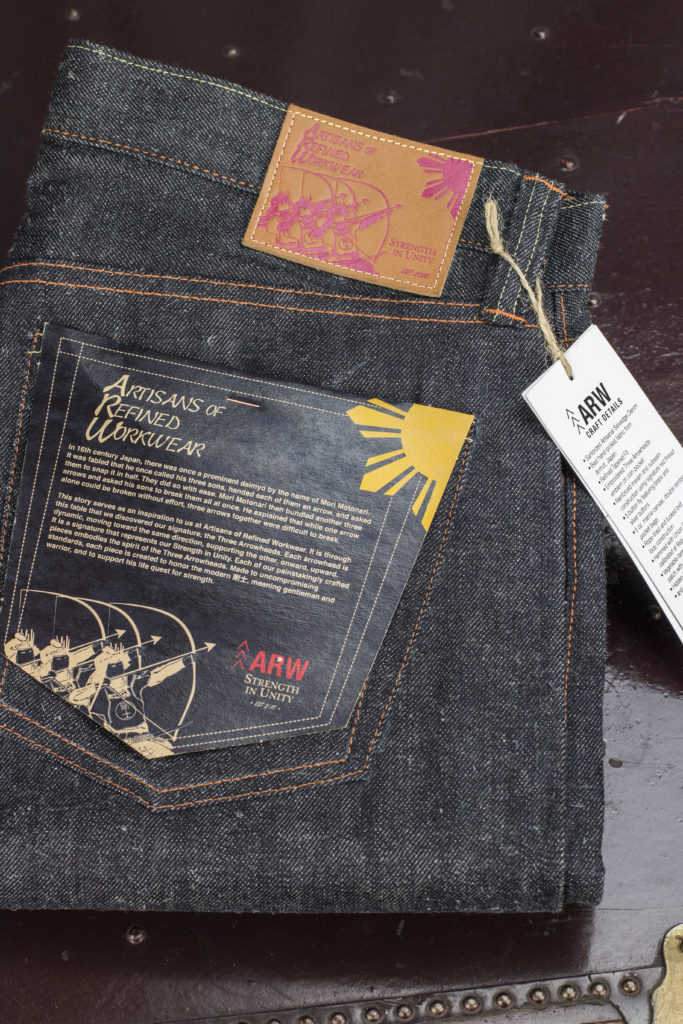 Cut: Refined Tapered Fit. A slim tapered cut with medium rise and strong taper.
Measurements: Waist 32″, rise 10.5″, back rise 14.5″ hips 18.25″, thigh 12″, knee 8.25″, hem 6.75″, inseam 32.5″
Fabric: 12oz sanforized, cotton and hemp blend selvedge from Amhot Mills Japan. Indigo warp and white weft. This denim is actually much more neppy and hairy then slubby, although it is a little slubby as well. This denim is supposedly regulates body heat, I'll throw it into my summer rotation and let you know.
Details:
Orange and yellow stitching with red inseam and accents
Raised and tucked belt loops
Universal Copper rivets
Peak-a-boo selvedge on watch pocket
Three Arrow Heads logo embroidered on watch pocket
Hidden woven ARW label sewn inside back pocket
Three Arrows logo inside waistband
5oz marine canvas double reinforced printed pocket bags
Chain stitch runoff on fly
Red and white selvedge ID
United We Stand sewn inside fly
Vegetable-tanned leather patch
Red inseam and outer-seam stitching
5 button fly featuring brass and silver buttons

Hemmed with Union Special 43200G calibrated at 9spi
First Impressions: A nice slim tapered fit that still gives you room to move around. A lightweight denim with a nice hairy and neppy surface, that is well suited for warmer weather. Because of the hemp fibers poking through, the denim feels a little itchy, kind of like wool. Its not uncomfortable but it is noticeable. This will most likely soften with wear. This pair is loaded with details but they are not thrown in your face, they are mostly hidden when worn. One thing I have to mention is the jeans arrived with a few chalk marks from the manufacturing process. This isn't a sign of bad quality and doesn't really bother me, and could possibly be only on my pair, but it gives them a little bit of an unpolished presentation. Over all a well constructed, good quality pair of jeans and a great offering from the Philippines to the world of raw denim!
Check out ARW on Instagram and Facebook.
~ The Denim Hound 7-11-17