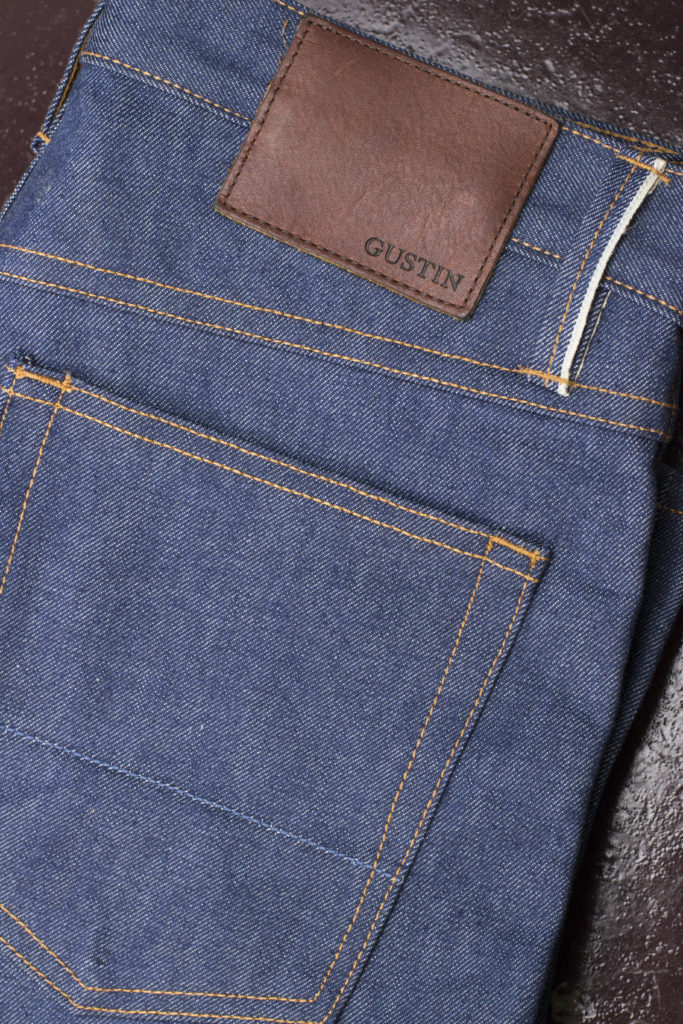 Fit: Skinny Fit. A very slim tapered fit with a medium rise. A nice amount of room in the top block and thighs with a very slim leg from the knee down.
Measurements (size 33): Waist 34.5, rise 10.25, back rise 14.25, hips 18.5″, seat 21.4″ thigh 11.5″, knee 8″, hem 6.7″, inseam 36.3″.
Fabric: Cone Mills, White Oak 110 year anniversary 16oz natural indigo selvedge denim. This is the first time in 100 years that Cone Mills has made a heavyweight natural indigo selvedge denim. This sanforized 100% USA cotton denim is truly something special. The classic tight weave right hand twill with high tension yarns and smooth surface denim that Cone is renowned for. Very small slub yarns can be found in the indigo warp and white weft if looking closely, also there is a little bit of nep popping though. The standout element of this denim, is the color. Cone used a beautiful light natural indigo dye that was crafted from indigo plants, farmed in the USA. Truly a rare denim with all elements 100% made in the USA. As with most Cone Mills denim the dye has penetrated deeply into the yarns but not fully saturated to the core, so you can expect slower fading but the result will be a beautiful vintage look.
Details:
Hand stamped leather patch
All white selvedge ID (Some models may have red and white ID)
Selvedge ID belt loop
Tucked belt loops
Hidden fly selvedge
Gustin branded button fly and rivets
Orange cotton wrapped poly stitching with red accent bar tack stitching on hem and crotch.
Orange and red mixed chain stitching on hem and inside back pockets.
Double felled inseam with one orange and one tonal blue stitch.
Waistband chain stitched on top and bottom
Half lined back pockets with bar tacks instead of hidden rivets
First Impressions: Very, very impressive! This pair could easily cost $200. For $79 this pair is an absolute steal. Aside from the value and rare denim used, the craftsman ship is also good. Clean stitching and just the right amount of details to keep it interesting without going overboard. I really like the mixed orange and red stitching inside the back pockets and hem. The buttons have a really nice, solid feeling to them. In proportion to the waist and top block, this is the skinniest slim tapered cut from the knee down I've ever come across. I would actually be careful if you have even slightly muscular calfs and are going for denim at this weight or above. My calfs barely fit after a hot soak, and I would say I have average size calfs. I love the color choice of red accent thread and all white selvedge, it makes a red, white and blue color pallet that is a perfect representation of these, 100% made in America jeans. Everything from the denim weaving, stitching, the cotton and Natural indigo dye, all grown, processed and constructed in the USA. I am definitely looking forward to reviewing another pair of Gustin's in the future, as I feel like I'm just scratching the surface of what this brand has to offer.
Check out the current crowd funding campaigns by Gustin. here.
~ The Denim hound 9-25-17