BUYING NON-WASH UNSANFORIZED DENIM ONLINE – How To Get The Right Fit
Until you become familiar with non-wash unsanforized denim, predicting how much it will shrink can seem complicated. Through trial and error, I've found a few simple things you can consider that will help you purchase a better fitting pair of jeans.
MEASUREMENTS
First, take your best fitting jeans and measure them. Make sure that you are taking correct measurements. This is the most important step. Click here to become familiar with how to correctly measure denim. If you are not sure if you are doing it right contact Denimio's customer support at [email protected], they are more than happy to assist you. Once you've gotten your ideal measurements recorded, you can start looking at Denimio's size chart for each pair of jeans to find your ideal fit.
NON-WASH VS. ONE-WASH UNSANFORIZED DENIM
Sanforized – The cotton yarns are treated before weaving so they shrink before being woven into denim. This denim will only shrink slightly when washed (1%-3%). Usually the difference is so small that you can buy true to size without worry.
Non-Wash Unsanforized  – This denim has not been sanforized. It will shrink about one size, or about 5% in width or 9% in length the first time it is washed or soaked. A general rule is to buy one size bigger than your measurements to compensate for shrinkage.
One-Wash Unsanforized – The same as non-wash unsanforized but it has been washed once before it is measured. This makes it easier to size when buying online. You can buy one-wash unsanforized denim true to size without having to worry about shrinkage.
SHRINKAGE
Don't worry if you receive your jeans and they are a little on the big side, you have a couple options.
Cold or Hot Soak – The hotter the water, the more they will shrink. If they're a little loose or you don't want them much more fitted, do a 20min cold water soak. If you want maximum shrinkage, use the hottest water your faucet produces for 1 hour. Frequently agitate the denim so the hot water penetrates deep into the cotton fibers. Repeat this process a second time to shrink the jeans as much as possible.

Please note: If the waist is more than one size too big you may want to consider a return.

This should not happen if you measured correctly.
Partial Soak – Let's say the legs are too baggy but the waist fits perfectly. You can hot or cold soak only the part you want to shrink.
The Classic "Shrink to Fit" Method – If want to soak your whole jeans but don't you are worried that they may be too small after, fill the bath with warm water, put on the jeans and jump in for 30 min. get out and towel dry and wear until fully dry. Any part that may have shrunken too tight other wise will not be able to shrink past your measurements. Be careful not to squat too much or do any crazy stretches while wet as this may blow out the knees, seat and crotch area too much.
Drastic measures for when you need to get maximum shrinkage at any costs! Detergent – Using a detergent made for dark fabrics will shrink the denim even more but may slightly change the color of the denim. Dryer – Warning: The use of a dryer can shorten the lifespan of a pair of jeans by potentially damaging of the cotton and the leather patch. If you dry your jeans put in dryer on low and check every 10 minutes. Look at the leather patch, make sure it is not shrinking. take the jeans out of the dryer before they get "crispy" dry.
FINAL RESULT
If you can manage to button up your jeans after the soak (even if you have to hold your breath!), it is a good fit. The areas that are tight will stretch and expand to fit your body. They will mold to your body to create a personalized fit, which is the ultimate goal when purchasing non-wash unsanforized denim.
EXAMPLES
These Pure Blue Japan XX-019 represent the average amount of shrinkage for a pair of unsanforized denim (about  4-5% in width, and 6.5% in length). The waist and hips already fit me well so I did a partial soak from the hips down.
Here is an example partial soak on a pair of non-wash unsanforized ONI Denim 507KHN purchased from Denimio.com. As you can see this denim shrinks much more in length(8%) then width(3-6%). I have found this to be common for denim that has large vertical slub yarns.
Here is a partial soak on a pair of non-wash unsanforized ONI Denim 546ZR purchased from Denimio.com.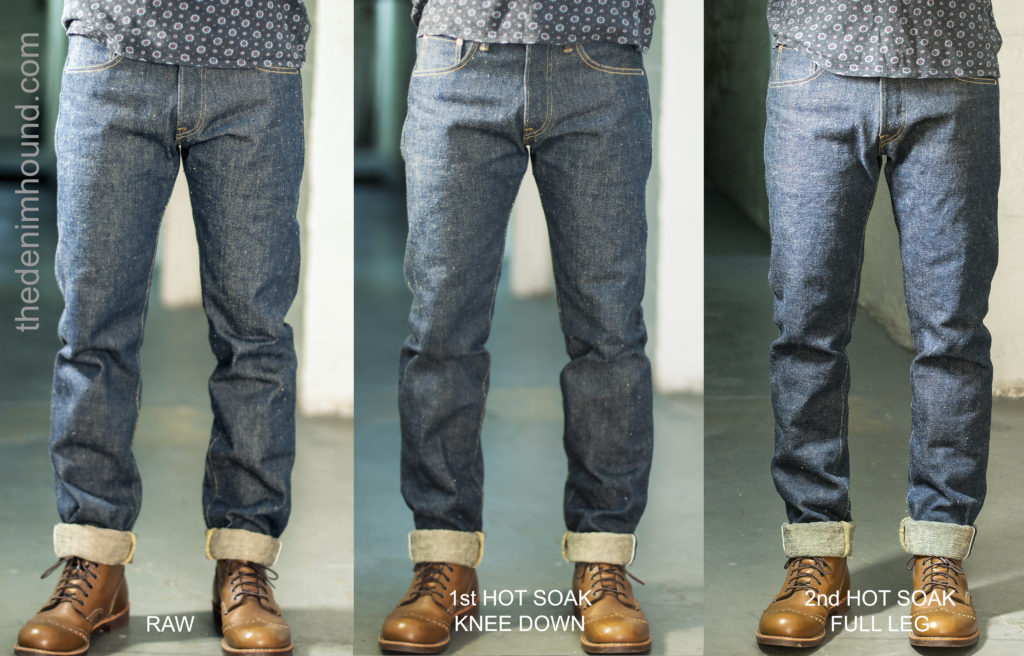 Here is an example of a partial soak and the classic shrink to fit ocean soak on mu Oni Denim 517XX Contest Edition. I wanted the legs to shrink and much as possible but the waist was already a good fit. Because this is a fade contest pair I wanted the denim not to shift the fade areas after the first wash. So I combined two methods to get a perfect fit. I also wanted to show an example of the post soak stretch.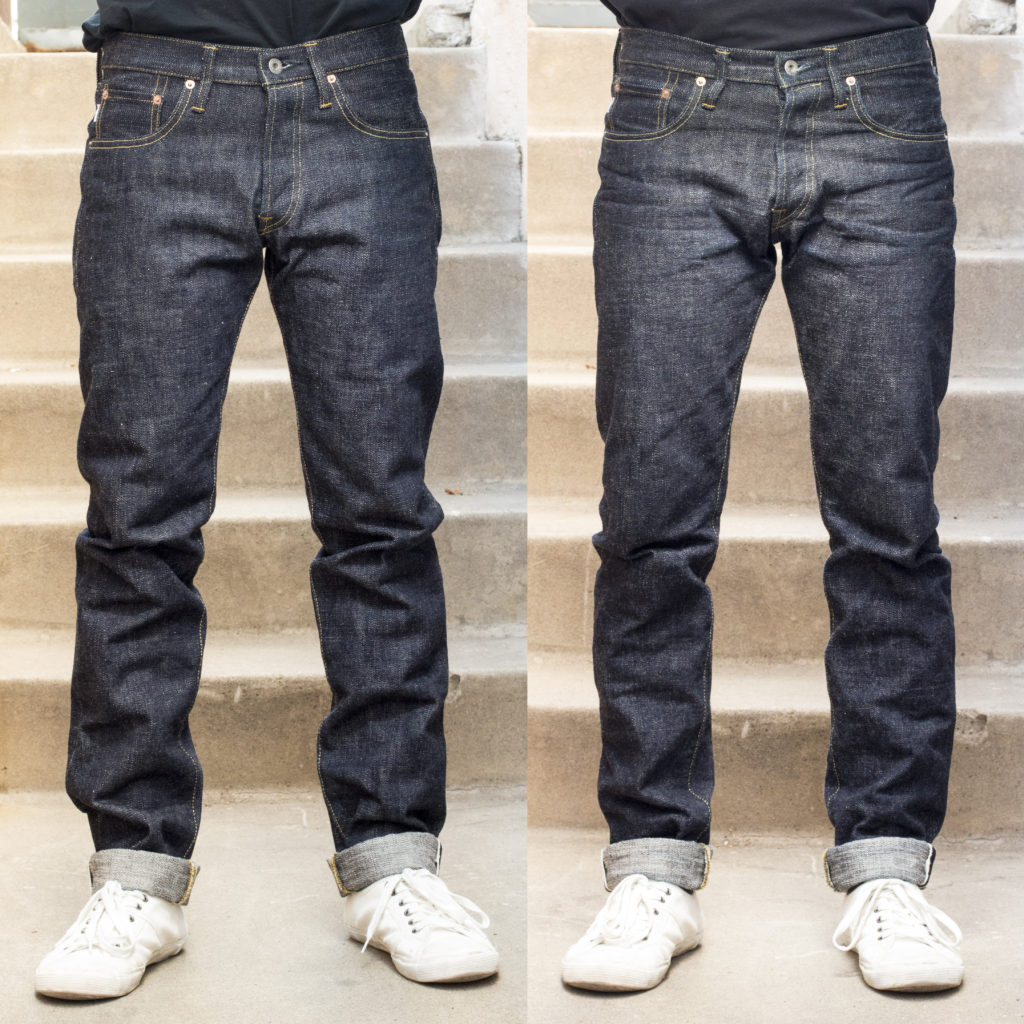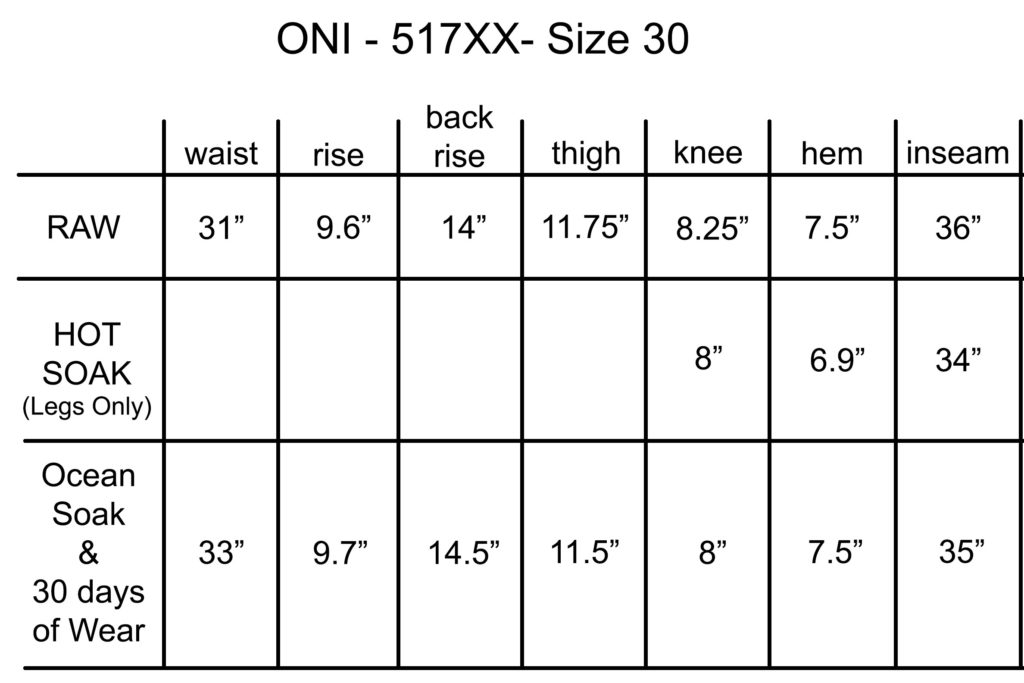 Another example of a partial soak on a pair of PBJ's the KS-013. This pair is a rare example of more shrinkage in width then length.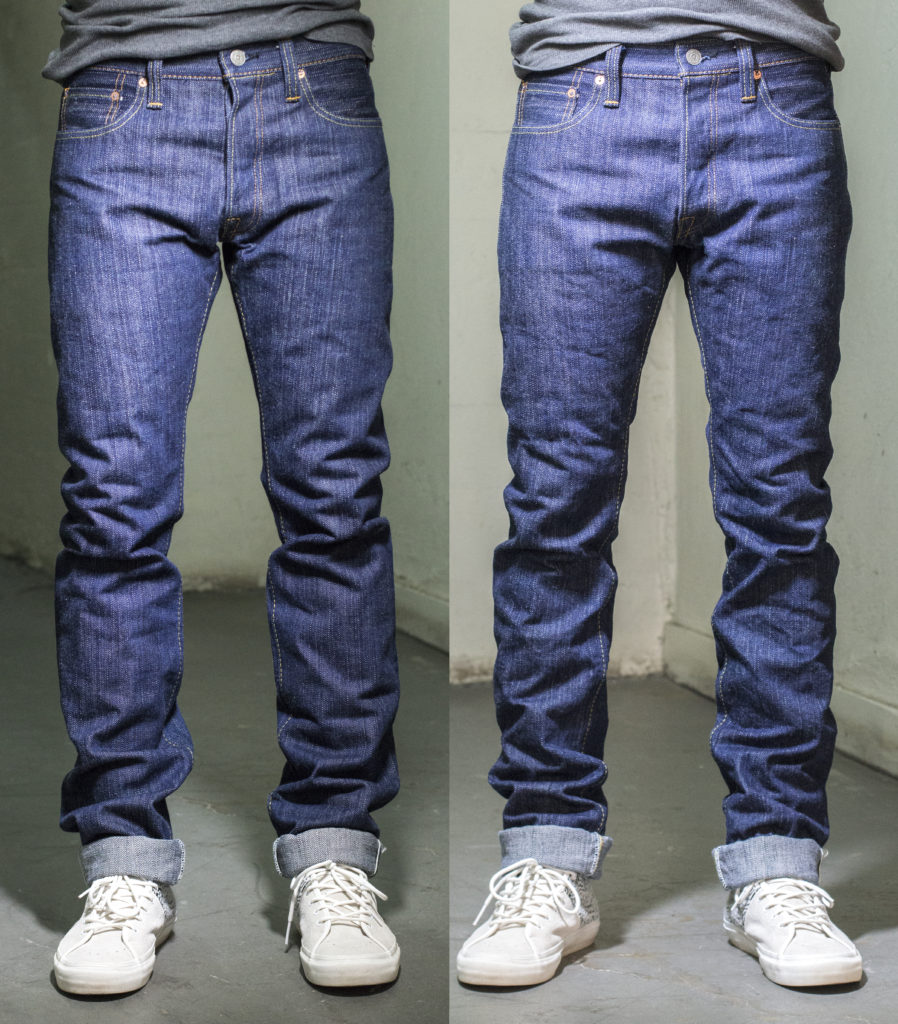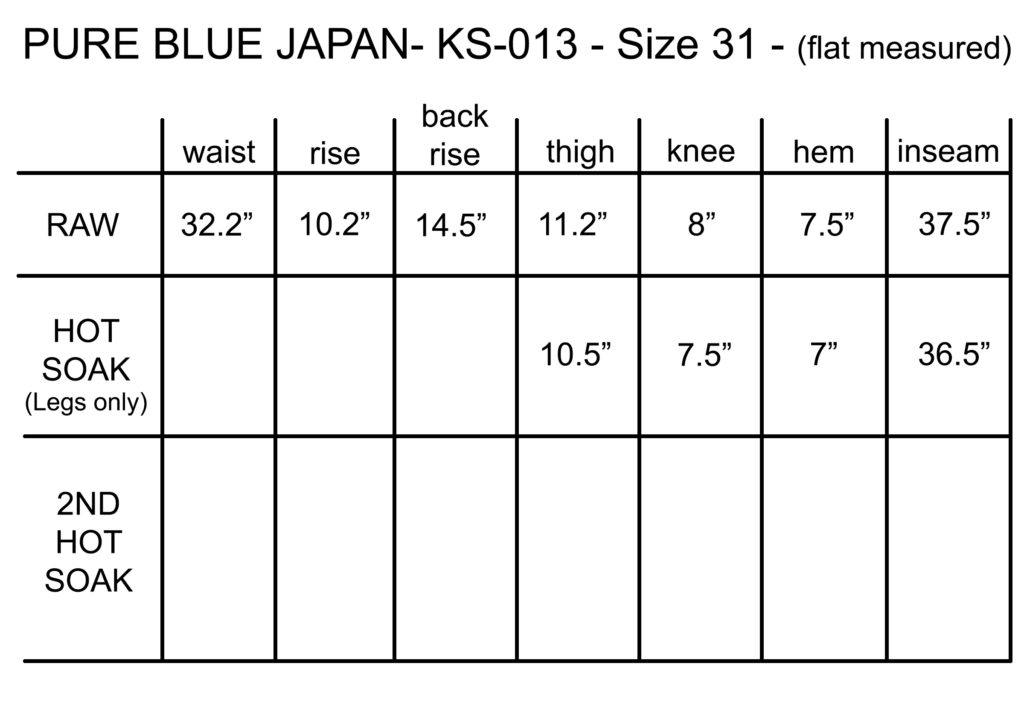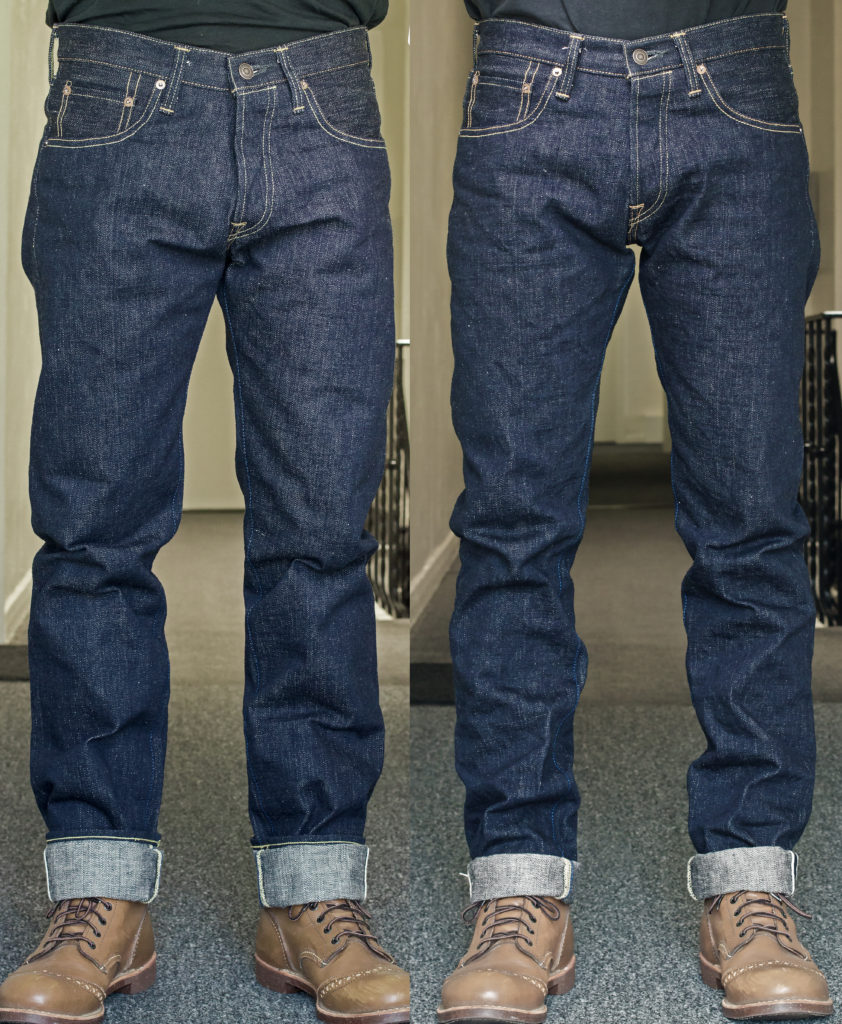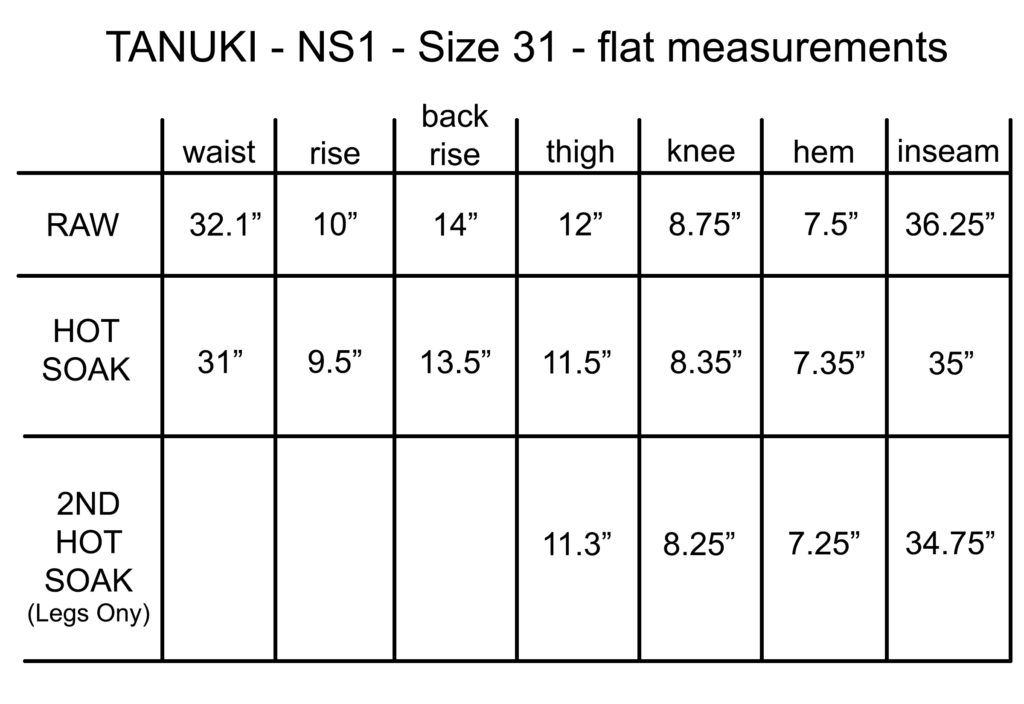 This pair of Tanuki IDUS1 was already a perfect fit on the top block and I was worried about it shrinking too much with the usual hot soak. So I filled the tub with warm water and wore the jeans into the tub for about 30 min. I got out and towel dried myself and went for a walk until dry. I did a couple of squats and lunges to stretch the denim back out, it was getting very as it dried. The end result tight but wearable and the legs slimmed up very nicely. Also, you can see how the soak really brought out the slubby texture in the denim.