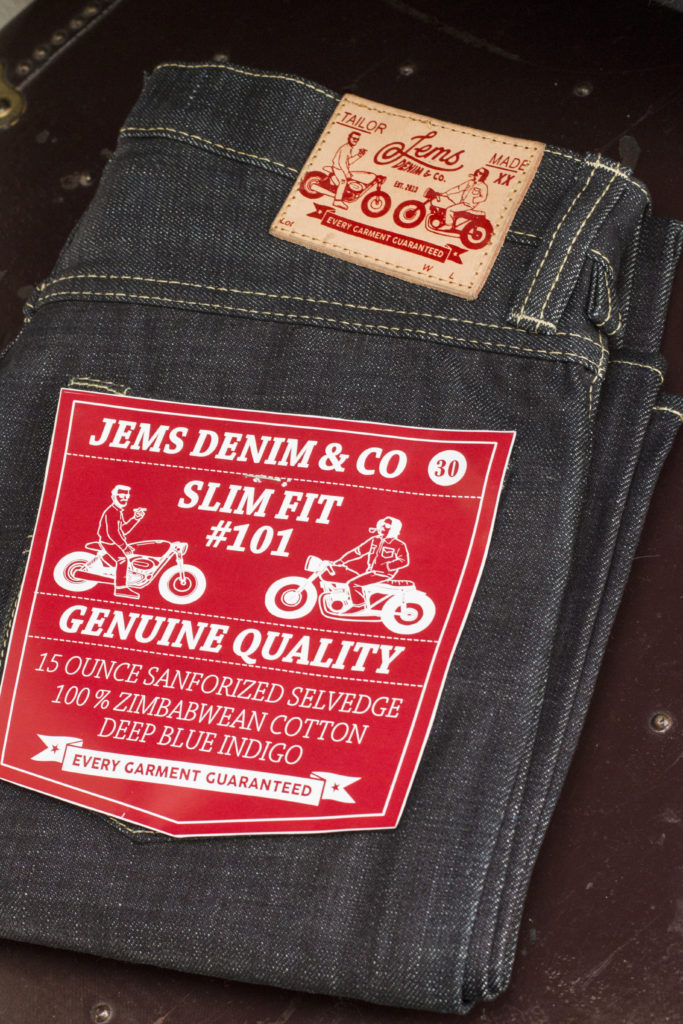 I am fascinated by the Indonesian denim scene. It is one of the new frontiers of the denim world. A young but quickly developing industry, already producing some examples of world class jeans. I've heard stories of marketplaces filled with bootleg versions of raw denim brands such as Iron Heart and Nudie. Demand for quality raw denim is high, but the price for Japanese and American denim is too high for the average denim lover of Indonesia. So passionate denim heads start their own brands and take production into their own hands. With lower costs they are able to make quality denim that is more affordable to the local economy. With this dynamic in place denim heads from the all over the world can find some high quality denim at a very low price. But with this scene still forming, buying denim from unknown Indonesian brands can be hit or miss.
Jems Denim & Co. from Indonesia has piqued my interests with their Slim Fit #101. Jem's has only been making raw denim for about a year now but look promising. After doing a little research, I discovered that this pair cost 849k Rupiah's ($63.52!). I had to check these out first hand. Lets take a look…
Cut: Slim straight, medium to low rise.
Measurements: Waist 32″, rise 10″, thigh 11.5″, knee 8″, hem 7″, inseam 36.2″(34.5″ after soak).
Fabric: 15oz sanforized selvedge denim. 100% Zimbabwe cotton. A nice and slubby denim, with equal slub in the warp and weft giving it a nice crosshatch texture. A slight greencast weft and a redcast warp. The core of the warp yarns are a light blue so some indigo has penetrated all the way through. Fades may not be super high contrast but should be interesting because of the texture and color. The weave of this denim is on the looser side.
Smell: When I received this denim it had the earthy and sweet smell of beets and mold. Not a bad smell but not one that I have experienced before. After a soak and a couple of wears, the smell is gone.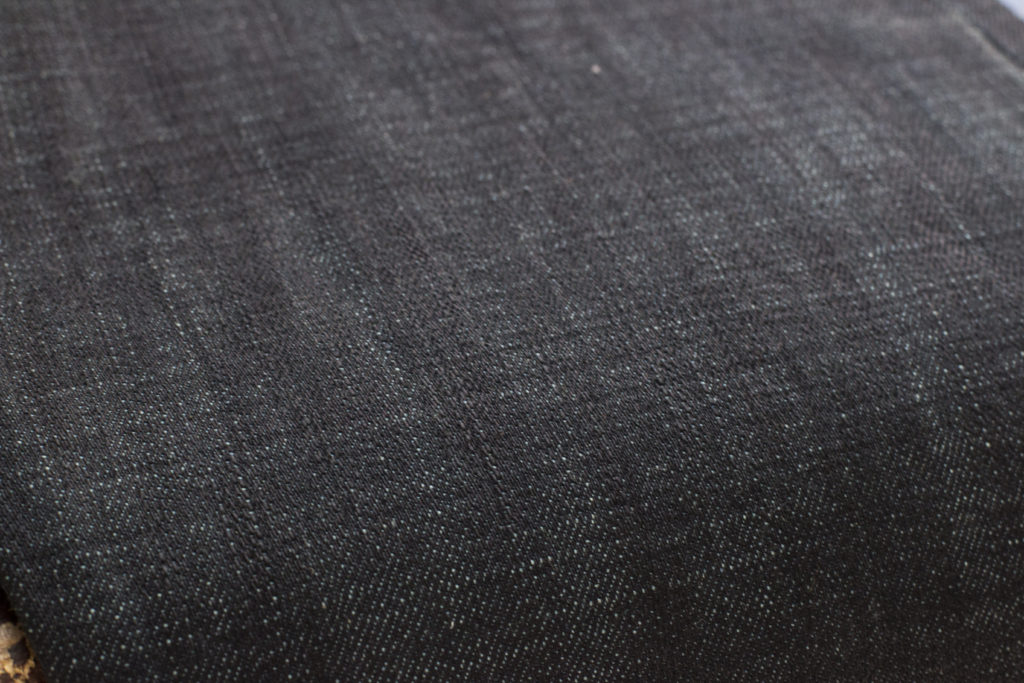 Details:
2mm thick veg tanned leather patch (hand screen printed)
Offset back belt loop
Tucked and raised belt loops
Start and laurel leaf top button
Donut style buttons
Oxidized copper rivets
Slubby indigo pocket bags
Fabric swatch sewn into the waistband
YKK branded rivet backs
Gold stitched pocket arc's
Peek a boo selvedge on watch pocket
Hidden rivets on back pockets
Waistband key loop
Red and white selvedge ID
Hidden arcuate on watch pocket
Yellow stitching (Deep blue & cream inside)
First Impressions: The nicely balanced slub denim fabric is definitely the standout component to these jeans. They are instantly comfortable due to the Zimbabwe cotton. I like the oxidized rivets and the fabric used on the pocket bags, medium thickness with a nice color and texture. I think the stitching could be improved, it's ok but could be a cleaner in some places. After one wear a stitch by the bar tack of the back pocket has started to unravel. not sure if it going to need repair soon. I like the fit, nice and slim with a snug top block while still being comfortable. Overall a great pair of jeans for the price, with just a little improvement in the stitching execution, they could be a solid contender in the world of raw denim.
To order, contact Jems denim at: [email protected]
~The Denim Hound 3-8-17