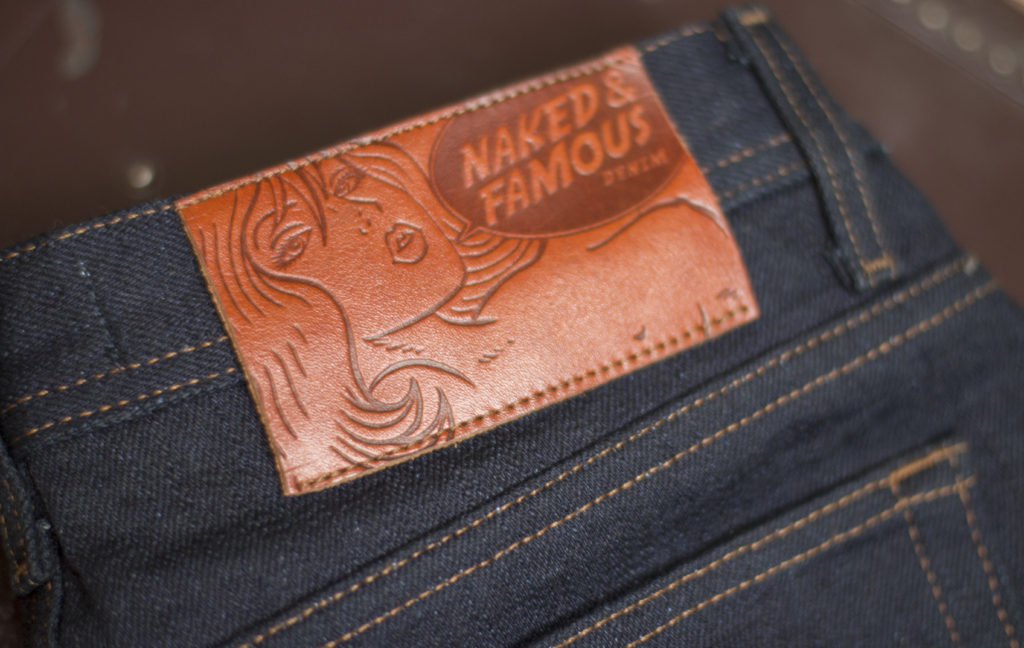 The Okayama Spirit 2. Unsanforized slubby indigo (warp)/indigo (weft) denim. Dual fading properties on the inside and outside of the jean.
MEASUREMENTS (raw) Size 32, W 33″, Rise 11″, Thigh 12″, Knee 8.75″, Inseam 36.5″, Leg Opening 7.75″
MEASUREMENTS (After 1 warm soak) W 32.5″, Rise 10.75″, Thigh 12″, Knee 8.25″, Inseam 34″, Leg Opening 7″
FABRIC: 18oz, unsanforized, selvedge denim. Woven on vintage shuttle looms in Japan using a special low tension slow weaving process and utilizing slub irregular shaped yarns . Both the warp and weft are rope dyed with pure indigo creating an extremely deep indigo tone. Cut and sewn in Canada.
DETAILS: Slubby irregular indigo warp and indigo weft, Red-line selvedge Hidden coin pocket selvedge, Orange chain-stitching.
FIRST IMPRESSIONS: Very stiff and rigid. Can stand on it's own when soaked. Respectibly slubby with a nice loose hand woven like feel. The indigo on indigo give the very textured fabric a more subtile first impression.
AFTER A FEW WEEKS: The denim breaks in to feel much softer. It also gradually gets a little hairy and reveals some nep as it fades. Very quick fading with burst of electric blue.
"The Okayama Spirit 2 pays tribute to its namesake; Okayama is the denim capital of Japan. The Okayama prefecture is known worldwide for producing some of the world's most beautiful denim fabrics. Producing denim the old school way by utilizing vintage machinery and dye techniques combined with a passion for denim and attention to detail." ~ Naked And Famous"
The Trial and Error of Unsanforized Denim.
Spending $200 on a pair of jeans is something most denim heads have learned to rationalize. But buying a second pair to get the fit just right? That takes a special obsession.
After my pair of LVC 606's rekindled my obsession with raw denim, I began to dive deep into the world of heavyweight. This led my google searches repeatedly to Naked and Famous. With models such as "World's Heaviest, 32oz Denim", The Elephant Series, the 24oz selvedge, N&F seemed like a good place to start.
It came down to the choice between The Okayama Spirit 2's  or The Elephant 5's. I decided to go with the OS2's because I also wanted unsanforized denim. I chose the Weird Guy cut, size 33. I upsized to account for shrinkage which N&F described as a full size. For me the rise on the current Weird Guy cut is a but too short. I have to keep an eye on it or it could be a bit "crushing". Walking home from American Rag I couldn't stop touching the ruff and textured fabric. I could wait to get home and soak.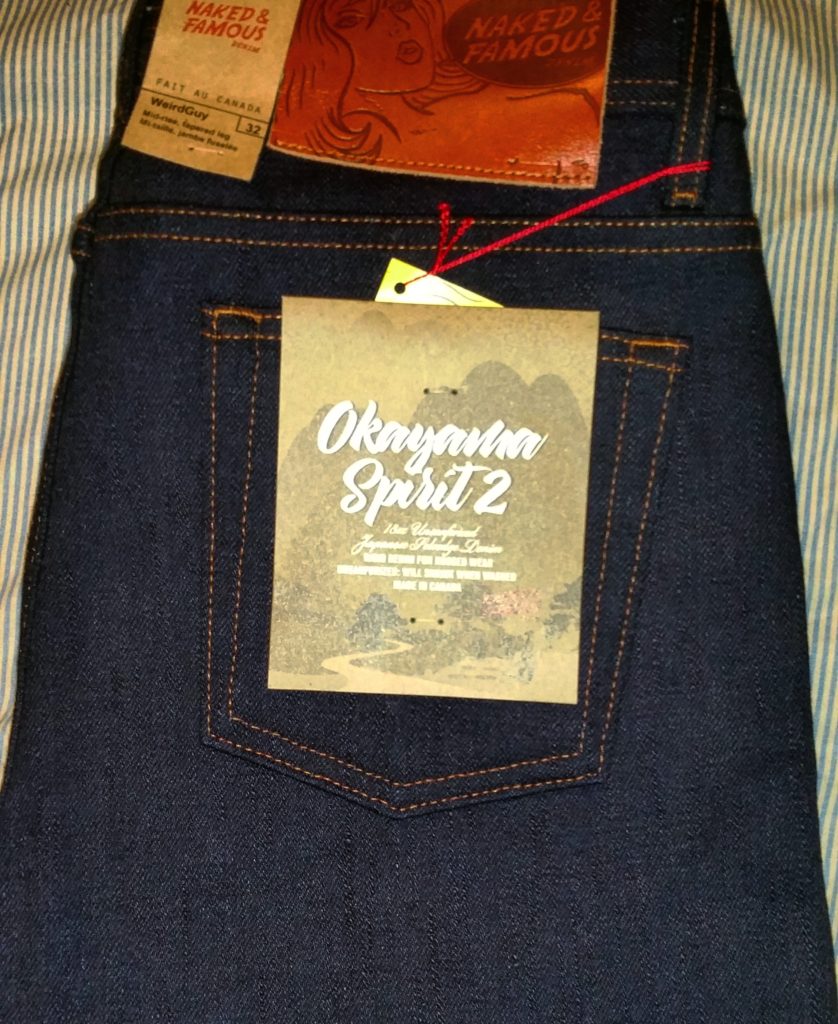 I was counting on that full size shrink.
I warm soaked for 30 mins.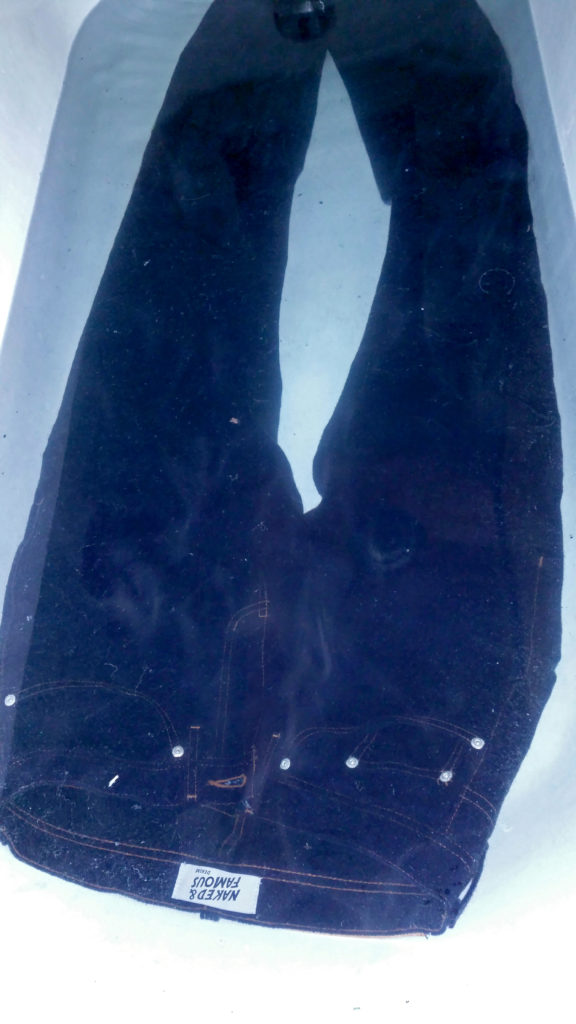 When it dried it could almost stand on its own.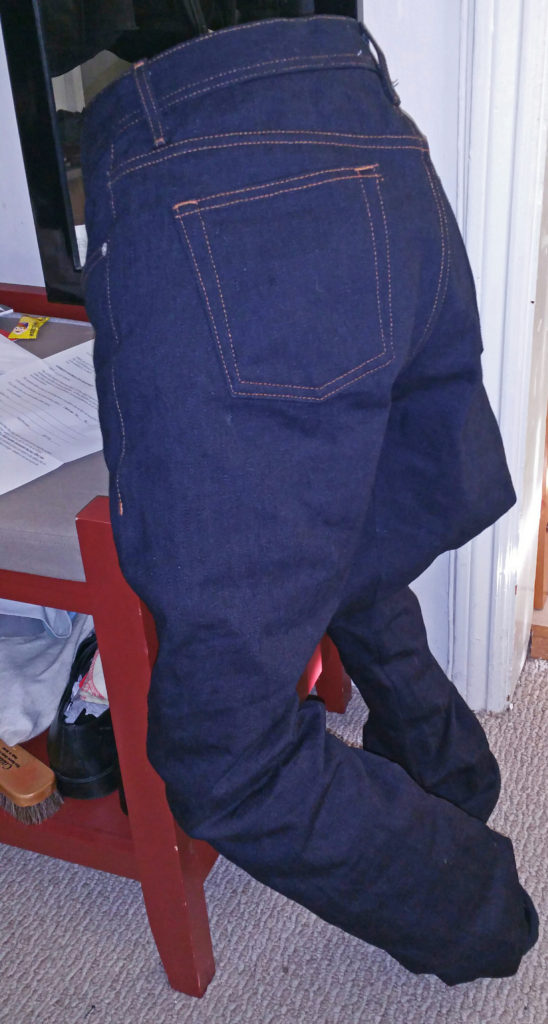 The next day I put on the jeans and was disappointed to find they were still a little too big. I wore them a couple of times, telling myself "I might gain some weight". But after a few weeks of painful deliberation I came to the painful decision that I needed to size down. I love this denim. I can't live without it and I'm tired of my girlfriend saying that I'm wearing "Gangster Pants". Plus, I noticed that the rise is exactly the same on the 33's and the 32's so I didn't have to worry about "crushing". Back to American Rag. Purchased a 32 and started over. Luckily, the first pair were a perfect fit for my brother and he was nice enough to buy them from me.
Left after soak, right before soak.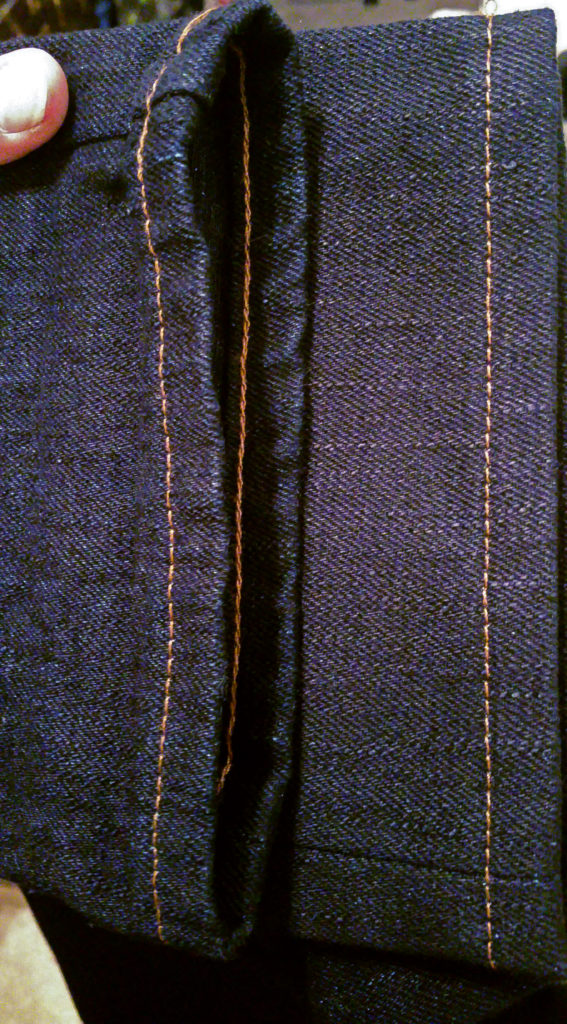 Here are the 32's before soak.
After 30 min hot soak.
Much better! Still a little roomier than I usually go but I love the fabric so much it's all good. After a couple of washes, down the road I may get tapered and hemmed.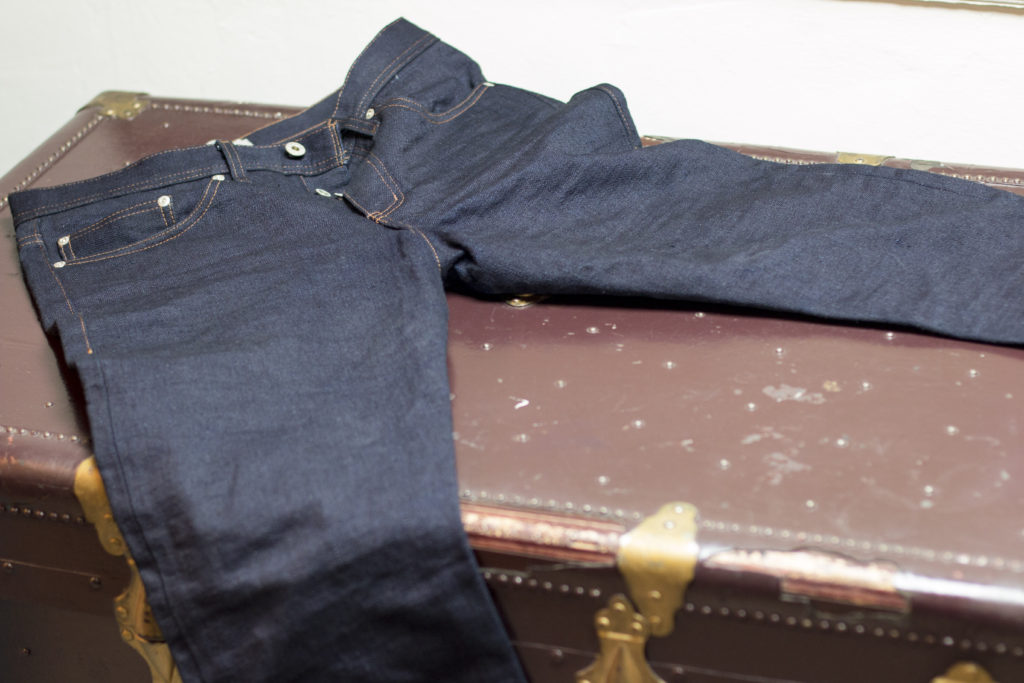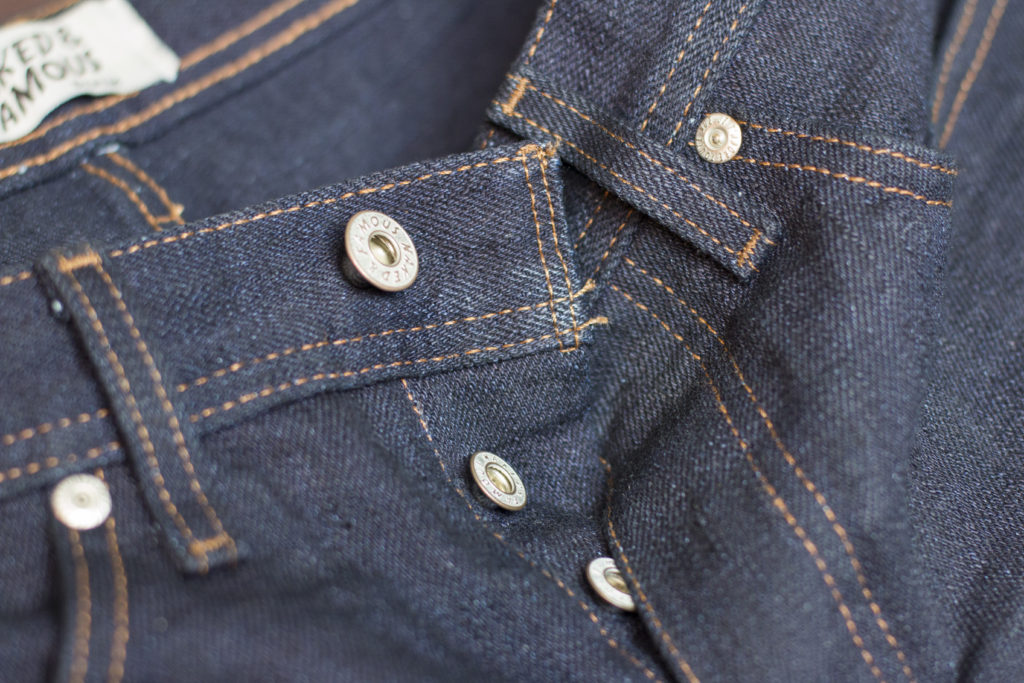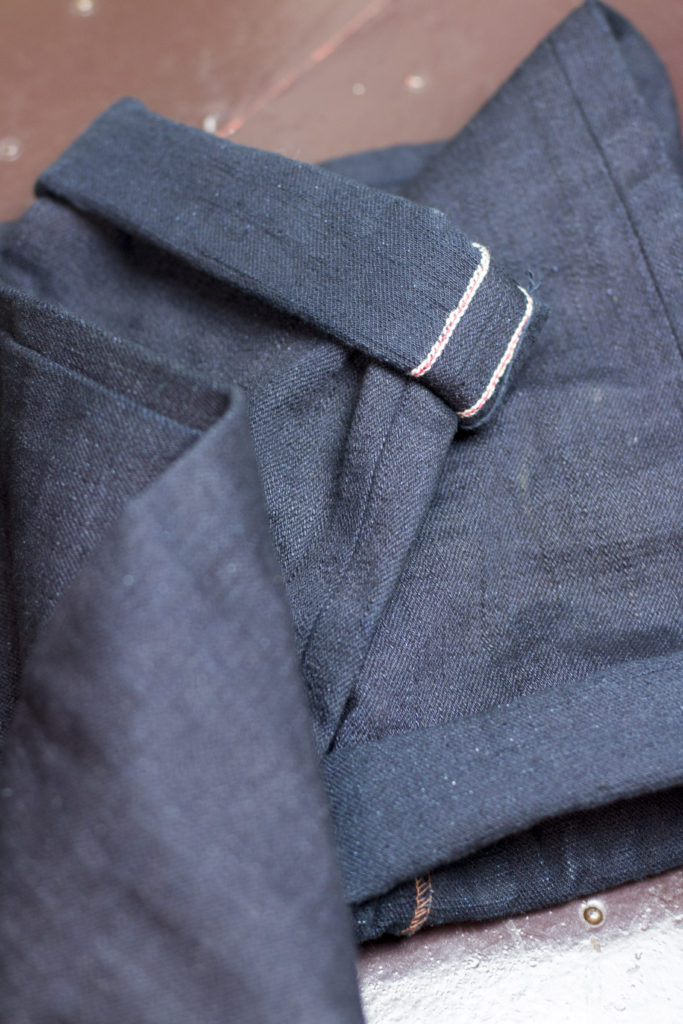 I may have to put these away for the summer but I'm holding off until the last minute. Will update you on the progress!
The Denim Hound.