Fabric: 15oz unsanforized selvedge denim, with an indigo warp and indigo weft. Extra lo-tension weave made of 100% Texas cotton. A rough and slubby denim with an extreme nep that creates a very bumpy texture. Although it's a ridged and substantial feeling denim, it is actually pretty light feeling and comfortable to wear, even on warm days.
Besides the really good texture one of the most standout aspects of this denim is the fade qualities. I've had some pretty fast faders before such as Naked & Famous's Elephant series, Oni's, and APC's but these seriously take the cake as fastest faders I've ever had. Here is a pic after just one day's wear.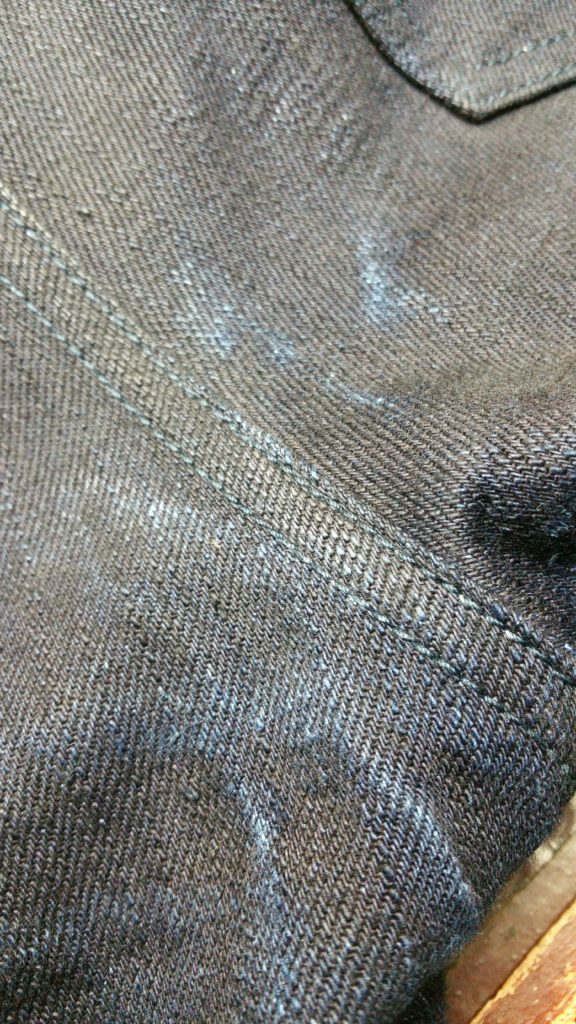 I took a few yarns out of means to inspect and it is incredible. There is the thinnest layer of super dark indigo that instantly gives way to pure white super soft Texas cotton.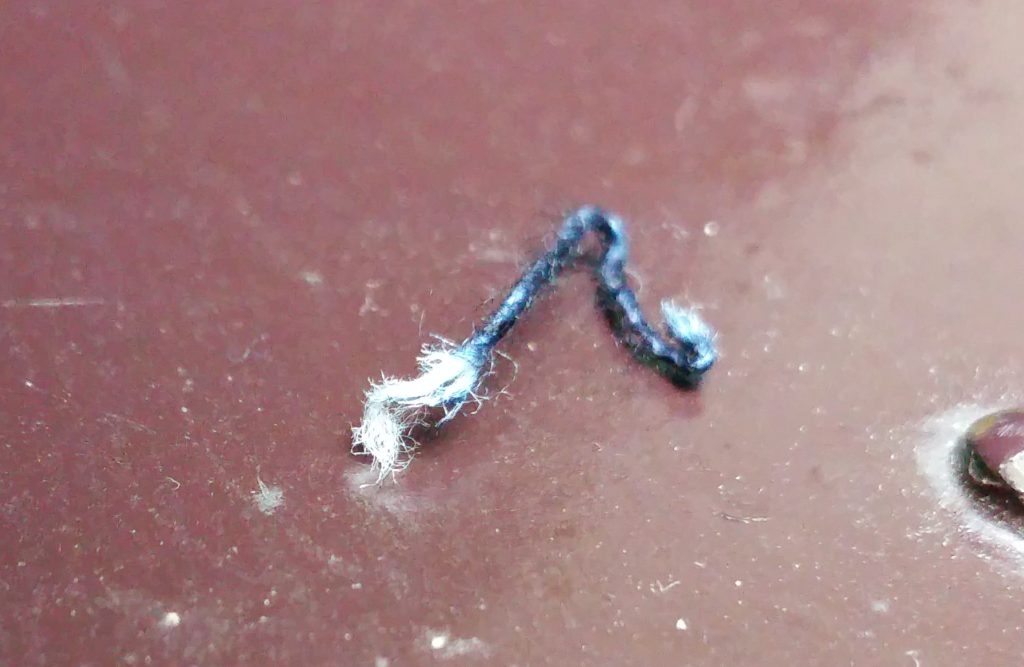 Details:
White and pink selvedge ID
Custom engraved buttons
Raised belt loops
Indigo stitching
Cobalt blue stitching on the inseam
Cobalt blue stitching on back pocket reinforcements
Blue gingham shirting quality pocket bags
Bottom of back pockets reinforced with blue gingham fabric
Hidden rivets
Hidden selvedge ID on watch pocket
Red and white Tanuki "Ni" logo embroidered on back pocket
Chainstiched hem, waistband and yoke
The denim comes in a Tanuki canvas rope-tied backpack.
The head of Tanuki says, "Tanuki is like river of indigo, our source is indigo but like liquid we transform and go around obstacles, like stones." The blue line on the inseam represents this concept of the river in the design of Tanuki products.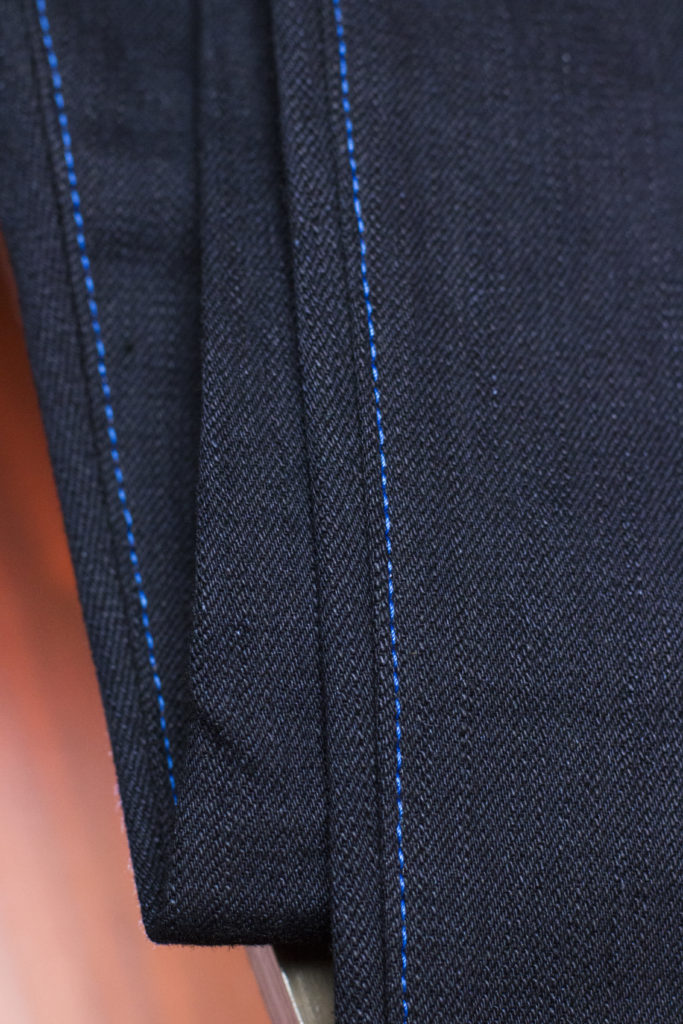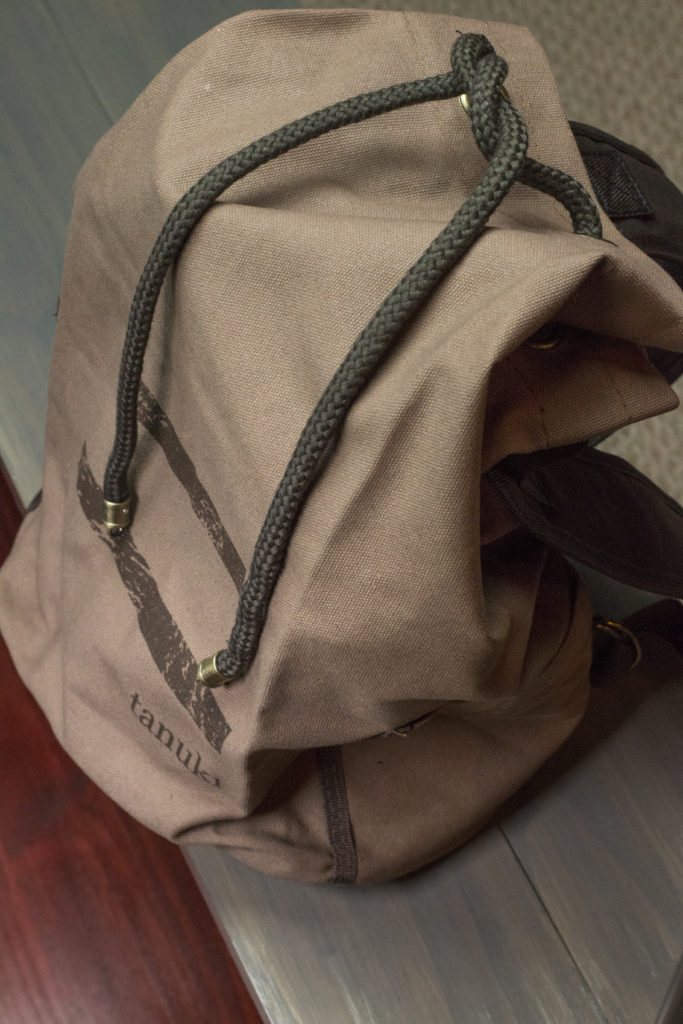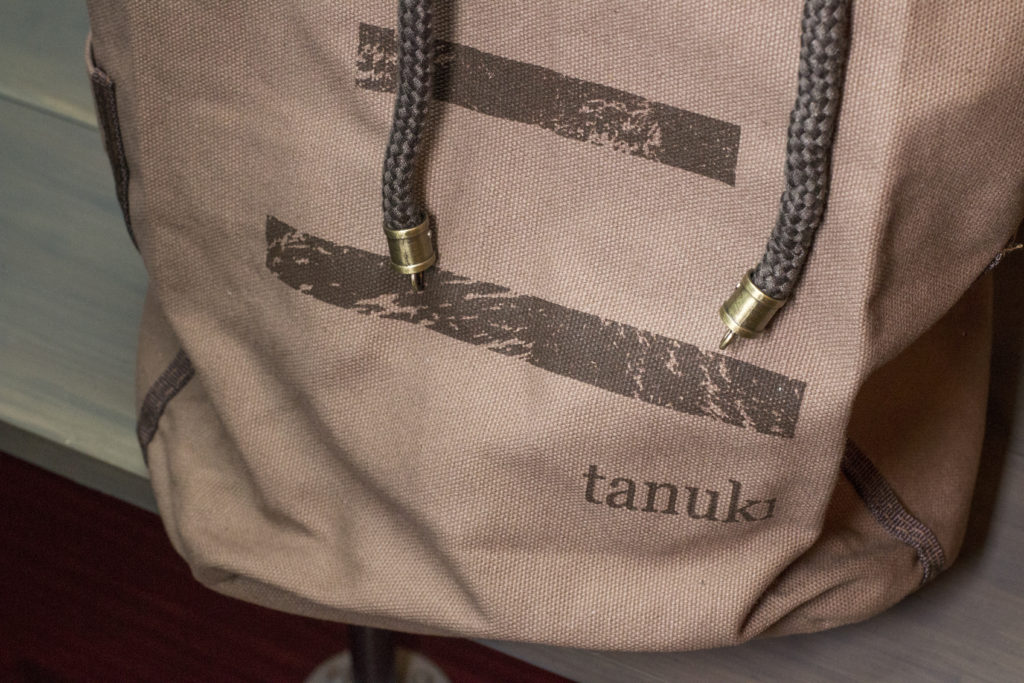 First impressions: I couldn't wait to put these on! Tanuki really out did themselves with this one. So rigid and textured but not thick, somewhat light. Probably my favorite indigo x indigo denim fabric. I love the Ultra Slim fit, my favorite from Tanuki so far. The creases that formed after the first soak and one days wear are insanely sharp. And
Fit: A low rise ultra slim fit. I would defiantly size up from your usual size on these. Here are some pre soak pics.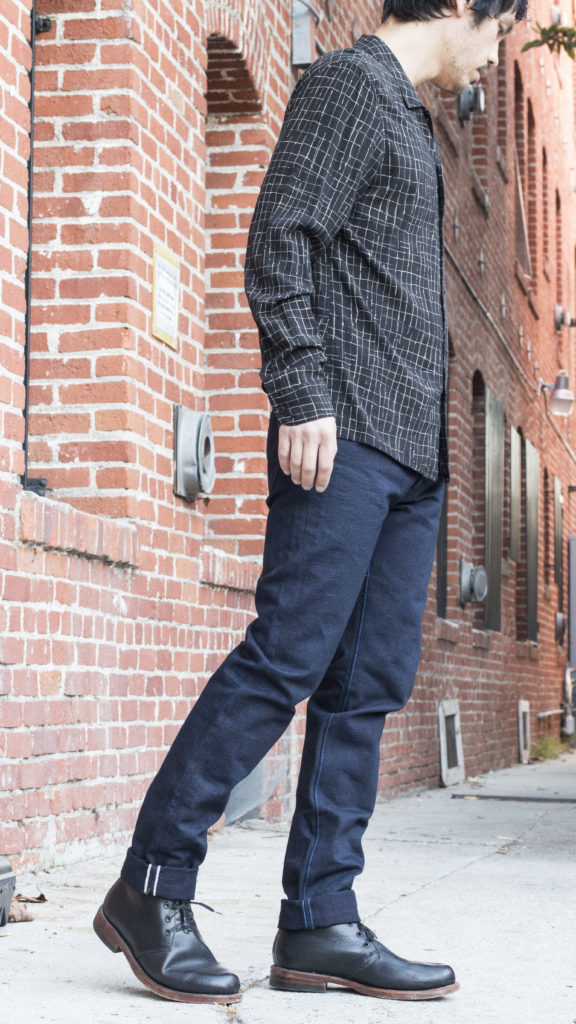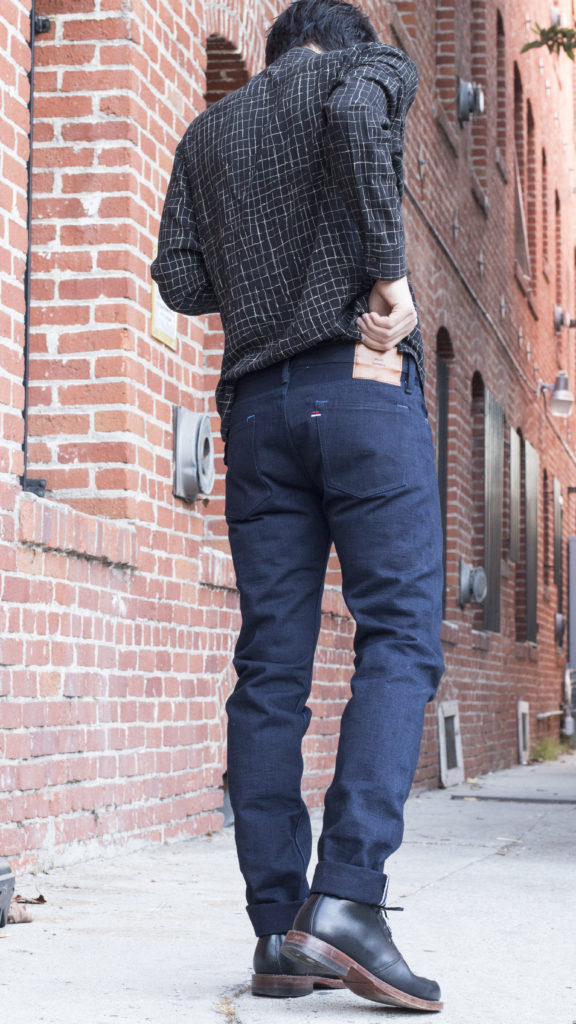 I did a 30 min warm soak while wearing because I was worried they would shrink too much, I'm glad I did. As I got out of the tub and took a long walk, the waist and thighs started getting extremely tight. After they dried the thighs stretched out to be very form fitting and comfortable. The waist stretched out passed original measurements. One interesting thing about the soak, for how dark and inky the indigo is, I thought for sure i'd get tons of bleed into the water. As you can see, after 30 minutes in very warm water, the water was almost completely clear. No indigo loss!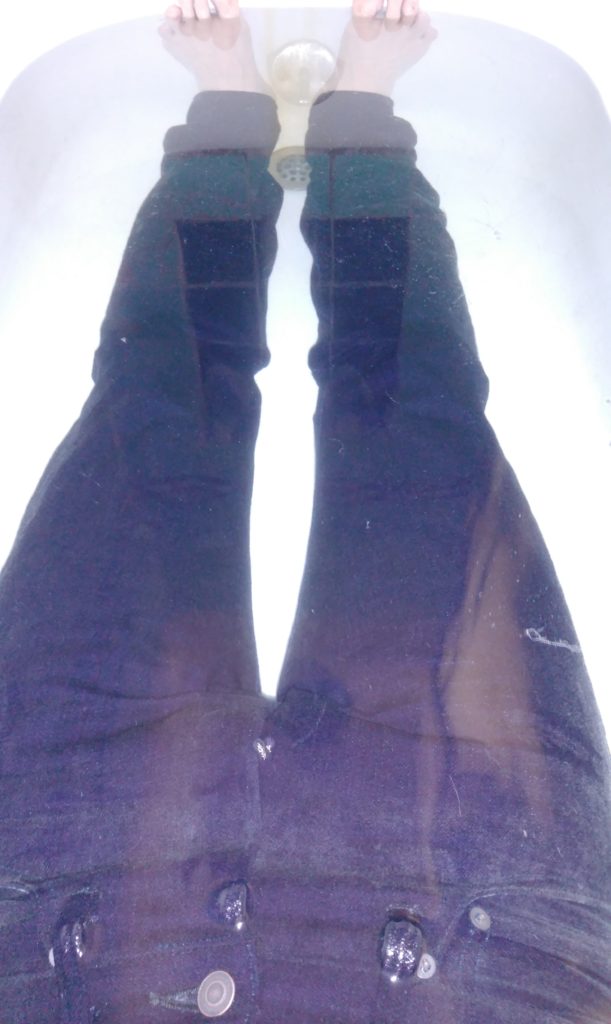 Pre soak (Left), and post soak with a full days wear (right).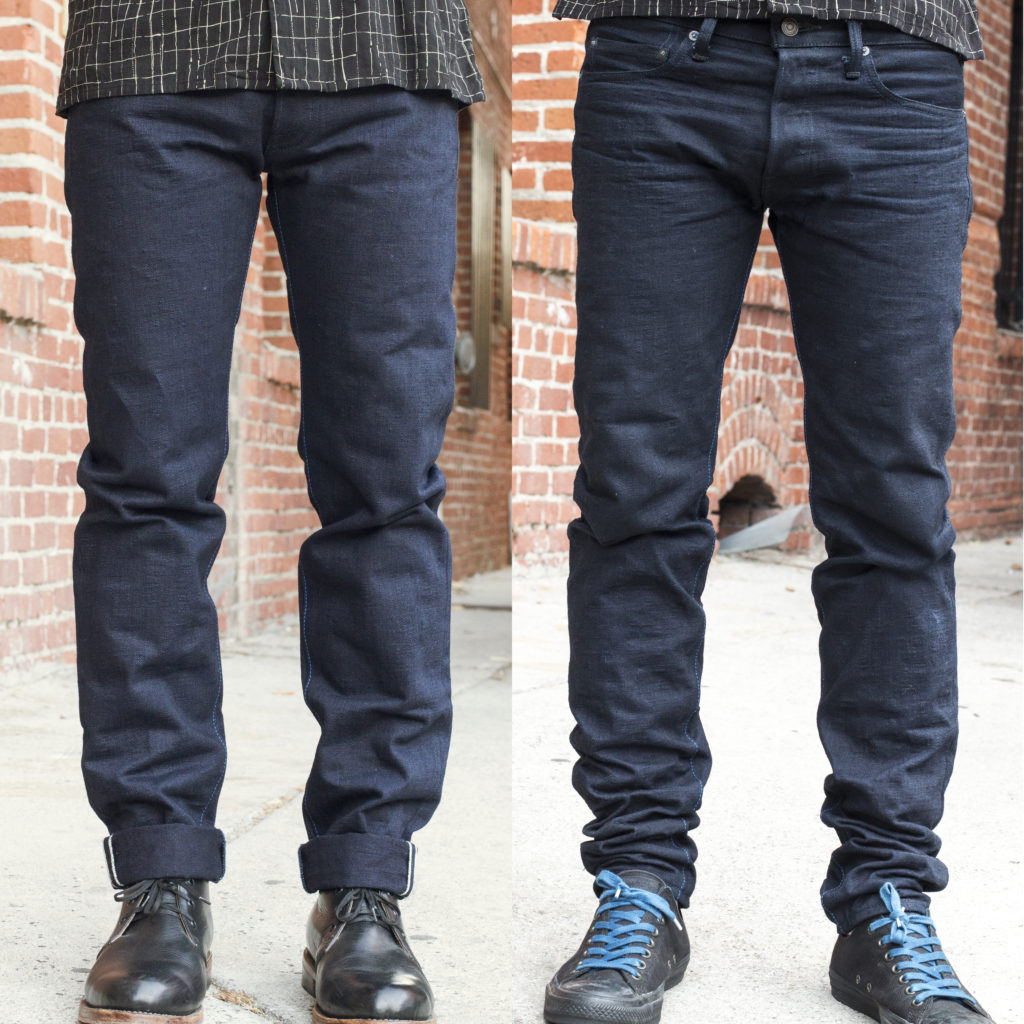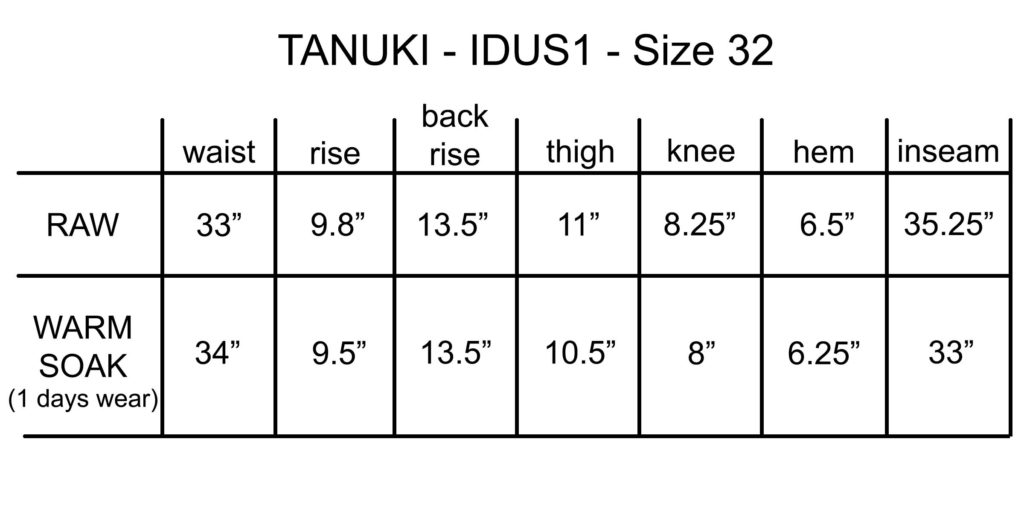 Just look at how sharp these creases are after one day! They held this same shape when taken off and hung up.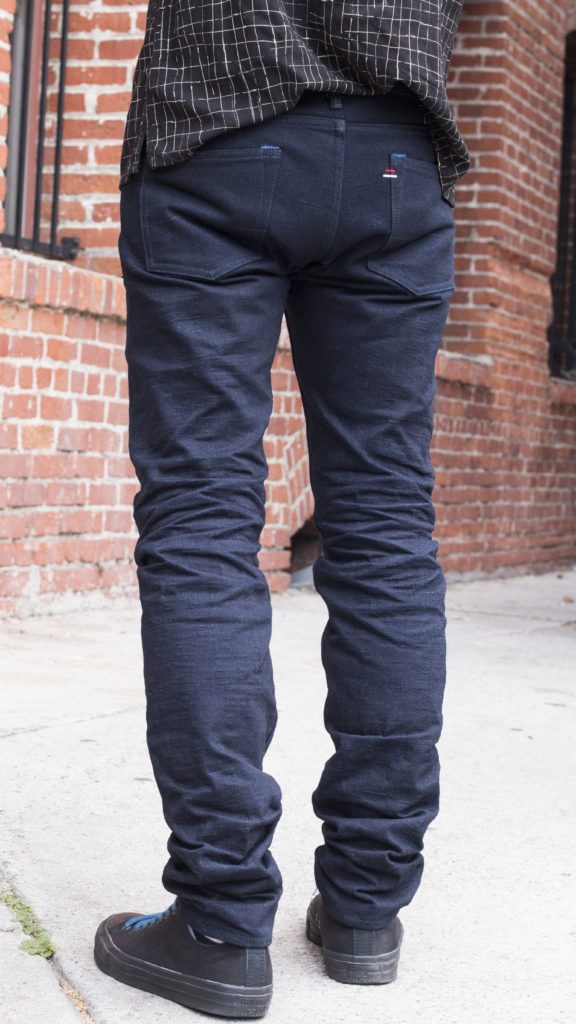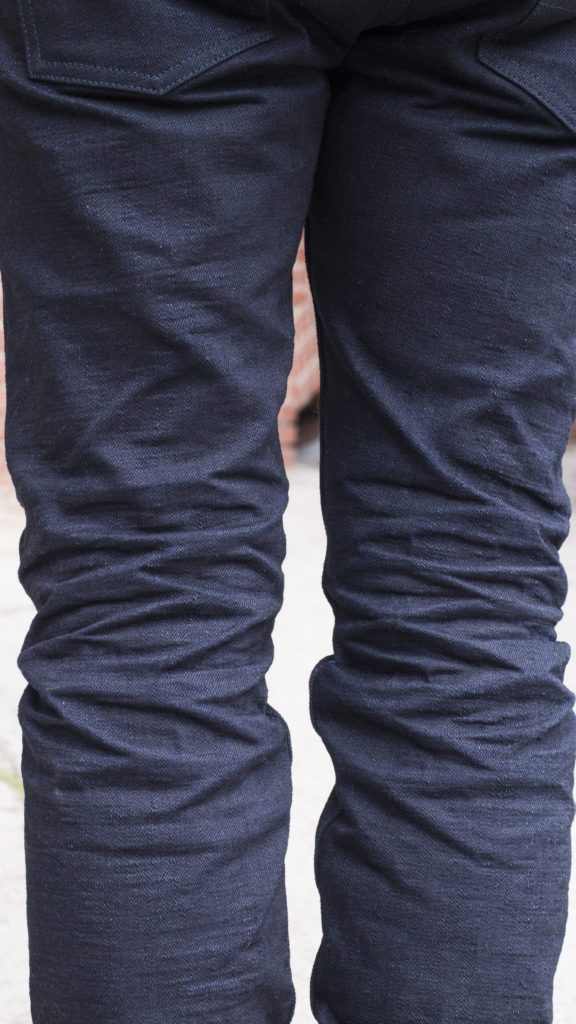 The way the yarns are dyed and the slubby, neppy texture of the fabric are the perfect storm for lighting fast, high contrast fades.
The Tanuki ID Slim and Tapered are available at Tanuki's website Ultra Slim (reviewed here) are not yet available. Check back here for updates on these jeans soon!
~ The Denim Hound 9-23-16
P.S. Do you see something interesting on the Tanuki hang tag?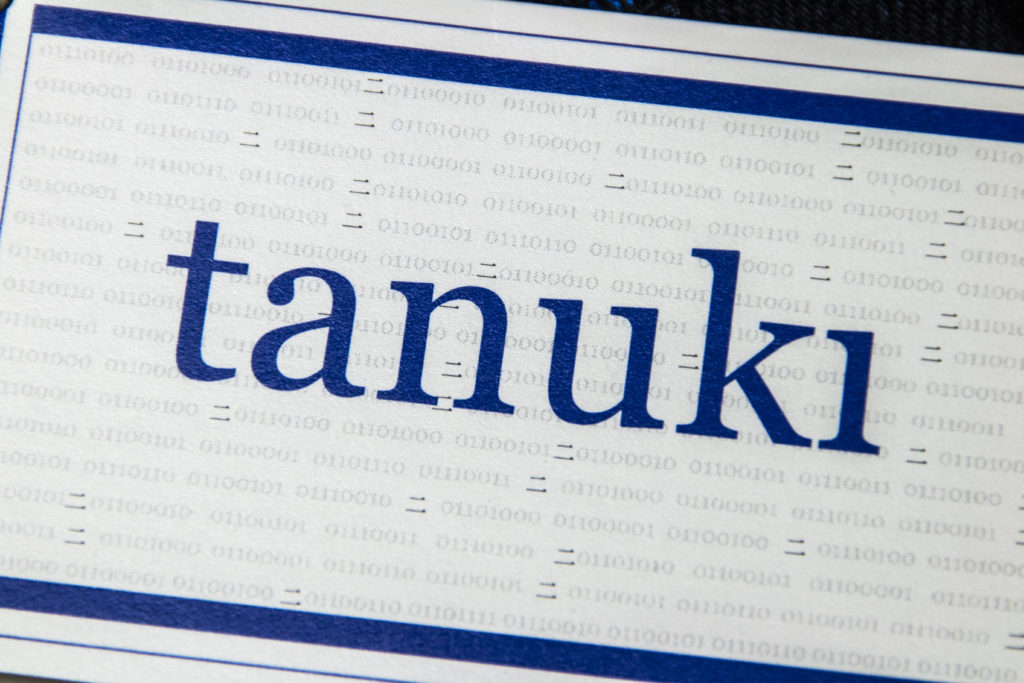 It's a hidden message for those who can decode it 😉 Let me know if you get it! Also the "NOW" printed on the backside of the hangtag refers to an artist On Kawara, because he reflects some of Tanuki's values in art.