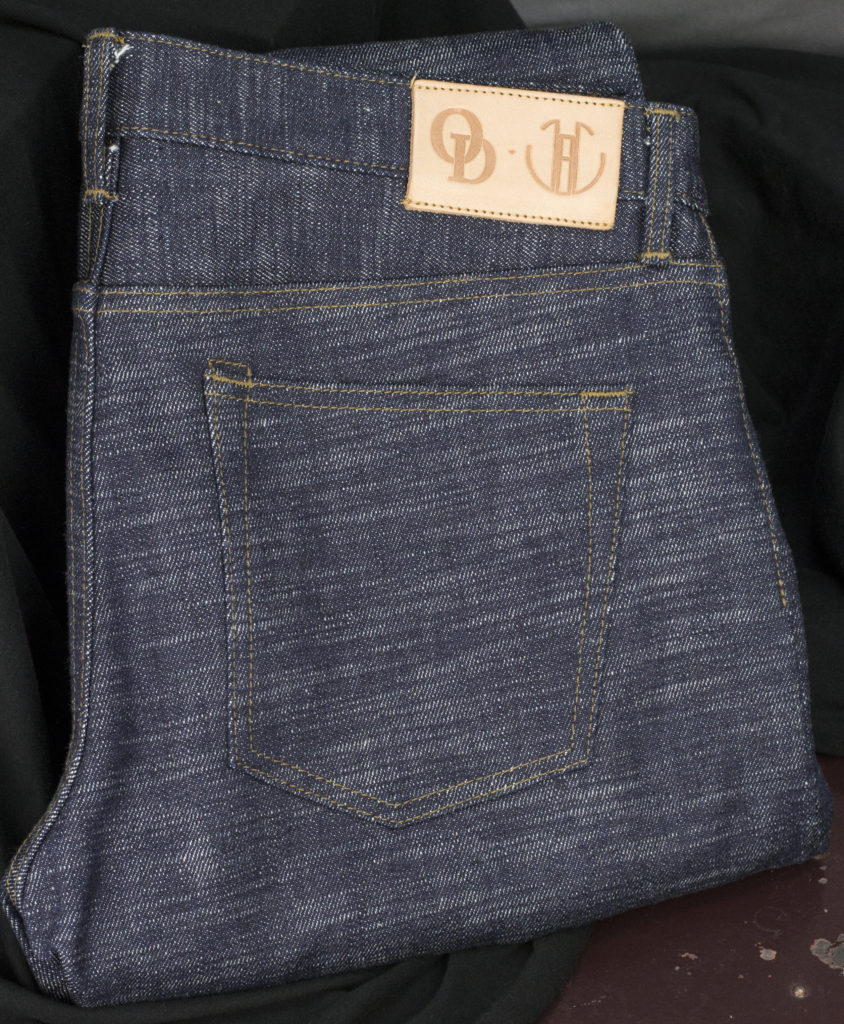 With a limited production of only 92 pairs, I was very happy to get my hands on a pair of the latest collaboration by Okayama Denim and Japan Blue.
Fit: A mid to high rise, slim top block, roomy thighs and a strong taper down the leg.
Measurements – size 31: Waist 33″, rise 10.75″, back rise 14.6″, thigh 12.25″, knee 8.75″, hem 6.9″, inseam 35.25″. This fabric shrinks about 3-4% vertically and 2-3% horizontally.
Fabric: 18oz sanforized 100% cotton selvedge sourced by Collect Co. from Shinya mills. An indigo warp with red-cast and white weft. Ultra slubby weft with a medium slub in the warp creates a more horizontal pattern. The red-cast give the indigo warp an almost purplish hue, which after wear and washes shifts into a more classic indigo color. A few bits of nep here and there, but I would not call this an especially neppy or hairy denim. Has a rough and inky surface but after a few weeks of wear will soften up and get a bit hairier.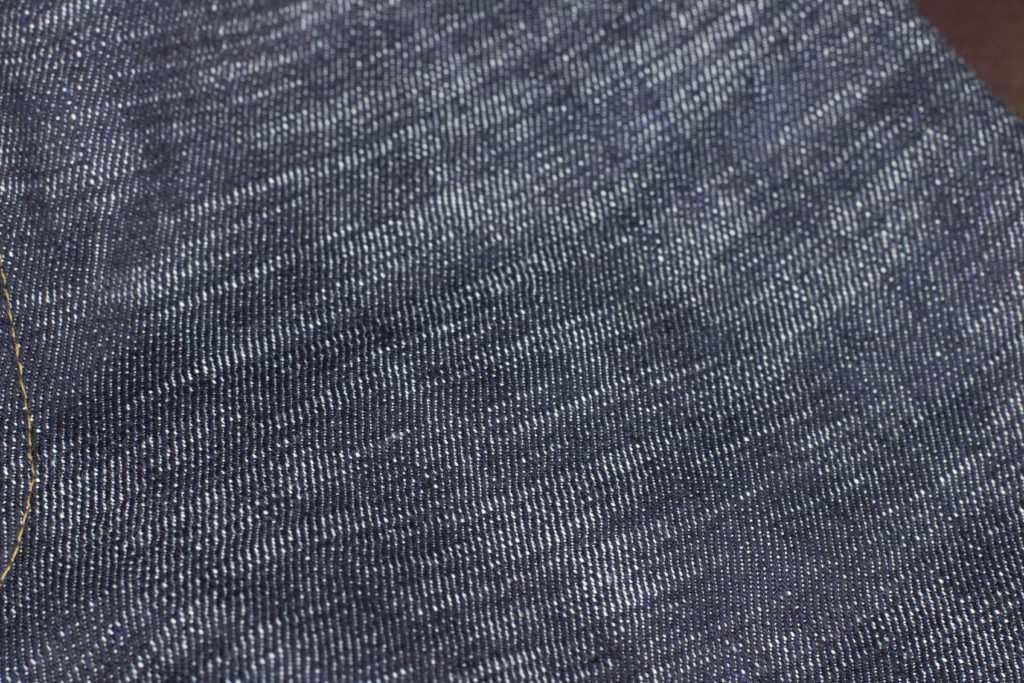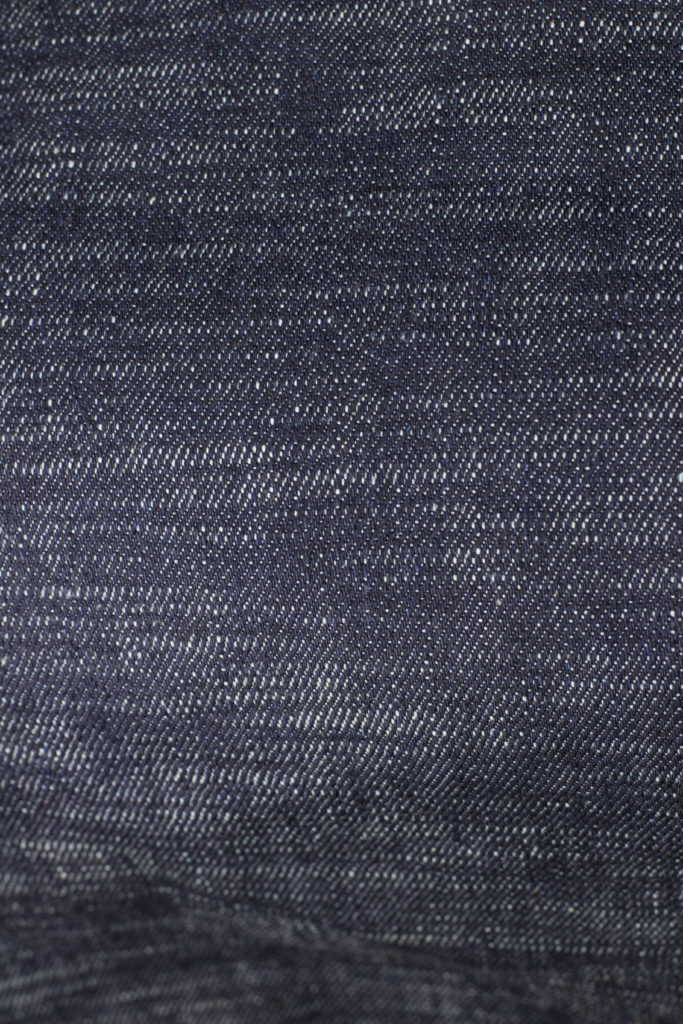 Details:
Japan Blue branded, Original Antique Gold rivets and hardware
5 button fly
Poly copper stitching
Red line on white selvedge ID
Peekaboo selvedge ID on the watch pocket
Thick soft veg tanned leather patch
Bar tacked back pockets
Selvedge salt and pepper broken twill chambray pocket bags
Chain stitched bottom waistband, yoke and hem
First Impressions: Okayama Denim and Japan Blue really know how to do a collaboration for the denim heads. This 3rd collaboration is no exception. A super limited edition, slubby and crazy-interesting denim put together with solid construction and sprinkled with some tasty details. Definitely buy true to size, as this denim doesn't shrink or stretch much. It looks like a loose weave but acts more like a tight weave in the stretch department, like most Japan Blue fabrics. The selvedge broken twill chambray pocket bags are a really cool detail, new to this line of collaborations. The handsome antique gold hardware and classic copper stitching really ground this pair. Multi color thread, flashy hardware, or too many details would definitely put this pair over the top. A great balance is achieved here that really lets the fabric do the talking, but still enough details to keep it interesting.
The only thing I would say that could be changed if there was ever another run of these, is to make the belt loops a little wider. Japan Blue makes slightly narrower belt loops then most brands, which is fine with me, but because of the thickness and strength of the 18oz denim, the belt loops could be a little more hefty to match.
All in all, this is a very exciting and quality pair of jeans for an incredible value!
I always keep my eyes open for Okayama Denim collaborations as they are always very cool and sell out quickly. Available exclusively through Okayama Denim.
~ The Denim Hound 4-15-17
---
Update: 60 Days. By guest writer Steven Waudby aka @Scwaudby_33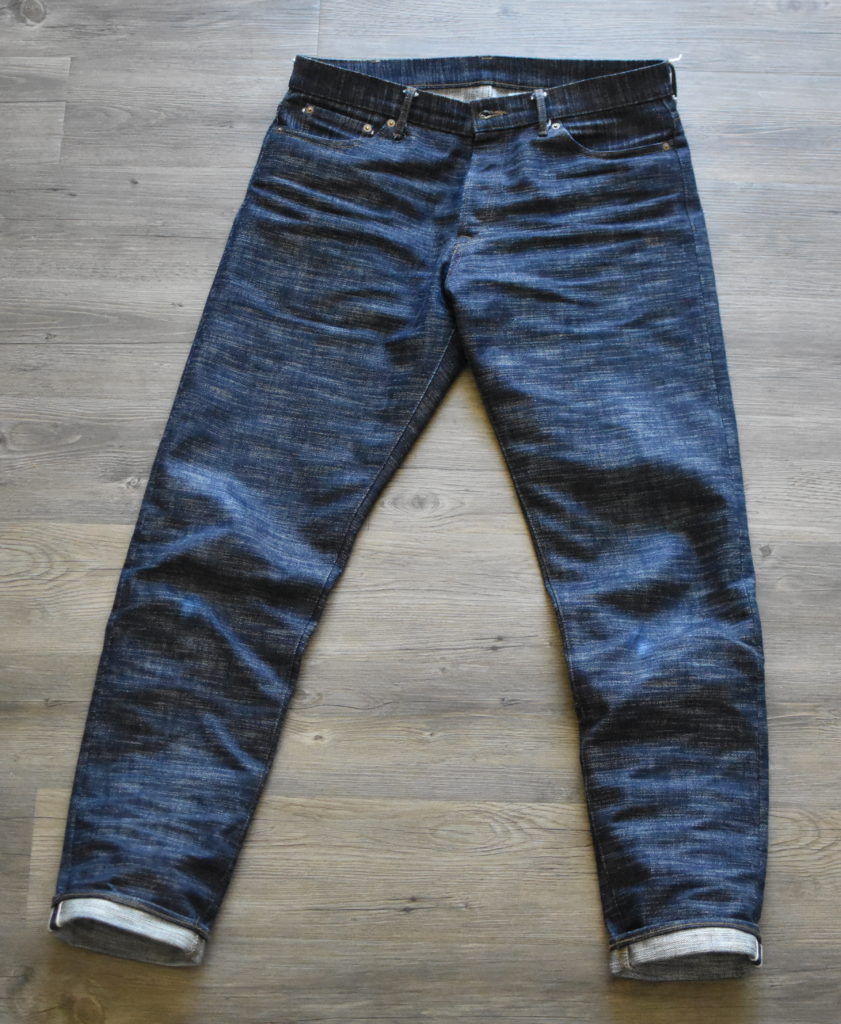 As the Denim community continues to grow I am honored to team up with Greg (The Denim Hound) to bring you this 60 day update on my pair of the ODJB006 18oz Snow Slub. This is my first time actually expressing my thoughts and documenting some wear in a pair of denim so I hope you enjoy.
I didn't really know what I was getting myself into with a pair of 18oz jeans and to be honest I was a little worried I was not going to like them. With that being said after seeing Greg's initial review and taking a look at the details and sizing I was too intrigued not to give them a chance!
Measurements (size 36): Waist 37", front rise 11.8", back rise 15.6", thigh 13.4", knee 9.6", leg opening 7.7″, and inseam 34.3". After 60 days of wear the waist stretched out to  37.5″, thigh 13.7.
I did not perform an initial soak, and still after 60 days they have not touched any water so I cannot speak to any shrinkage that may occur.
In wearing these for 60 days they probably don't have as many fades as someone who really gives their jeans a beating. I must say they really became a joy to wear after the first week, they continued to soften up and take shape to my body. Every time I had these on or posted a picture there was a comment on how cool they looked!
I temperature tested them and wore them in 90 degree heat on a trip to Philly, but for me personally I am comfortable wearing this weight in temps not exceeding 75.
In final thought this is a very unique looking pair of jeans and I'm happy to have a pair in my collection. If you are able to come across a pair in your size and are looking for a higher rise, ample thigh room, and a very flattering taper these are an awesome pair. I look froward to the temps dropping and Fall to arrive so I can put these back in my weekly rotation.
~Steven 8-24-17
---