The first all-selvedge, American made, mens denim brand.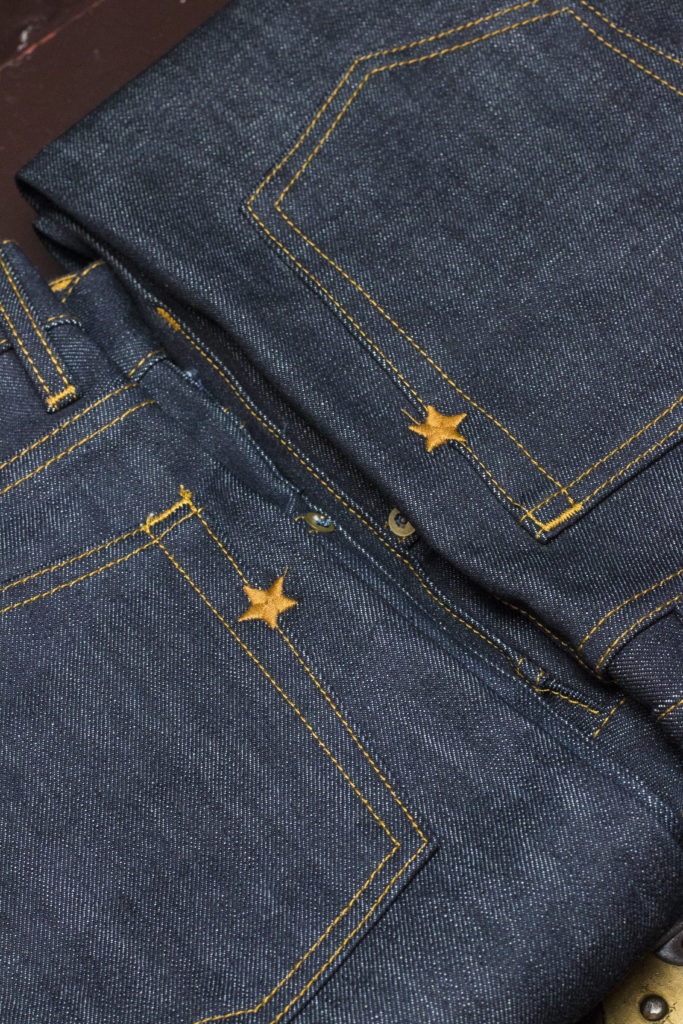 I came across Brave Star Selvage online about 4 or 5 months ago. It seemed pretty good, but to be honest I was thrown off by the $79 price tag. I'm by no means a denim snob, but I just couldn't see a pair of $79 dollar jeans competing with the quality I was used to. It didn't seem logical. I know how much work goes into making a pair of jeans, where were they cutting the costs? The sewing? Were they getting cheap fabrics? But they used denim from Cone Mills and Japaneses denim from Kuroki, I just couldn't figure it out. So foolishly, I left it alone all together.
A couple of weeks ago I was invited to the factory and headquarters of Brave Star Selvage. I packed up my camera and headed out, excited to learn about the brand and their process. I was going to meet Mik Sirfontain, founder and owner of Brave Star. I had no idea that I was going to discover a piece of selvedge history. As I arrived, I see Mik walking up to greet me with a smile on his face. He's a slim tall guy wearing a white tee, skinny denim and sneakers, tattoos on the arms and one hidden behind his ear. He could easily be mistaken for a band guy, which I find out later, he was. As he introduces himself I notice his South African accent which I embarrassingly mistake for Australian. He's very friendly and we quickly start talking for over an hour about all things denim.
Meet Mik Serfontaine.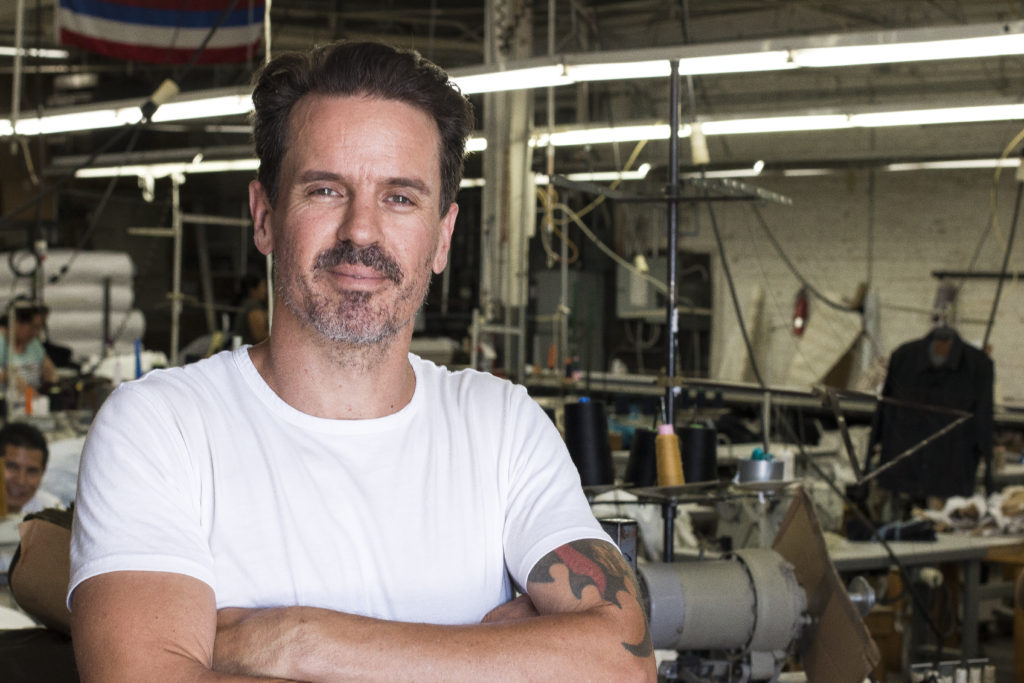 Mik came to LA in 1988 as a drummer. He needed a job so he started working in vintage clothing shops. He fell in love with Levis and vintage denim. He started his own business buying and selling jeans. He would go to the rose bowl on the hunt for the big "E", sleeping there from the night before in a sleeping bag. They would let him in at two in the morning. He would go strait to the Japanese guys trucks with flashlights going through all the denim. This would give Mik invaluable hands on experience with denim, paving the way for his future enterprise.
Mik going through old denim that was deemed not good enough for use.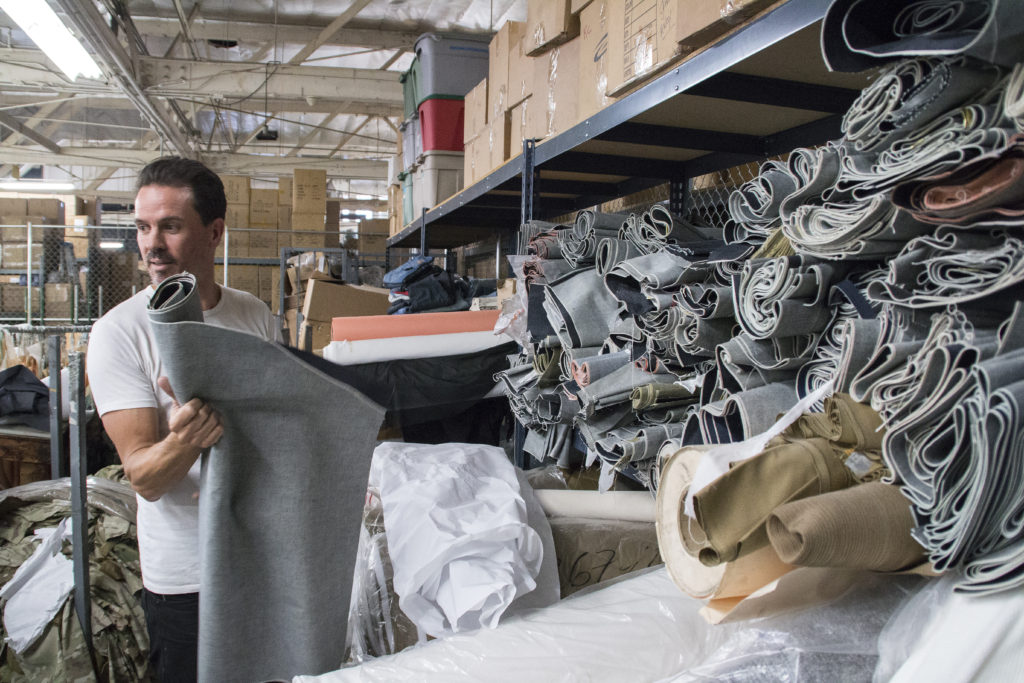 Mik opened up a vintage denim shop on Abbot Kinney in 1995. he was located right across the street from where Rag and Bone is now located. He had aspirations of starting his own clothing line so he enrolled at LA Trade Tech for pattern making.
"Back in the late 90's there wasn't any premium selvedge denim around the best you could get was Levis, Lee, Wrangler," Mik recalls. He is sitting at his desk while countless union specials, singers and other denim manufacturing equipment hum in the background.
Brave Star Selvage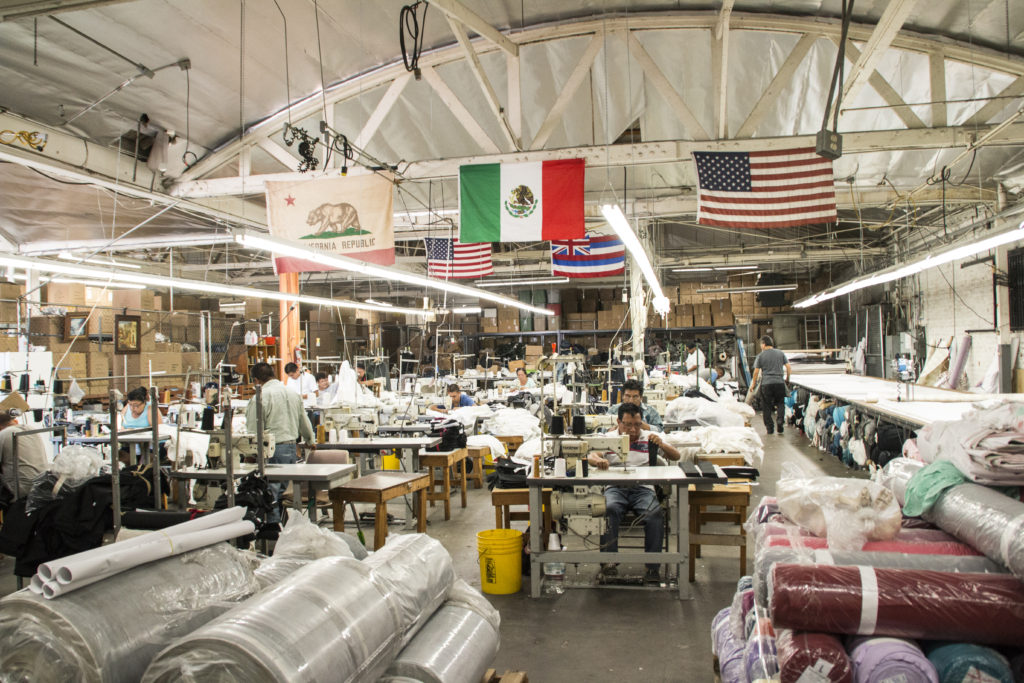 "When Brave Star Started in 2006 people were like 'stiff raw dark indigo? No way!'" Mik laughs. "It was impossible to sell selvage in 2006 Brave Star Selvage was the first all-selvedge, American made, mens denim brand. We were selling our jeans for $200 at Fred Segal, Glory Sales and Service in Silverlake, but we mostly had to sell to Japan."
Some of Brave Star's 16.05oz Japanese selvedge from Kuroki Mills.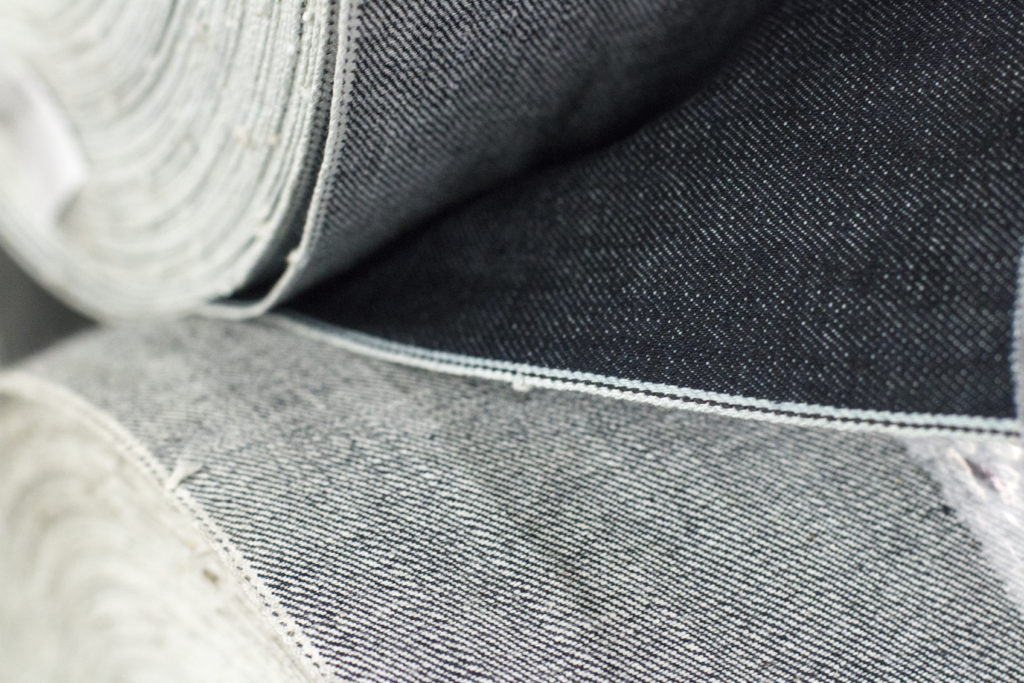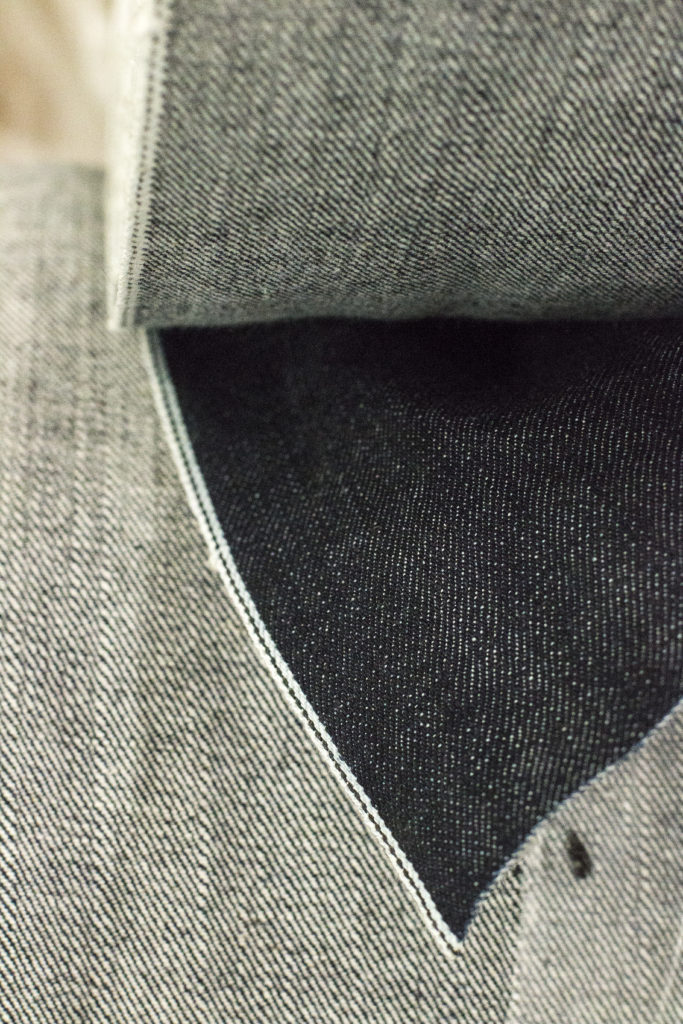 Brave Star Selvage was bought out and subsequently shut down in 2009. But Mik was determined and eventually in 2012, he was able to buy it back. He used a Kickstarter campaign to fund the revival, around the same time Gustin and RPMWest launched as well. They all shared a similar idea – to deliver high quality selvedge denim, selling direct to customer at wholesale prices.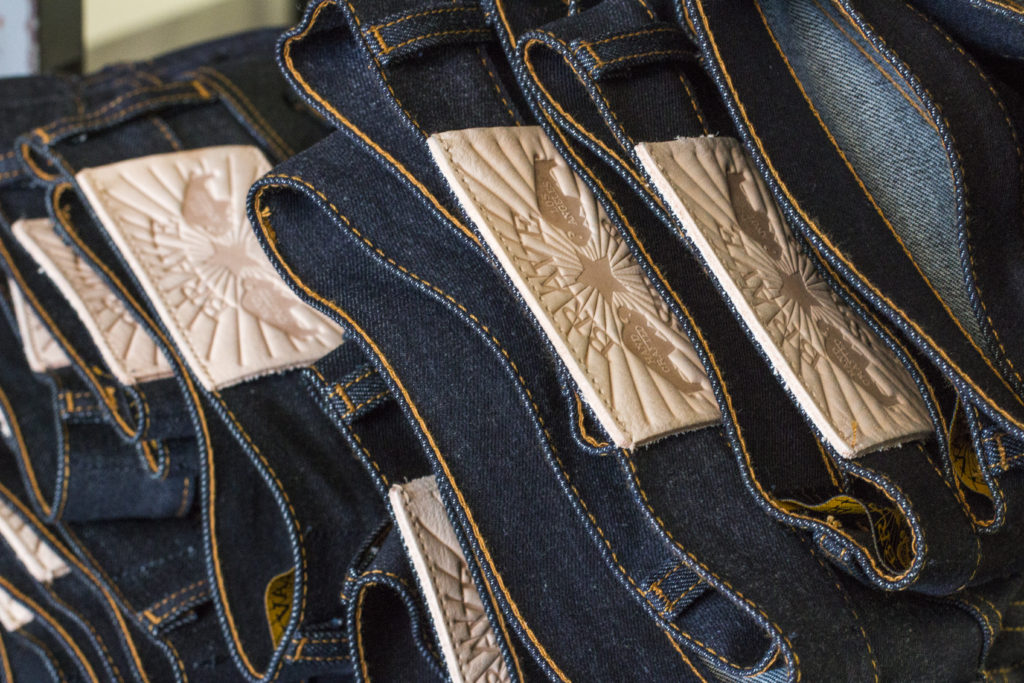 Mik explains, "Before 2005 it was difficult to find a good slim fitting pair of jeans. You had to go premium and pay $200-$300. My goal is to get people into better jeans. Using direct to consumer business model, I'm able to make the same amount on a pair of jeans selling directly to the customer for $79-$89 as I would selling it to stores that would sell to the customer for $200. That price point is out of step with where peoples budgets are right now. The Cone Mills denim used in Brave Star is the same White Oak denim used by Tellason. People look skeptically at $89 jeans. They think something is wrong with them. bad quality? No, it's just that we are cutting out the retailers. I'm making the same amount of money on a pair of jeans as I was when they were selling in the stores for $205. Same craftsmanship, same threads, same denim. 50% of our customers are repeat customers. There are people who are on their 12th pair!"
Brave Star Selvage also makes denim jackets. Check out the before and after.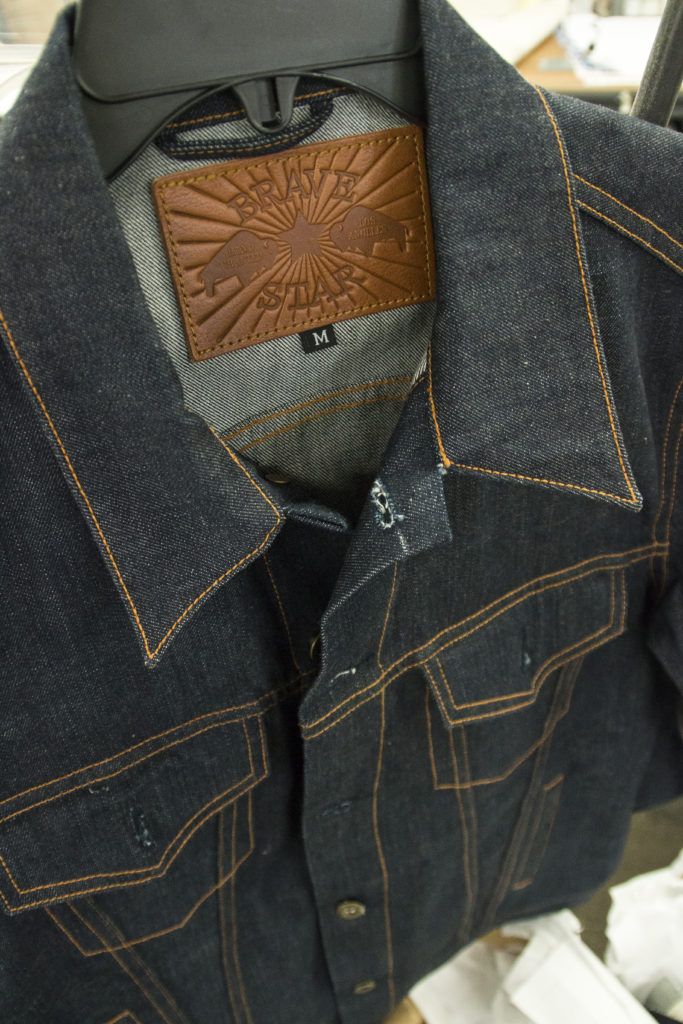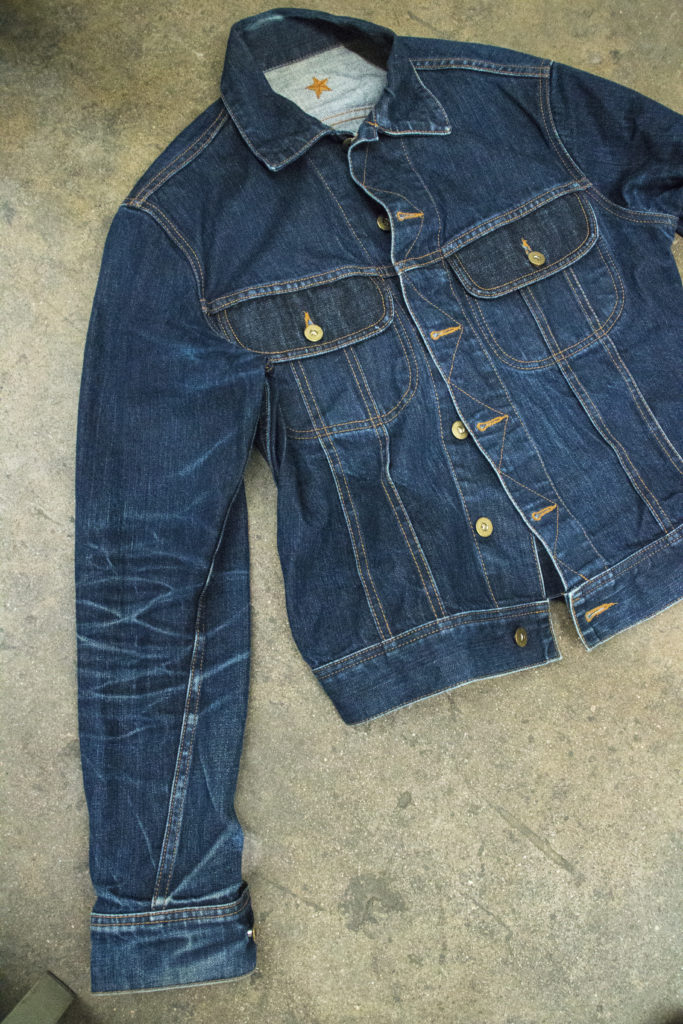 Mik himself personally sees to the quality of his products, his office is in the factory. I watched as he measured and cut hems for my 14.5 oz Slim Tapered and 16.5oz Slim Straight.
I was able to walk around the factory a bit and take a few shoots. I love it when I get this look.
Follow the selvedge road!
There are four cuts currently available by Brave Star Selvage. True Straight, Slim Straight, Slim Tapered, and the Skeleton. Mik hopes to add a few more cuts soon. Here I am happy to be reviewing:
14.5oz White Oaks Cone Mills Slim Tapered
16.5oz White Oaks Cone Mills Slim Straight
21.5oz Japanese Selvedge Slim Straight