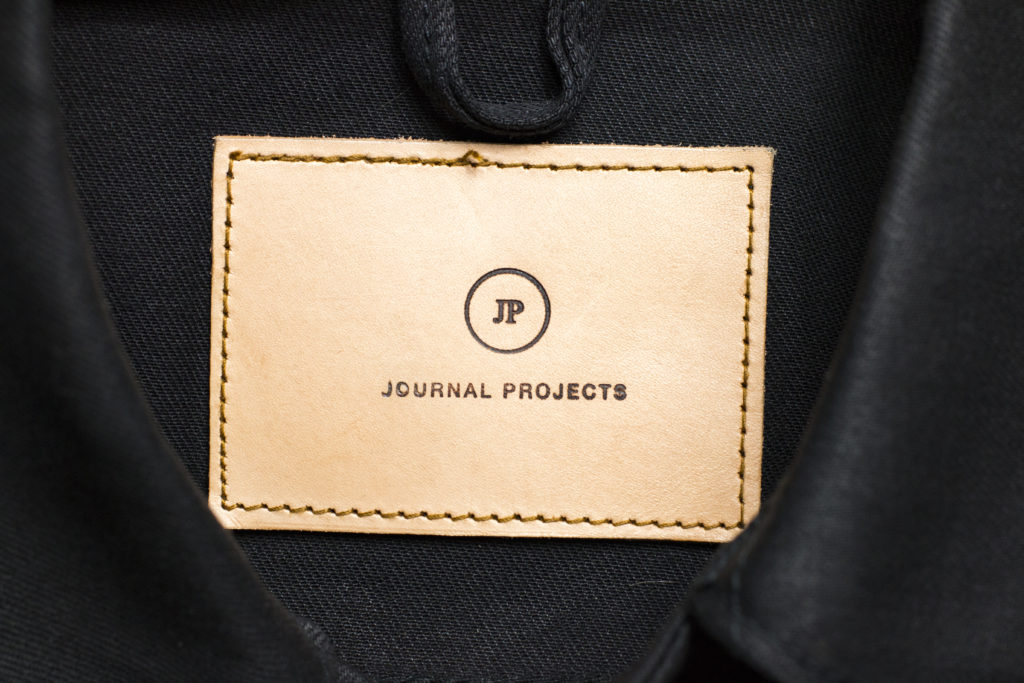 This is my second review on Journal Projects a young denim brand out of Singapore that makes custom made jeans and jackets via Kickstarter campaigns. Click here for my review on the jeans from their first campaign. I'm always excited to have a chance to design a custom piece but I was especially excited about this review because I was able to convince JP to make a sample of an idea I had been kicking around – a type III jacket without the pocket flaps on the chest pockets. Lets checkout the final results.
Measurements (Med): Shoulders 17″, Chest 21″, Sleeve 24.5″, Back length 25″, Waist 19″.
Fabric: 12oz right hand twill Japanese selvedge denim. 98% cotton, 2% stretch. A smooth and soft high tension denim that is very comfortable, even in its raw state. This denim has a bit of a sheen to it which makes it look almost as if it is waxed, but not quite.
Details:
5 star laurel leaf donut style buttons
hand warmer pockets
Red and white selvedge ID
Hidden selvedge ID on placket
Black tonal stitching
Hand cut and stamped leather patch
Flap less front pockets
Dark copper rivets on sleeve openeing
Button up side adjusters
Yabane arrow print kimono fabric
First Impressions: The fit on this jacket is perfect. The tailored slim black denim jacket. Paired with this light/middleweight inky deep black denim, make this the quintessential cool black denim jacket. Solid construction, I found no issues with stitching or the details. I wanted to go for a clean streamlined look so I removed the pocket flaps and I think it really works on the black on black color scheme. I'm not sure how well it would work with contrast stitching. The inspiration for this detail was born out of function. I always put my sunglasses in my front pocket and when wearing normal type III's the pocket flap slows down the process and is held open by the glasses popping out, which looks a little off to me. Imo this jacket came out very clean and I'm proud to say that Journal Projects thought so as well, so they decided to add this option to thier Kickstarter offering! For only $132, this jacket is a steal.
The Journal Projects Kickstarter campaign only has one more day left so don't wait to check it out!
~ The Denim Hound 1-5-19