This time around I'm am happy to say I have my friend Alexander Deleersnijder as a guest reviewer.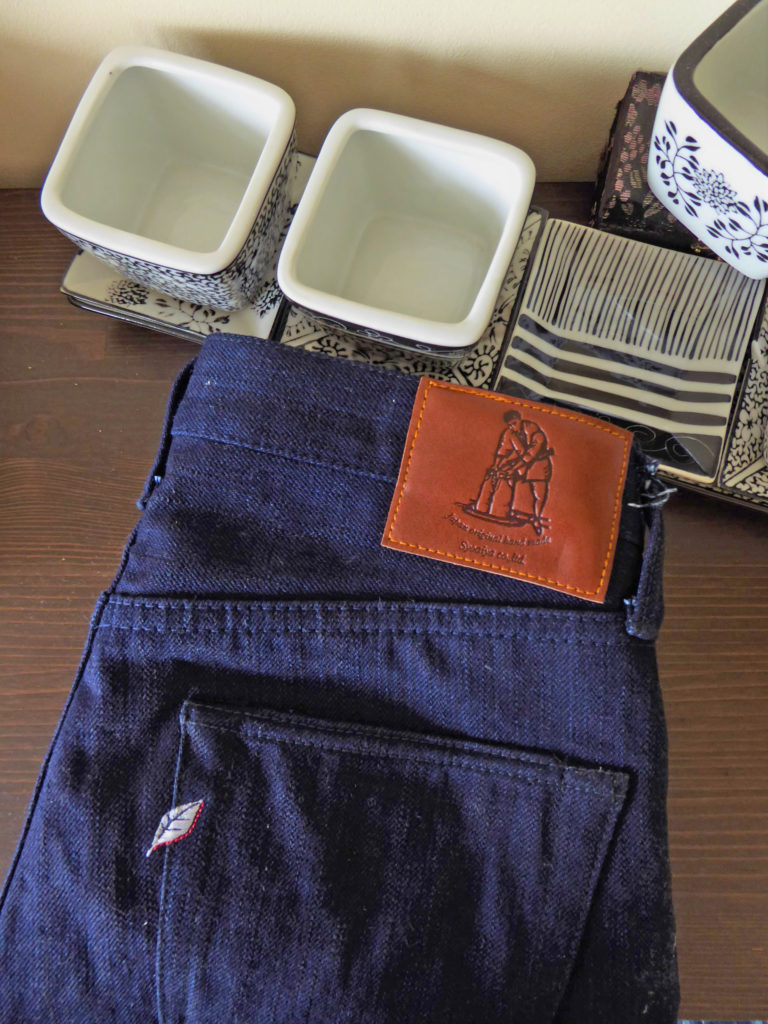 Receiving your first pair of Pure Blue Japan's, a memorable moment in any denimhead's life. And I am very excited. Expectations were very high, considering the brand's reputation and the general rumors about this new fabric.
Measurements size 31:
| | | |
| --- | --- | --- |
| | RAW | POSTSOAK |
| Waist | 32.3 | 31.4 |
| f. rise | 10.2 | 9.8 |
| Thigh | 11.2 | 10.2 |
| Knee | 7.9 | 7.8 |
| Leg | 7.4 | 7.3 |
| inseam | 37.8 | 35.8 |
Fabric: The KS-013 WID is basically the same fabric as the KS-013, which was released some time ago, but this time the weft has been dyed indigo as well. The KS (knubbed selvedge) fabric is a very slubby, highly irregular denim, both in terms of texture and color. Thinner and thicker threads run through each other, changing from near-black to vibrant electric blue. For so much difference within the same fabric, it's still very subtle. The name given by PBJ: "Deep irregular indigo" is spot on. They are a nice 16oz and are very supple straight out of the box.
Cut: The PBJ "13" fit is somewhat slim in the top block, medium rise, and a nice taper from the knee down. So "slim tapered" seems like a good description. According to the left front pocket, the design is a collaboration with Blue in Green (a shop in SoHo, NY). Being tall and rather skinny, the fit is perfect straight away. A nice taper on the legs makes for a great look and there's enough room in the top for instant enjoyment, breaking these in will be a pleasure!
First Impressions: The first thing that jumps out is the color, no picture I had seen so far is like the real thing, and I can assure you: neither are the pictures displayed here. For a pair of double indigo jeans, the color is very light, think of a vibrant electric blue you see when the first fades can be seen. Yet they still retain that deep dark indigo hue you'd expect from a pair of raw jeans. If anything, it's intriguing… I'm very curious as to how these will fade.
The texture really comes to life after the soak, the irregularities become more apparent and the feel is amazing, very subtle and sophisticated. Exactly what you'd expect from a Japanese brand that puts so much effort in their trade. PBJ have been around since 1997, and have become a very prestigious brand, due to their innovative fabrics with incredible fading potential, meticulous attention to detail in every part of the manufacturing process, and overall beautiful garments. They are quite pricey, but deliver high quality!
Details: All the expected details are here, and I love them; the embroidered indigo leaf on the back pocket, hidden rivets, deerskin leather patch, blue line selvedge, chain stitched hems, black iron buttons, black herringbone pocket bags, and raised belt loops… man, I love raised belt loops.
I have no regrets about buying yet another pair of denim, especially when it's as divine as this one. ~ Alexander Deleersnijder.
All photos by Alexander Deleersnijder.