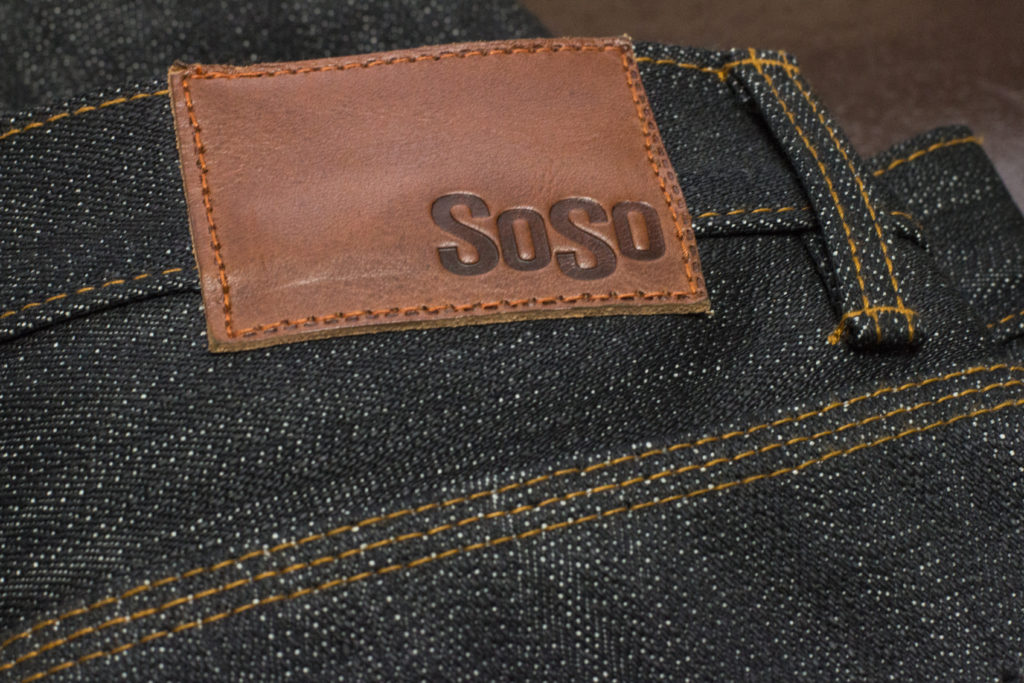 My goal with this pair was to make jeans that could potentially last a lifetime. I choose one of SOSO's toughest denims, the 20oz Deep Dyed Indigo Beasts, and dedicated the details to reinforcement of the construction. I also wanted to make the slimmest and most tapered cut I could comfortably fit. The combination of the super slubby 20oz japanese selvedge and a skinny tapered cut is bespoke enough. No need for tons of details. Well, just a couple.
Fabric: 20oz sanforized Japanese selvedge denim from Kaihara Mill. Dark indigo warp with a white weft. The yarns are dyed deep into the core, I assume it will be a slow fader. Very slubby warp with an inky feeling from the heavy dye. Not much slub in the weft creating more of a vertical Tate-ochi pattern in the denim. Mid tension weave. An interesting aspect to this denim is the absence of hair. Usually denim this slubby has a good amount of hair to it. It may be from dying the yarns more times than usual to achieve the deep dark indigo. Maybe the hair will develop after some wear.
Details:
Triple chain stitched yoke and inseams – Right off the bat, I choose triple stitching. Seems like the obvious first step in making a pair of long lasting jeans.
Tucked belt loops – I've had belt loops rip off jeans before, but they were never tucked belt loops.
Reinforced fly
Folded over watch pocket selvedge
Hidden fly selvedge
Red and white selvedge ID
Copper stitching
Custom SOSO branded silver rivets and buttons
1.8mm leather patch
Fit: Skinny Luke Fit. Mid to low rise and roomy thighs, with a very strong taper down the legs. I have to be careful with this fit as my feet barley pass through the hem.
First impressions: Very happy with how this pair came out. The first pair I had made by SOSO and I wasn't sure what to expect. I really love the fabric and this is the slimmest and most tapered cut I own in super heavyweight denim. The fit really feels and looks taylor made. The construction is good, no major issues, although it could be a little cleaner. I would like to see the chain stitching go all the way to the end on the waistband.
After two weeks of continuos wear, I can feel these are going to be very slow faders. Usually, by this point you start to see little electric blue indigo pops here and there, but this pair hasn't budged. The the creases haven't even fully set in yet. Probably some of the toughest denim I've had the pleasure of breaking in. I can see the yarns in the warp are dyed pretty deep into the core but not all the way. I think this slow fading characteristic is perfectly suited for a pair of denim that I plan to have last a very long time. After the first soak a little bit of hair started to show up. Very little shrinkage but the fit settled in and became even better.
SOSO Clothing is always making new details and cuts available to choose from. A couple things I would love to see made available is:
Thread sizing options and more options in the natural and subdued stitching colors.
Yoke/back pocket lining option
Raised belt loop/pocket opening option
Classic rivets and buttons option
Overall, my first experience of making a custom pair of jeans with SOSO Clothing was a great one. SOSO provides a great service which is well worth the price.
You can get a pair of these beasts made how you like here at SOSOCLOTHING.se
~ The Denim Hound 1-3-17