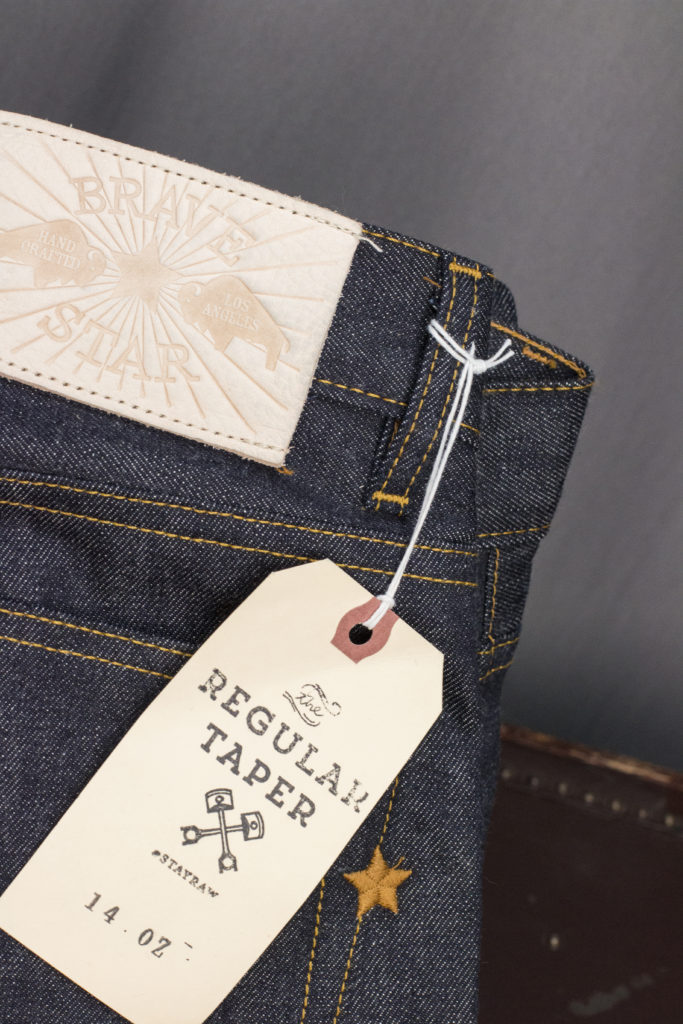 Fit: Regular Taper. A roomy top block and thighs with a strong taper down the leg.
Measurements (size 32): Waist 35″, rise 10.5″, back rise 15.2″, hip 19″, seat 19.6″, thigh 12″, knee 8.25″, hem 6.7″, inseam 37″. 1.5″ shrinkage on the waistband, 2″ on the inseam.
Fabric: 14oz 100% cotton, unfinished/un-singed sanforized selvedge denim from Cone Mills, White Oak. Right hand twill with a greycast to the indigo warp and white weft. This has to be one of the most character rich Cone denims I have ever seen. Very hairy with a good amount of nep. This denim also has very small, sporadic slub yarns in the warp and weft. It feels almost like an unsanforized denim. Cone denim usually has a tight weave using high tension yarns. This denim however, has a looser than usual weave, with medium tension yarns.
After a soak, this denim gets really hairy!
Details:
Red and white selvedge ID
Tucked belt loops
Red orange stitching
Natural leather patch
Antique brass buttons and rivets
Sewn on vintage Union Special, Reece & Singer machines in Los Angeles
A & E core spun poly thread
Tonal embroidered star insignia on the right back pocket represents
Button fly with double prong donut style, one star and laurel leaf buttons
All hardware made in Kentucky
Patch is cut & stamped & waistband label is woven in Los Angeles
Chain stitched waist band and hem
Vertical selvedge ID on watch pocket
Bar tacked back pockets
Double felled inseam
First Impressions: This is definitely my new favorite cut from Brave Star Selvage. Very comfortable without being too baggy. To me this denim almost seems like Cone's version of Japanese denim. As per usual Brave Star strikes a good balance of details to deliver a pair of jeans that is minimal at the same time distinct. Because of the hairyness of the denim, it is a bit warmer than normal 14oz denim and with its wooly look, it makes for a great fall/winter pair. Although these jeans are still comfortable to wear in up to about 80˚. The indigo has penetrated deep into the warp yarns, but has not fully saturated the core. This indicates that these jeans will be slower to fade and will develop a nice low contrast vintage fade that cone is known for, but with this denim, I would expect to see a bit more vertical pattern fades than the usual Cone denim. Another great pair of jeans from Brave Star Selvage.
This pair is very limited and seems to be going in and out of stock quickly on the Brave Star Selvage website.
~The Denim Hound 9-26-17