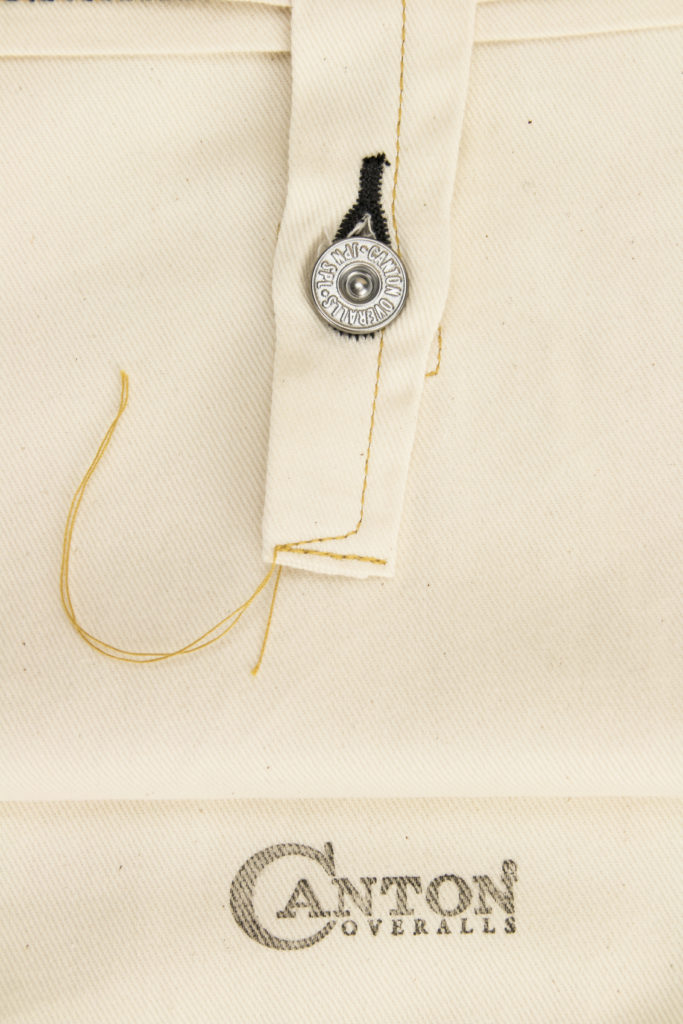 It's interesting to me that a brand that has so much involvement in the birth of the Japanese denim industry, has so little presence in the mind of todays denim enthusiast. Canton's story can be a little confusing and I never clearly understood it myself. Parts of Canton's history is available online, but what are they doing now? Do they still make quality raw denim jeans, or is that all history? I decided to dig deep and sort it all out. I contacted Canton to get the facts about their history and the details of their denim.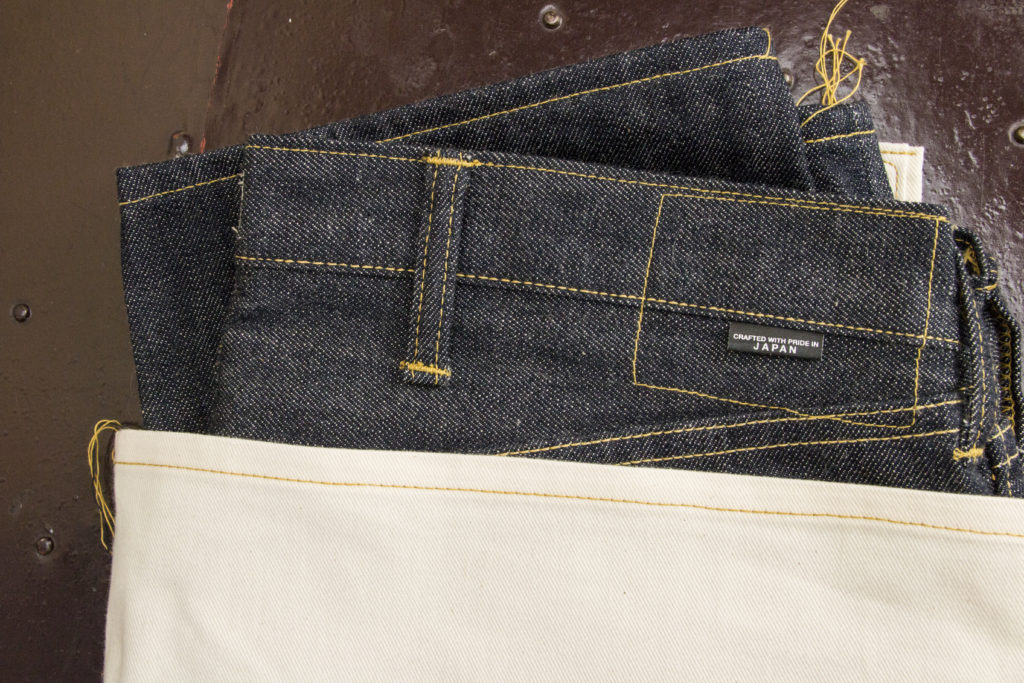 Some background on Canton Overalls
Big John (another brand known for its role in the birth of Japanese denim) started as Maruo Clothing Inc., a sewing workshop which was set up in 1940 to produce uniforms and workwear as part of the Japanese Empire's war efforts. After the war, the brand took to the specialty task of converting imported American jeans to Japanese sizes.
Maruo Clothing Inc. did particularly well for itself and was positioned to make denim history. In 1963, under a partnership with Canton Textile Mills (USA) & Oishi Trading Company, Maruo Clothing Inc. made the first pair of domestically manufactured jeans.* These jeans were produced using American denim from Canton Mills that was imported by Oishi Trading Co., under the brand name "Canton" in Kojima. Canton Textile Mills supplied 50 rolls of denim fabric for the first official run. In April of 1965, Japan's first domestic jeans were released. In October of 1965 Canton dropped the world's first one-wash jeans (This first ever run of one-washed jeans used several household washing machines to wash).
*This info is disputed by the denim brand Edwin, who claims to have made the first pair in 1961.
In 1967 Maruo Clothing created its own denim brand "Big John". Big John began manufacturing jeans using Cone Mills denim starting in 1968. In the early 70's, Big John would be the first to use Japanese denim (AFAIK from Kurabo Mills) in it's production of jeans.
Canton Textile Mills closed down in 1981. Oishi Trading Company had to produce Canton jeans using different workshops such as Takahata. Eventually, Oishi Trading Co. decided to stop producing jeans under the Canton brand in 1983. The son of the founder of Oishi Trading Co. went on to create Oni Denim.
Fast forward to 2008. 25 years later, Canton is resurrected under new ownership and a new name – Canton Overalls.
Now, lets talk denim!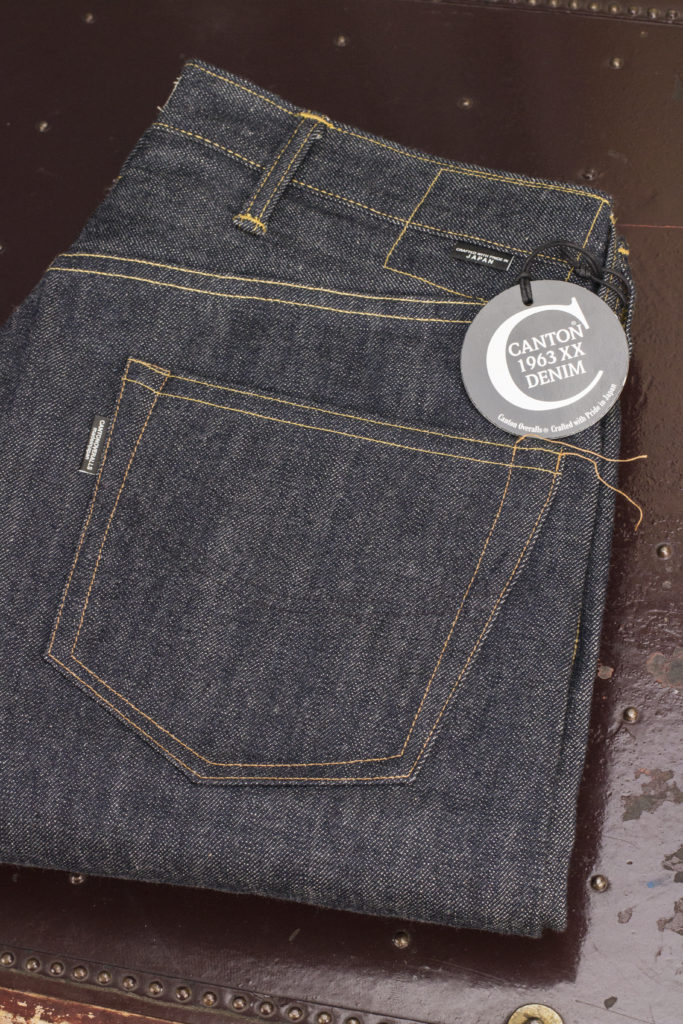 Canton Overalls 1963XX 105
Dubbed "1963XX" to commemorate their inaugural year and a return to the roots of Canton. The 1963xx 105 is not a replica of Canton's original model. In 1963, Canton focused on replicating the 501XX from 1940 to 1950s. In that same spirit, the 1963XX 105 is Canton overalls new interpretation of the same 501XX.
Fit: High rise and roomy thighs, with a taper from the thigh to the hem. Based on late 1940's, and 1950's "501XX" cut, but modified with a slightly stronger taper, keeping the original 501XX fit in the waist and top block.
Measurements (size 30): Waist 33″, rise 11.5″, back rise 15.5″, thigh 12″, Knee 8.75″, Hem 7.9″, inseam 34.5″ Shrinkage 7-8% vertical, 6-7% horizontal.
Fabric: 12oz (13.75oz after soak) unsanforized Japanese selvedge made from American and Australian cotton. It has a rough and hairy surface with a nice, lightly slubby texture and random neps. The warp is dyed with pure indigo and the weft left a natural unbleached cotton. On first touch, this denim really stood out as a special example of Japanese denim. A good amount of starch, making the loose weave and light denim, nice and rigid. After a soak and a wear it gets very comfortable and softly textured. A very nice light weight, comfortable denim with plenty of texture and character.
I contacted Canton to find out more about this denim.
Canton: "The denim is woven Canton's tie-up factory, there is only one machine in the world that can weave this denim with a special tension; which is very loose so it's easy to have a weaving run fail, and be unusable. This means it's a time consuming process; but very special denim quality; no other mills can ever create."
Canton Overalls branded top button
Original silver button #500 embossed on inside
Original punch-out copper branded rivets
Hidden rivets on back pockets
Vintage heavy sleek pocket bag.
Yellow and orange cotton thread, yarn count and number of stitches vary in order to increase efficiency and aesthetic.
"BANZAI" special sewing with run off.

Inseam is stitched down first, then folded inside by hand, and then chain stiched; a time consuming process called "ORIFUSENUI", in Japanese

Raised belt loops
"Crafted With Pride" tab and stitching outline in place of leather patch
All white selvedge ID
Hidden Selvedge ID on watch pocket
7 belt loops
Tonal back pocket arc's
Soaking The Denim:
As I drop the jeans into the scolding hot water in my tub I notice the color start to change, not the blue color I am used to, but.. almost a green tea colored YELLOW!
This yellow/green color could be bleeding from the yellow, 100% cotton threads used in the stitching. After the first soak the stitching and rivets bleed onto the pocket bags and inside of the denim causing an aged rusty look. The color does not bleed through the outside of the jeans.
First Impressions:  From the moment I picked up this pair I knew I was holding something special. The design of the stitching absolutely blew me away at first glance. I've never seen a pair made completely without the use of overlock stitching (except for belt loops). I can't remember ever seeing the ORIFUSENUI style of stitching on a pair of Japanese made jeans.
On the topic of how these jeans are constructed, Canton Overalls has something else that is a bit hard to explain – a certain sense of ironic humor. An intangible but very clear message from the makers to the wearer. To me, these jeans say "Yeah we have the skills and time to craft a meticulous pair of jeans, but that's kinda boring, so we are going to leave a bunch of run off stitching everywhere because… chill out dude." The excess run off is for you to decide to keep or cut off.
While the stitching on the inseam and fly are immaculate and just beautiful, the execution of the stitching could be cleaned up a little bit around the belt loop's bar tacking and waist band areas.
A couple other nice details that stand out are; the 7 raised belt loops, the stitched outline and black tab, in place of the omitted leather patch, and narrow fly stitching. There are only a couple of things I would change. I would shorten the long back pocket tab to the usual size.
The fit is not for the slim tapered crowd. It is the classic loose, very comfortable, Japanese silhouette. These jeans are prime candidates for a pin roll cuff.
If the loose tapered fit is not your cup of tea, then you will be interested to hear that Canton Overalls plans on releasing the  "1963xx-106", a slim tapered version of the 105.
Canton Overalls are not available in the US. If you are intersted in purchasing, contact [email protected]
 <iframe width="560″ height="315″ src="https://www.youtube.com/embed/0rH2DRFNmkY" frameborder="0″ allowfullscreen></iframe>
~The Denim Hound 6-4-17