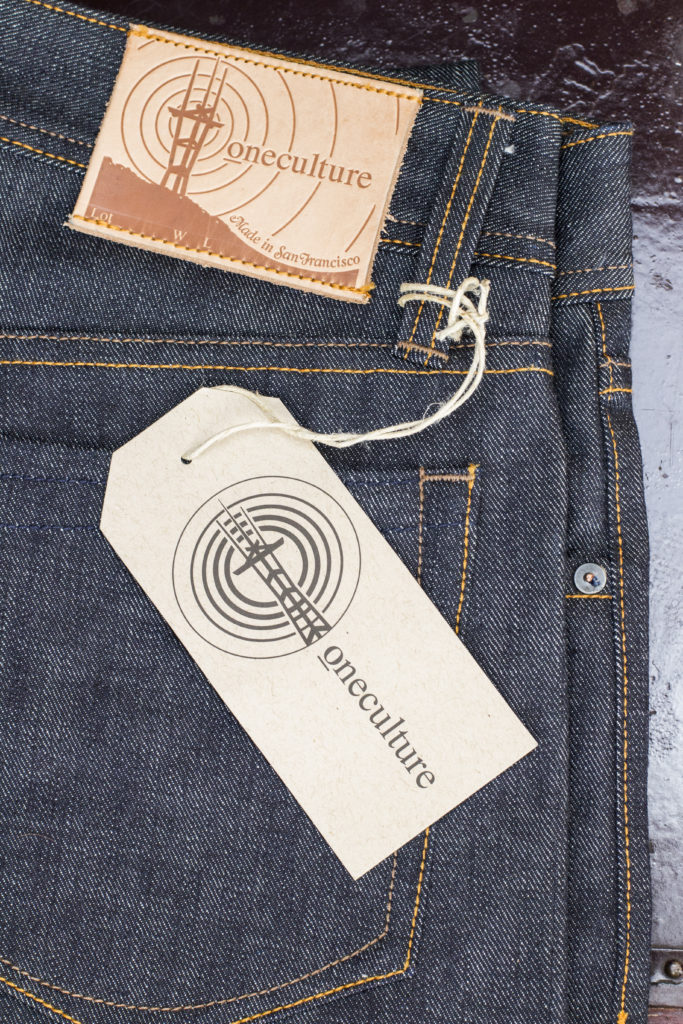 Mark over at oneculture has been making jeans for over 10 years. He has put his blood sweat and tears into passion for denim and it shows. Today, I'm happy to be reviewing the 14.25oz LHT Gam, one of oneculture's three cuts.
Cut: A medium-lo rise and slim leg, with a form fitting thigh that drops from the knee to the hem with a 3/4" taper.  A slimmer version of oneculture's Pulsar Slim Taper.
Measurements: Waist – 33.5″, rise – 10.25″, back rise – 14″, thigh – 11.5″, knee – 8.2″, hem – 7.1″, inseam – 39.5″. Expect 2″ of shrinkage on the inseam and .5″ in thigh and knee.
Fabric: 14.25oz, sanforized, left hand twill from Kuroki Mills. 100% cotton.  The lightly slubby indigo warp and white weft create a subtile crosshatch pattern. A higher tension and tighter weave denim with a somewhat smooth surface. After a couple weeks of wear a bit of hair starts to show up. The weft is nice and soft making it comfortable from day one. The warp side has a slightly rougher and more starchy feel at first, but also softens up due to the left hand twill. The core of the warp yarns are not pure white, more of a light blue. This means the fades will be slightly lower contrast than usual Japanese rope dyed denim. The fades on this pair will probably have more of a Cone Mill vintage fade, combined with the crosshatching pattern found in Japanese denim.
Details:
Thick, 9oz veg. tanned leather patch
Heavy, 10oz bull denim pocketing
Deep pocket bags
Lined back pockets
2 piece waistband
Ebony and Copper hardware throughout
Signature size branded button fasteners
Signature "1978" thread color reference: orange, brown with turquoise accents
Folded "infinity edge" front pockets
+38" inseam
First Impressions: A great fit and very well constructed. When I first put on this pair it felt like I was wearing at least 16oz denim due to the heavyweight pocket bags and rigid quality of the denim. Very comfortable from day 1. Soft on the inside but with just enough texture outside to keep it interesting. The fit is flattering and comfortable and good range of motion, the perfect combo. At first I wasn't sure how I felt about the orange and brown thread colors, but they match perfectly with all the boots in my collection, light and dark, so I'm sold. I love the all white selvedge ID, one of my favorite ID colors. A very thick and beefy veg tanned leather patch is a nice touch. After the hot soak the back pockets bunched up a little because the pocket lining shrank more than the denim causing a little wrinkle. It should smooth out with some wear, but even if it doesn't it should make for some interesting fades.
I would definitely recommend oneculture to anyone, from entry level to collector, looking for quality American made, raw Japanese selvedge denim. You can purchase a pair here at The House of oneculture for $150
~ The Denim Hound 3-26-17