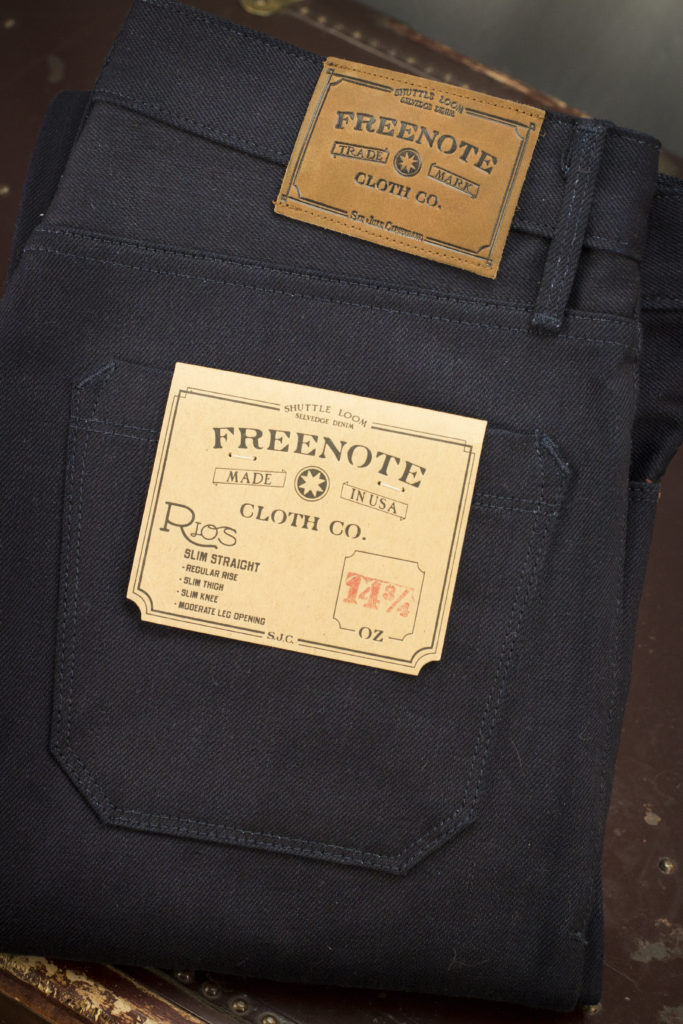 It's been a couple of years since I first reviewed Freenote Cloth. Freenote was actually one of the first denim brands I've reviewed, and for good reason. Over the past 4 years, this brand has steadily carved out their own spot in LA's denim scene, and the denim world beyond. There are a lot of brands based in LA, but Freenote's quality sits in the top tier, with maybe only one or two others. For a little background on Freenote Cloth you can check out their brand spotlight here.
This past month or so, I started working with Freenote Cloth and have had a chance to get to know the guys on a more personal level. Matt, Andrew and Dave are extremely hard working, honest, friendly, generous and genuinely good people. They're the type of guys that are the last to leave the bar at night, and the first to show up to a full days work in the morning. Cool to hang with and great to work with. They are very passionate about putting out only the absolute best products they can, cost being no issue. The goal for them is not to sell you on thier stuff, as much as it is for you to love what you buy.
Freenote Cloth makes some of the most meticulously crafted clothing coming out of Los Angeles, hands down. There is so much going into this stuff, but you would never know half of it unless you corner one of the guys and really start asking questions. Matt, Andrew and David don't use the details of what goes into their garments to try and sell you their stuff, although they probably should. Their "If you love it, buy it and beat the shit out of it." attitude forgoes bogging you down with the extensive deets and the work that goes into each piece. Pictures don't really do thier stuff full justice either. It's definitely a "You have to hold it in your hands to truly appreciate" type of brand.
Today I'm reviewing the updated Rios Slim Straight fit featuring Freenote's "Blue Black" Japanese denim.
Cut: Slim Straight. Roomy top block and thigh. This "slim straight cut" actually has a slight taper to it down the leg. This gives a good amount of room for mobility in the thigh and knee area, but when worn has a nice slim and straight looking silhouette.
Measurements (size 32): Waist 34″, rise 10.74, back rise 15″, thigh 12″, knee 8.2″, hem 7.25, inseam 34″. After two weeks of wear the waist stretched out .5″
Fabric: 14.75oz 100% cotton sanforized right hand twill selvedge denim from Hishitomo Mills, Japan. This fabric was developed for Freenote Cloth and features a dark indigo warp and black weft. The warp has been rope dyed with only a very little bit of indigo penetrating to the core, this will allow for some high contrasting fades. The weft has be sulfur dyed to the core so the black yarns will not fade for the most part. This denim has a tight uniform weave with a smooth and soft hand. Not super hairy but it has a consistent, short haired fuzz to balance out the dark inky denim. There is a very slight vertical slub in the warp, which will show itself over time as it fades. This denim is in the fast fading category, with a potential for some interesting high contrast fades.
Details:
Redwing Heritage leather patch, sewn top and bottom only
Brick red Japanese herringbone pocket bags
Tucked belt loops
Branded copper button fly
Branded copper rivets
Stealth tonal stitching
Redline on white selvedge ID
Hidden selvedge on watch pocket
Two piece waistband
Woven cotton "Rios" labels from Italy inside waistband
Double flat felled inseam
Sewn in LA
Freenote Cloth signature back pocket design
Angled bartack stitching on the outseam
First Impressions: This is a very refined denim fabric that looks very clean and sharp when new. The combination of the rope dyed indigo weft and the hank dyed black weft is a very interesting combination that I am looking forward to seeing fade. The construction on these jeans is probably one of the finest example of American Made jeans you can find. Very few people know this, but the Freenote Cloth's signature back pocket design is inspired by a pair of 1918 military pants. The 1/8th inch double stitching on the back pockets gives it a nice refined balance. I like the color pop of the red herringbone pocket bags against deep indigo denim. A great slim-but-not-tight, straight cut, which is actually very slightly tapered. Super clean and solid stitching. The patch made from Redwing Heritage leather is a super nice detail as well. Andrew is big on rocking em raw, and never washing. So I'm attempting going raw all the way with this pair, although ill probably end up washing at some point. I'll updated with pics either way!
You can purchase this pair from Freenotecloth.com
~ The Denim Hound 3-2-18