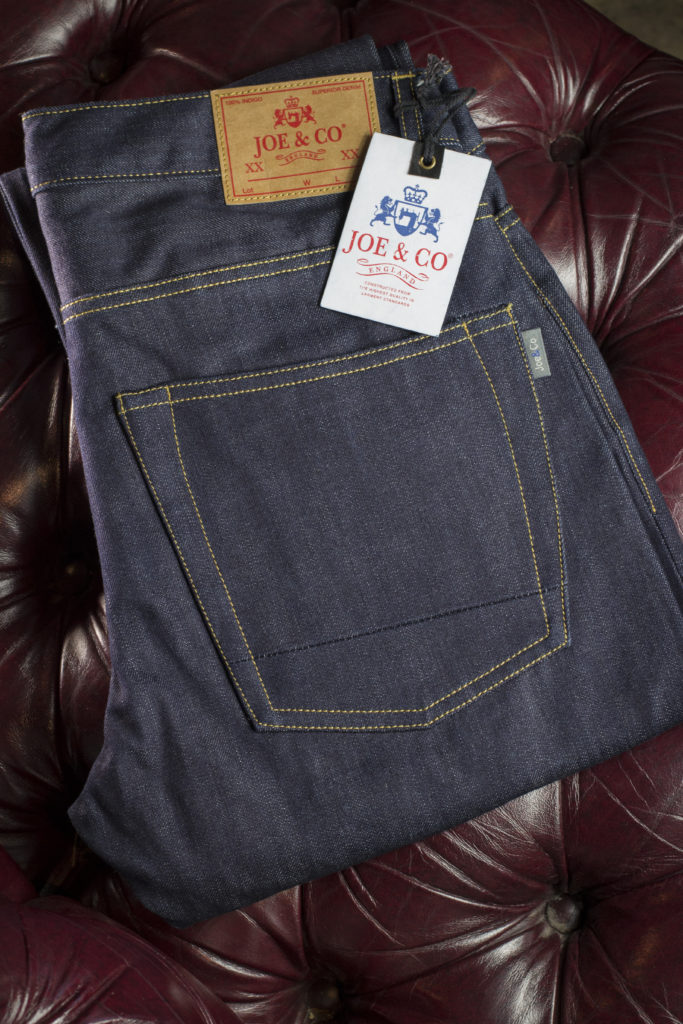 Joe and Co. started in 2008, was one of the first denim brands I reached out to review about two years ago. I've been in touch with Josef over the past couple years and have been watching his brand grow. Joe & Co. clothing is made in the old mill town of Blackburn, NW of England and has just turned 10 years old this year.
Today I am happy to be reviewing the JCS-COLLIER-369 RAW 11.5 oz SLIM TAPERED RAW SELVEDGE DENIM…. MADE IN ENGLAND SERIES
Cut: Mid-rise, Relaxed tapered cut.
Measurements: Waist: 34″, rise 10.7″, back rise 15″, hips 19″, Thigh 12″, knee 8.4″ hem 7.5″, inseam, hemmed to 32″.
Fabric: 11.5oz sanforized 100% cotton right hand twill selvedge denim, exclusively made for Joe and Co. by Blue Selvedge, a part of the Berto Industries Group in Italy. Rope dyed indigo warp and white weft. This denim has been dyed without sulphur, and has a very slight red cast. A very soft hand from day one, very comfortable with no break in period. High tension yarns in a moderately tight and smooth weave give this denim a silky feel.
Details:
The pocket bags and the lining of the back pockets are made from 100% yarn dyed 7oz hickory stripe chambray
Individually printed 1-50
Branded calf leather embossed label on pocket bag
Tucked belt loops
Royal blue line inseam
Joe & Co. branded donut style buttons and rivets
Rivet pins are branded with Joe & Co. signature sewing machine
Leather donut washers behind the fly buttons
Hidden back pocket rivets
Fully lined back pockets
Paper patch
Chain stitch hems
Felled seams
Red & Gold double selvedge ID
Exposed selvedge ID on watch pocket
The jeans arrive in Limited Edition printed tote bag
Yellow cotton wrapped poly stitching
First Impressions: Lots of nice details here. I really like the sewing machine custom branded, leather backed rivets, tucked belt loops and lined back pockets. The hickory striped pocket bags have a nice weight and texture. Lots of details with a purpose and not to busy or gaudy looking. This is my first pair of jeans made with denim from Blue Selvedge (Berto Group Italy). Even though I don't think it has an effect on the quality or durability, the buttons on these jeans rattle. I like the feeling of heavy, solid buttons. I don't like the feeling of light, hollow or rattling buttons. It is a personal preference but I'd love to see this changed on this pair. The paper patch is a cool departure from leather and a nod to classic Levis. A nice comfortable light pair of denim that will be perfect for summer. I'm interested to see how the denim from Blue Selvedge fades!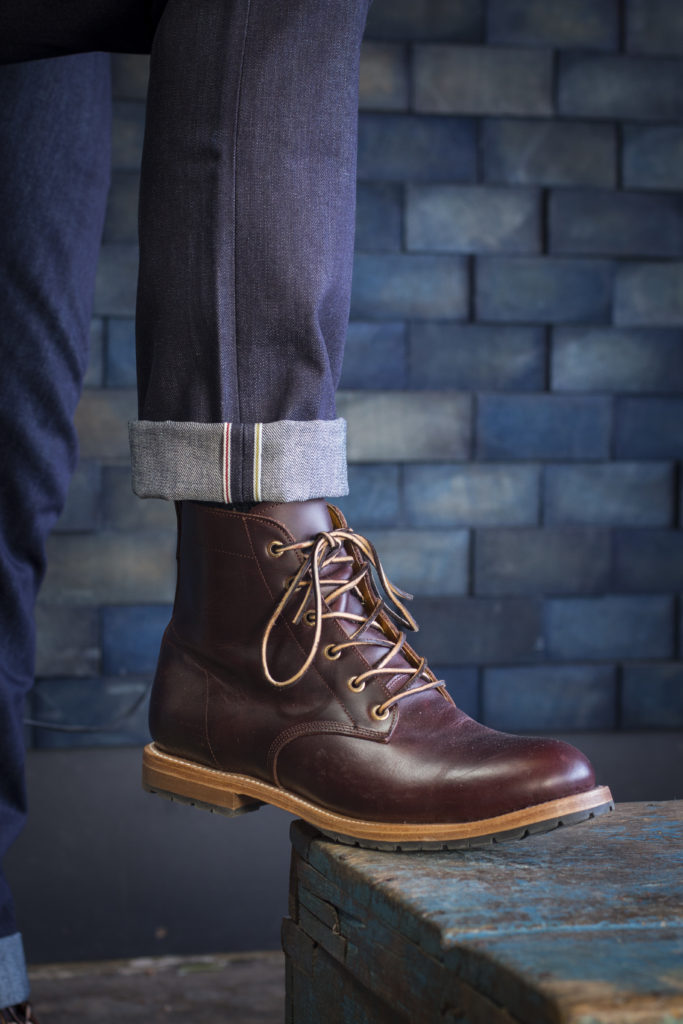 You can get this pair directly from Joe & Co. here.
~ The Denim Hound 5-30-18