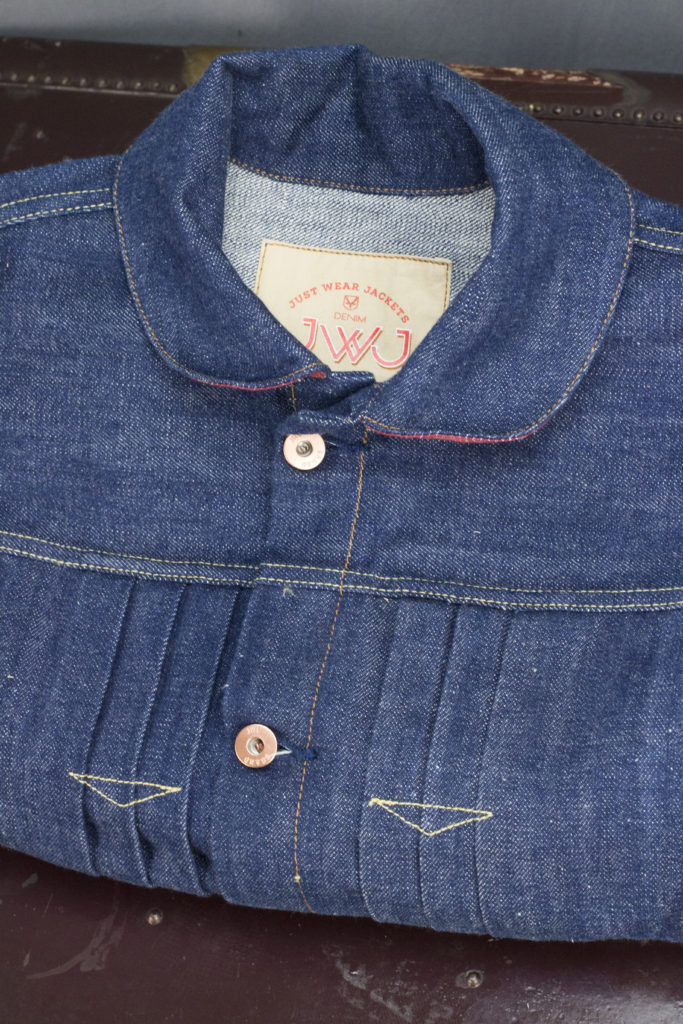 Cut: Short to medium in length, with a slight v shaped body. Nice amount of room in the arms, perfect for layering.  The silhouette gives you a taller and stronger looking build, vaguely reminiscent of the 50's and 80's cuts but without the overblown shoulders. A nice slim shoulder width balances out the cut well. The double pleats in back and triple front pleats makes this jacket very comfortable giving you a wide range of motion.
Measurements:
RAW – Shoulders 18″, chest 21.5″, back length 24.5″, sleeve 25″
Hot soak – Shoulders 17″, chest 20.7″, back length 23.8″, sleeve 23.75″
Fabric: 15.5oz unsanforized custom denim fabric from Nihon Menpu. 65% cotton 35% hemp. Hank dyed with natural indigo. A green and white broken weft selvedge ID. This denim has a nice amount of nep and hair, with a subtle slubbyness in the warp and weft. The irregular natural indigo gives a faint vertical pattern in the denim. The beautiful ocean blue denim color has to be seen in person under the sun to be truly appreciated.
N.O.S Back collar fabric: The back collar lining is made from a blend of silk (warp) and cotton (weft) made on a early 19th century Majorcan shuttle loom.
Details:
Copper JWJ branded buttons

Copper JWJ branded rivets
Asymmetrical pocket placement
Triple pleated
Custom denim fabric from Nihon Menpu
Twisted weft green selvedge on cuffs, waistband, back & cinch
Veg tanned leather washers on rivets and buttons
YKK Hardware
Flat felled seams
Lemon and tangerine poly-cotton stitching

Triangle stitch on fron pleats 

Z stitch on back pleats
JWJ arc's on both pockets
Rivet reinforced sleeve opening
First impressions: An absolutely gorgeous denim fabric! One of the most beautiful denim fabrics I have seen in a while. I wish they would make a pair of jeans out of it! This is a well made jacket packed with details. Very comfortable, not the slimmest fit but still flattering and very good for when mobility and layering is needed. I really like the club collar and the red silk and cotton lining under the collar. I also love the crazy green "moss" selvedge ID! The pleats and cinch are something I'm still getting used to but I'm glad to have some variation in my closet, this jacket definitely stands out in  a crowd of standard type II's and III's. The hank dying means it will retain this beautiful color and take years to fade, and with this denim that is a good thing!
This jacket is available at JWJ's website.
~The Denim Hound 6-21-17