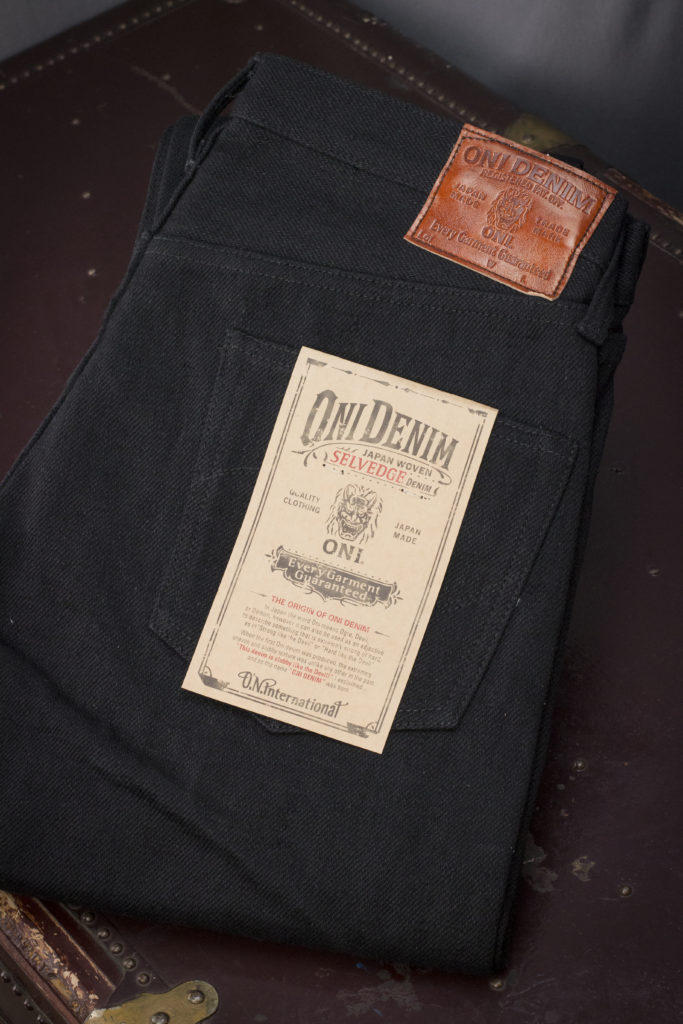 Cut: A relaxed tapered cut with a medium to low rise. A nice amount of room in the top block and thighs. A strong taper down the leg.
Measurements: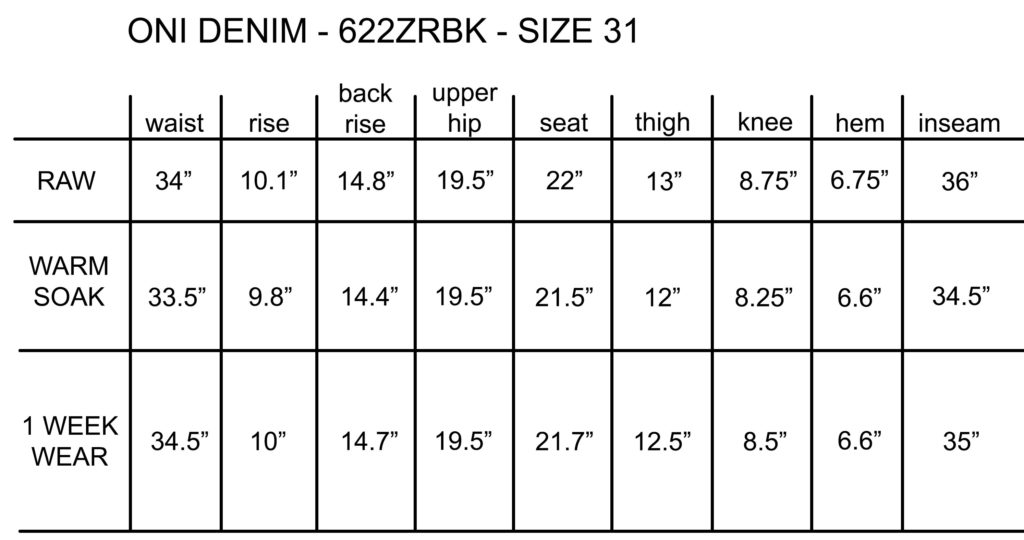 Fabric: 20oz 100% cotton unsanforized selvedge denim woven in Japan. Super irregular low tension yarns are very loosely woven into a hairy and neppy denim with a moderate amount of slub yarns in the warp and weft.
The warp is rope dyed and the weft is "Cheese dyed" also known as "Cone Dyed". Cheese dying is similar to hank dying, in that the yarn gets penetrated to the core. So the warp will fade like normal denim and the weft will hold its color. Most black denim is dyed with a sulfur dye, which gives the black denim similar fading properties as indigo dyed denim. But it also makes the denim smell like sulfur. This denim does not smell like sulfur at all! A big plus for me.
Details:
Black one star and laurel leaf donut style buttons
Branded dark coated copper rivets
Leather patch
Hidden rivets on back pockets
Stealth stitching and arcs
Red edged selvedge ID
Hidden selvedge on watch pocket
Woven Oni label inside waist band
Chain stitched lower waistband and hem
Single overlock stitched inseam
First Impressions: One of my all time favorite denim brands, Oni Denim has done it again! For me, this limited run of their Secret Denim in black x black is a must have. I've been looking for a highly textured fast fading black on black denim for about two years, finally I've found the perfect pair. The relaxed tapered 622 cut from Oni is the best cut for me from this brand, so far. Pretty much the perfect relaxed tapered cut, although I wish the rise was maybe an inch higher.
Onis' Secret Denim is one of my all time favorite extreme textured, heavyweight Japanese denim. There is really nothing like it out there. Super low tension hairy and neppy goodness that is very course at first, but becomes ultra soft and comfortable after breaking in. Going to put as much wear into this pair as possible this winter. Check back on this post in spring for fade updates to see how far I've gotten! : )
If you hurry you can still purchase this denim from Denimio.com.
~ The Denim Hound 10-25-17