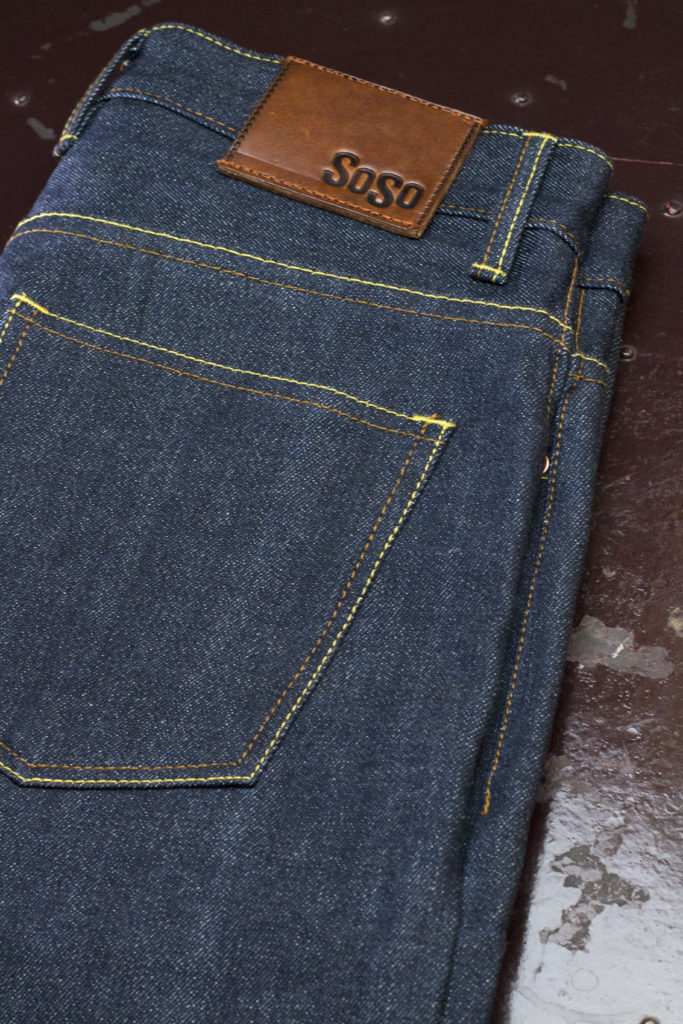 By the time I got around to customizing my third pair I wanted to do something with a little bit of pop. I wanted to pack on the details without going over the top. I was looking for a lighter weight denim than my previous two pairs (20oz and 22oz), something good for sunny, LA summers.
Cut: Skinny Luke – A medium to low rise with moderately roomy thighs and a strong taper down the leg.
Measurements: Size 31 (customized waist measurement) – waist 32″, rise 10″, back rise 14″, thigh 11″, knee 7.5″, hem 6.25, inseam 30″
Fabric: 14oz sanforized twisted blue, black and white weft selvedge from Fansun Mill China. Made from 100% Xainjon cotton. A slightly coarse warp and very soft weft. A tight and uniform weave with a nice amount of hair. The twisted weft give the denim a very nice multi-dimensional color and speckled appearance.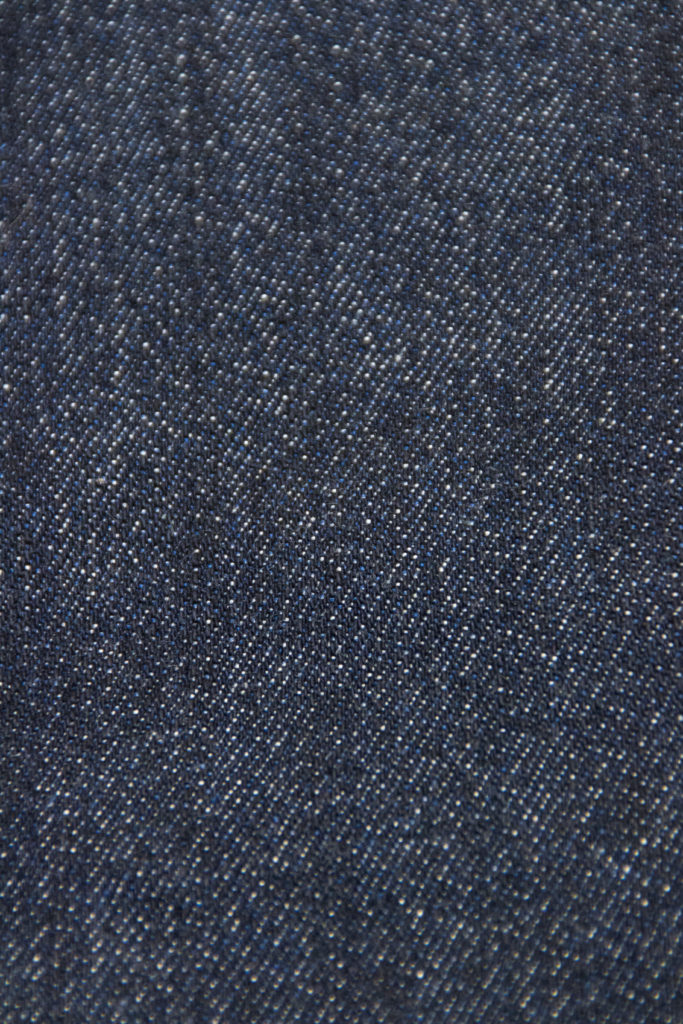 Details:
Copper custom SOSO buttons and rivets
Copper and yellow stitching
Tucked belt loops
Black and white selvedge ID
Belt loop selvedge
Peekaboo selvedge on watch pocket
Hidden fly selvedge
4mm Swedish prima – A – grade leather patch
6 belt loops
Bar tacks on back pockets
Front pocket hook loop selvedge
Reinforced fly
Chain stitched waistband, yoke and hem
Double felled inseam
First impressions: Really an impressive pair. The stitching is cleaner than the first two pairs. A very nice denim from Fansun Mills. The weft side is so, so soft right of the bat, while still giving a nice texture on the warp side. Because of the tight weave and slim cut they are a bit warmer than I expected. Comfortable to wear up to about 80˚. Because of the lighter weight of the denim I had the waist taken in an inch to compensate for stretch. I am very satisfied with the Skinny Luke cut. Fits almost perfectly as is. Next time though I may request a little higher back rise. In choosing the two tone yellow and copper stitching I was hoping to go for that classic lemon and tobacco, Levis thing. When the jeans arrived, the yellow stitching was bolder and thicker than I had thought it would be. It will become subtler with time as the denim gets lighter, hopefully striking that perfect balance.
Get your own pair of SOSO middleweight denim here.
~ The Denim Hound 1-3-17