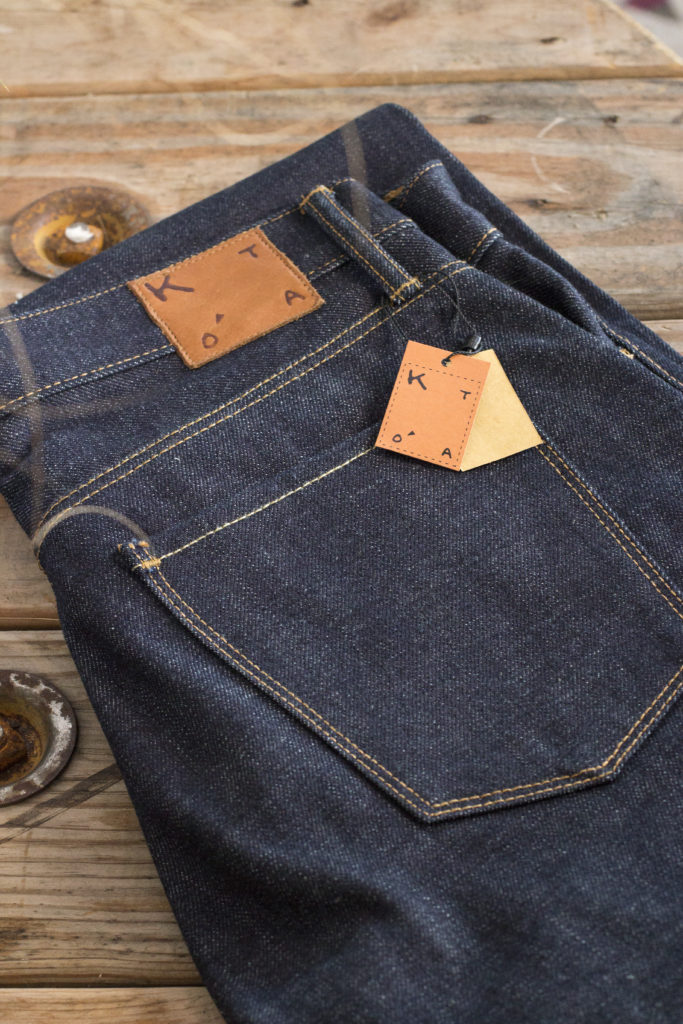 Measurements (size 30): Waist 33″, rise 9.25″, back rise 14″, thigh 11″, knee 8.4″, hem 7″ inseam 33.4″
Fabric: Sanforized, 15oz left hand twill, exclusive orange line selvedge from Collect Co. Kojima, Okayama. Indigo warp and white weft. 100% Zimbabwe cotton.
Details:
Classic copper stitching, with top of back pockets and front rise stitched in yellow, labels stitched in red
Vintage style narrow double stitching (single needle)
Vintage style bar tacks instead of rivet rivets
Zipper fly
Exclusive Collect Orange Line selvedge ID
Selvedge ID watch pocket
Chain stitched hems
lower waistband and yoke
Raised belt loops
Vintage style offset back belt loop
Visual wash instructions sewn inside waistband with red contrast stitching
Hiroshi Kato – Made in USA imprinted top button
Square leather Kato' patch
First Impressions: A very solid and rigid 15oz denim with a moderately tight weave. The small slub yarns give this denim a nice complex texture without being too extreme for the average denim wearer, a recurring trait I've found in Collect denim. Kato' stays true to their American vintage inspired, Japanese roots. This pair of jeans is full of the timeless vintage details with a couple of new and interesting twists. I love the visual wash instructions sewn inside the waistband with the red stitching showing outside.
Brand Background: Hiroshi Kato has been a part of the denim culture in Japan for over 30 years. Kato's extensive career began during the denim boom in Japan. Vintage apparel (especially used Levi's) were extremely popular, and Kato studied and scrutinized countless vintage pieces. Later, he developed fabrics for RRL for 10 years before starting his own brand. Take a look at his blog here (in Japanese). There are two different Kato' lines. The Japanese line and North American line that opened up shop in the Fall of '14. The pair I am reviewing here is from the North American line, 100% made in Los Angeles from Japanese fabrics. The US Kato' line is specifically fitted for the western customer. They craft denim for the person who appreciates timeless, classic style and quality, but want something unique.
The Denim Hound meets Kato': I got a chance to hang out with Yu Fukushima (Head of Sales and Marketing) and Nick Noguchi (Designer) of Kato' at their home facilities Caitac Garment Processing in Gardenia, California. Their love and respect for denim heritage was immediately apparent as they began talking about their construction, design, and goals for the future of Kato'.
"We want Kato' to be as well known and available in the states as other brands in our price range, such as Rag & Bone or J Brand, but with the quality and aesthetics of true classic Japanese denim craftsmanship. Our cuts are more western and modern, but our materials and construction are equal to high quality Japanese brands." ~Yu Fukushima
Nick Noguchi showed me his design contributions to the 15oz which cannot be understated. The narrow width double stitching, the bar tacks instead of rivets, the vintage inspire back, front, and watch pocket stitching, all at Nicks direction.
All of the attention to detail and passion for heritage is what make these jeans worth checking out. And at the price of $195, hard to pass up. In LA they are available at Ron Herman (in-store only), Fred Segal and American Rag. Click here for all other locations.
Kato has also released the worlds first 4-way stretch selvedge fabric, exclusive to Kato'. I'm personally not a big fan of stretch denim but this is actually really nice and would be my first choice if I went stretch.
Here are the 15oz Raw Slim's paired with a Kato' print button up made from Japanese fabric. An equally good look for work or after hours.
A special thank you to Yu Fukushima and Nick Noguchi for hanging out, showing me around Kato' and talking denim. ~ The Denim Hound