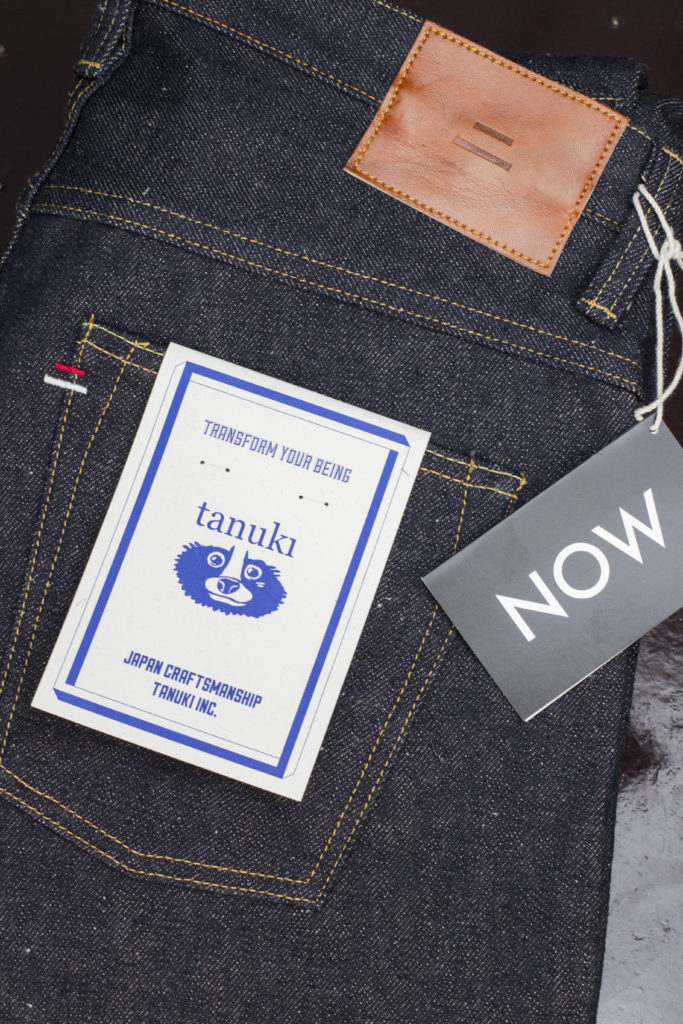 This past year Tanuki has released some of the most beautiful and meticulously crafted denim I've ever seen. Their ID x ID and Natural Indigo denim is really something special and would be really difficult to top …but with their latest Redcast denim, I think the experts behind Tanuki may have done it.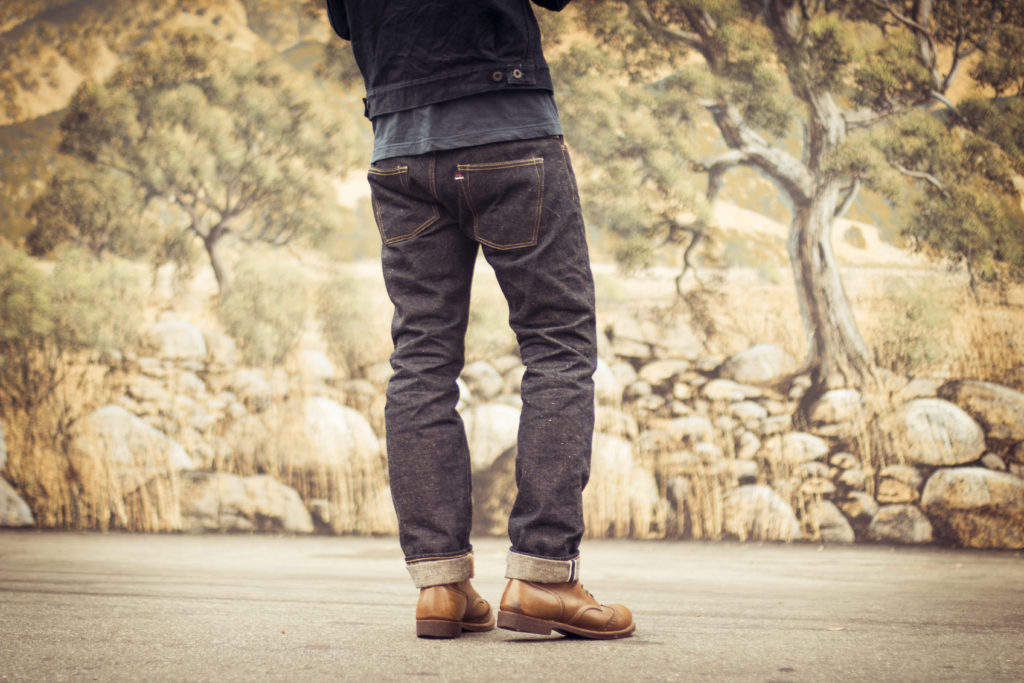 Fabric: 16oz unsanforized low tension right hand twill selvedge denim, woven at unknown mill in Japan, using 100% long staple Texas cotton. A loose weave with a slubby irregular texture in the warp and weft. The warp yarns are rope dyed in number 5 pure indigo. The weft is dyed with number 5 beige and a slight red tint. The semi-slub yarns used in the warp and weft are woven together at a low tension. This denim has a very nice rough texture that really blossoms after a soak. With a week of wear, the denim starts to become very soft. This denim is slightly less slubby then their ID fabric, more like their N fabric. This is the first time this denim has ever been produced but Tanuki used a method of red cast dying that they have developed over time, to give the denim a very vintage feel.
I spoke with Tanuki to get more info on this beautiful denim.
"For this RC fabric, we do not want too much slub. We want it to have more vintage feel after it fades so we control the loom from shaking too much. We tried many times, setting the loom to get just the right texture of fabric. The result was good balance between slubby and rough with nep, and a more smooth traditional vintage fabric. The pure indigo rope dye used is different than the usual pure indigo, so we have dipped only 6 times in dye, but giving the drying yarn maximum exposure to air to get a very deep color. The red/purple color is combination of slightly red tint beige weft and type of pure indigo we have used. Pure indigo is purer in chemical form and has a little lower PH so it reacts easily with components in environment, like water and produces more oxidization and slight red color. That's why denim looks little more red/purple after soak."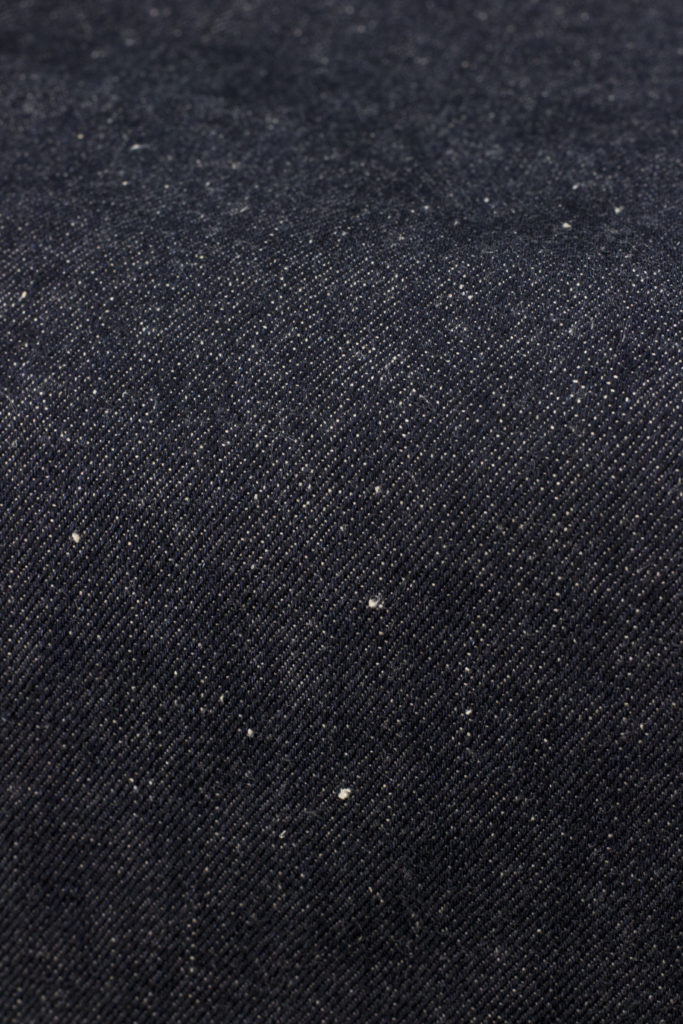 After just a few days of wear, the redcast denim is already starting to fade, creating a beautiful electric blue that pops through the purplish redcast denim.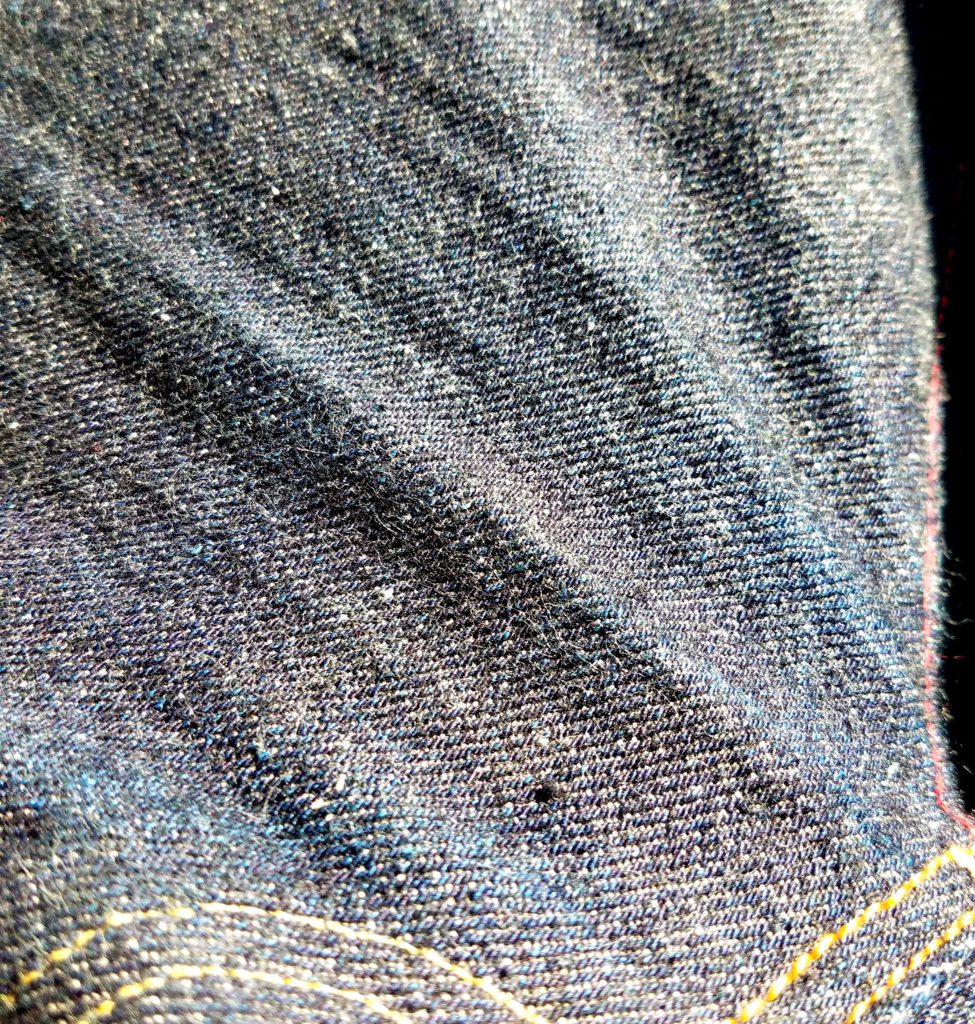 Cut: Miyako Slim Tradition – Low rise, with a moderate amount of room in the top block. A slim leg with medium taper.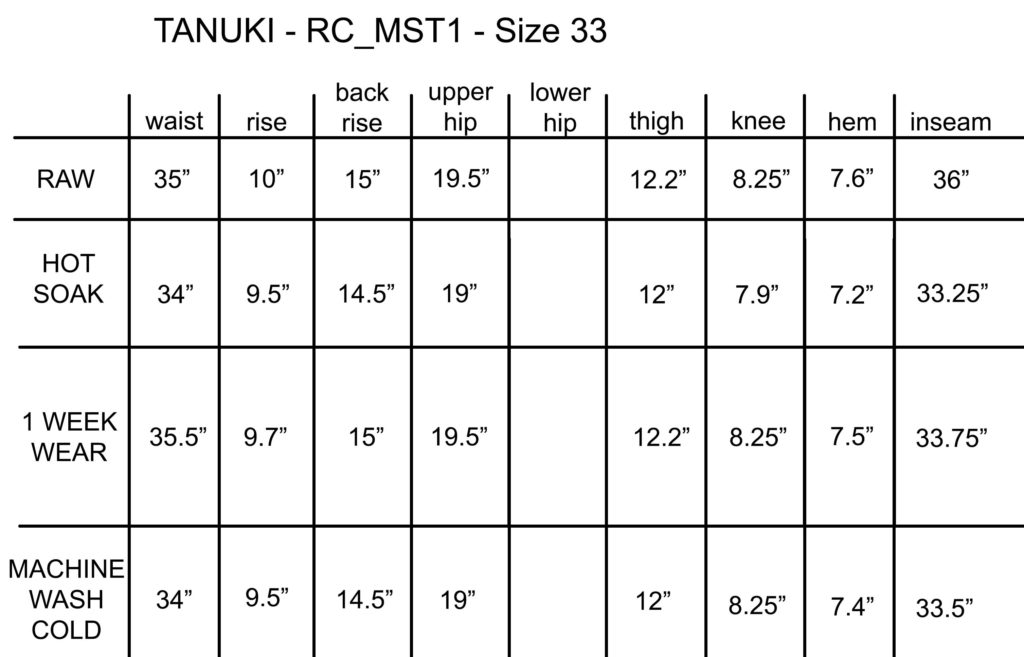 Raw (left) and after a hot soak for 1 hour (right)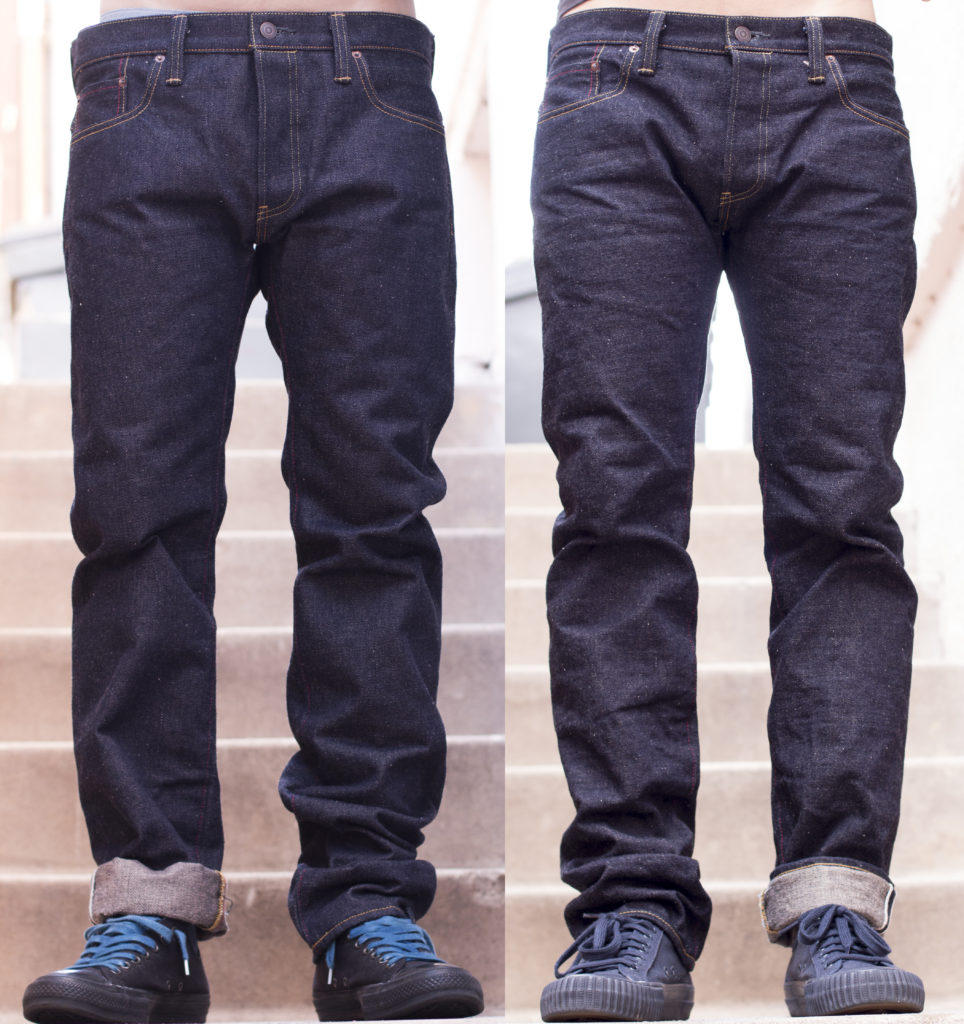 Details:
Hidden Rivets
Tanuki "ni" logo patch
Tanuki "ni" logo embroidered on back pocket
High quality red gingham pocket bags
Yellow and orange stitching with red inseam and watch pocket stitching
Tanuki branded copper rivets
Custom branded copper button fly
Back pockets half lined with red gingham fabric
Pink and white selvedge ID
Hidden selvedge on watch pocket
Raised belt loops
Chain stitched lower waistband and hem
First Impressions: This denim is definitely one of Tanuki's most impressive yet. The color created by the redcast warp and the beige weft is beautiful. The texture of the denim is a perfect balance of slub, nep and hair. To me, 16oz is the ideal weight for loose weave Japanese denim. The red inseam is a great detail to these jeans and I'm interested to see how it looks as the indigo lightens. I really like Tanuki's recent addition of branded rivets. The MST cut has a deeper yoke than Tanuki's previous US cut, giving more room in the top block. Even so, you may want to size up one in this cut. I was surprised by how little this unsanforized denim shrank, about the same as sanforized denim. Expect it to stretch quite a bit as well, so you will end up with the waist about 0.5″- 1″ past original measurements. The only major shrinkage is in the inseam. Another very nice pair of jeans by Tanuki and so far one of my favorite denim fabrics they make. I plan on wearing these on the cooler summer days and definitely want to put some good wear time on these in the fall.
Available at Tanuki's website
~ The Denim Hound 7-16-17