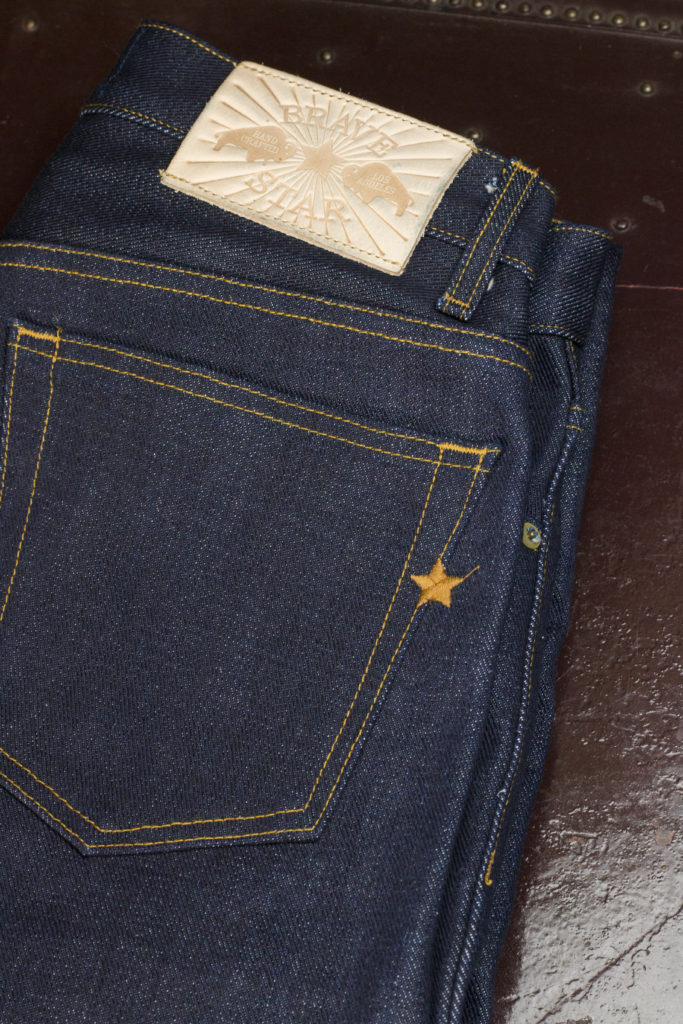 One of my favorite USA made denim brands, Brave Star Selvage recently released their heaviest denim to date, the 21.5oz Slim Straight. I couldn't wait get my hands on this limited, hefty Japanese selvedge and test it out.
Cut: A medium rise with moderately roomy top block and thighs, a slightly tapered leg.
Fabric: 21.5oz sanforized long staple cotton selvedge from undisclosed mill in Japan. Warp yarns are dipped 16 times in indigo, white weft. 3 x 1 left hand twill, mid tension weave. I've noticed that a lot of 21oz denim is relatively flat and uniform in weave and color. On this denim there is a subtle irregularity in the indigo  and just a slight amount of slubbyness in the warp. The color of these jeans is very distinct and beautiful in the sunlight. It seems like there is a vibrant blue just under the surface of the standard indigo.
Details:
Red orange top stitching
Blue on white selvedge ID
Sewn & chain stitched on vintage Union Special, Reece & Singer machines
A & E core spun poly thread stitching
Double prong, Laurel leaf & star donut style buttons
Vintage style pocket rivet burrs
All hardware made in Kentucky
Tucked belt loops
Bar tacks on back pockets
Vertical selvedge ID on watch pocket
6/7mm ultra thick milled vegetable tan leather patch
Patches are cut & stamped, & waistband label woven in Los Angeles
Fit: This fit has a comfortable, medium rise, roomy top block, and thighs. Even though it is a called the Slim Straight cut, it has a slight taper down the leg. On a lighter weight denim I size down one to get a slimmer look.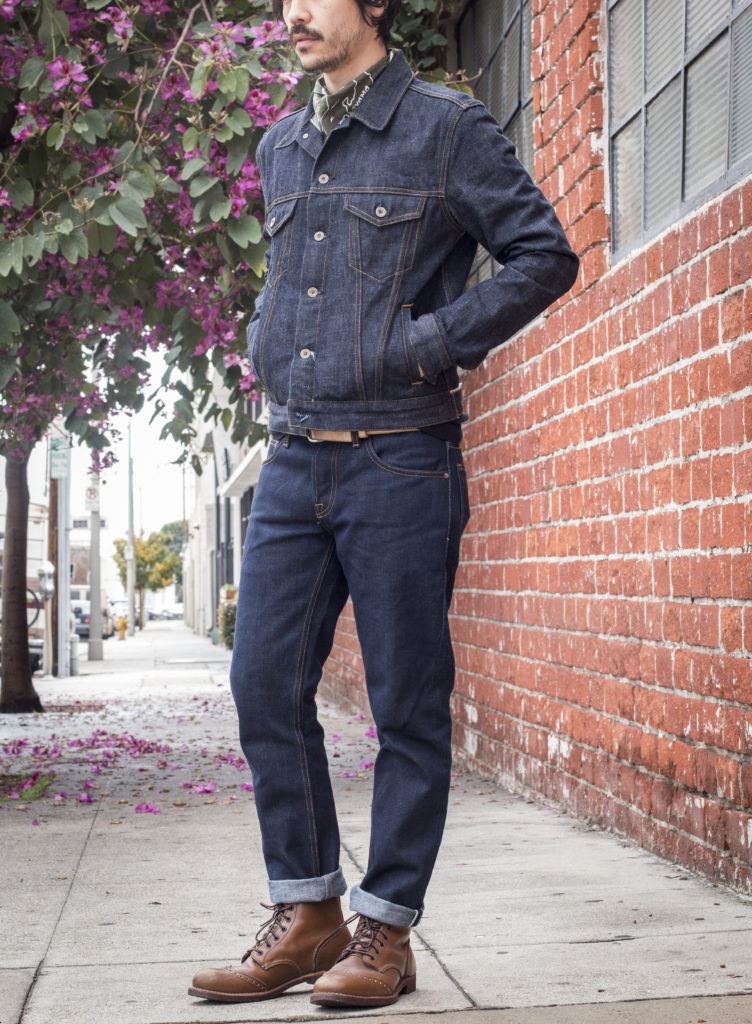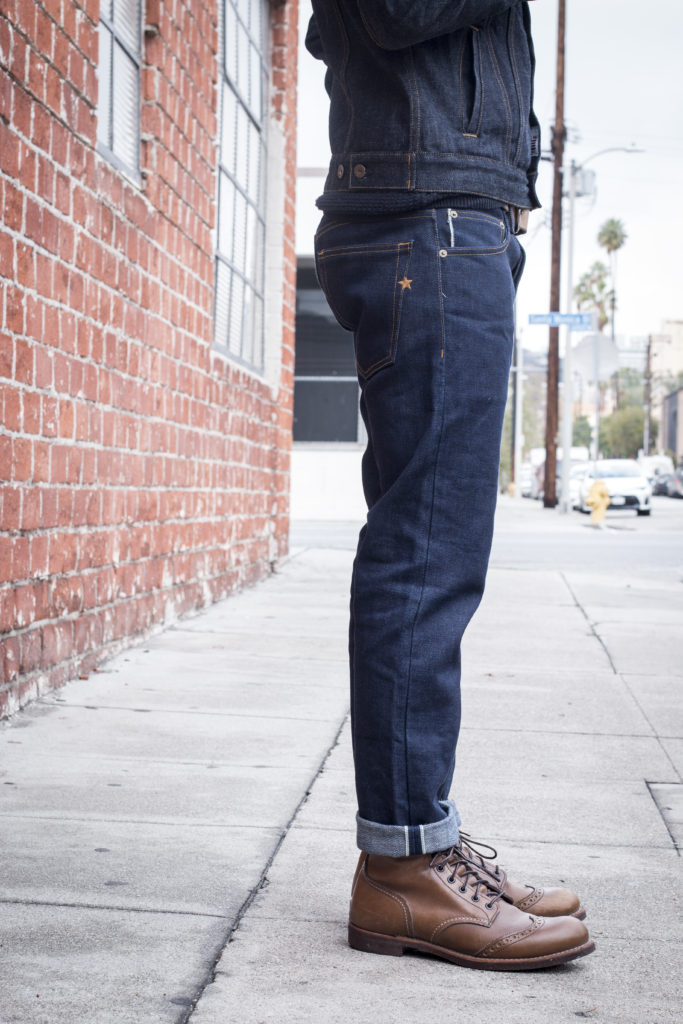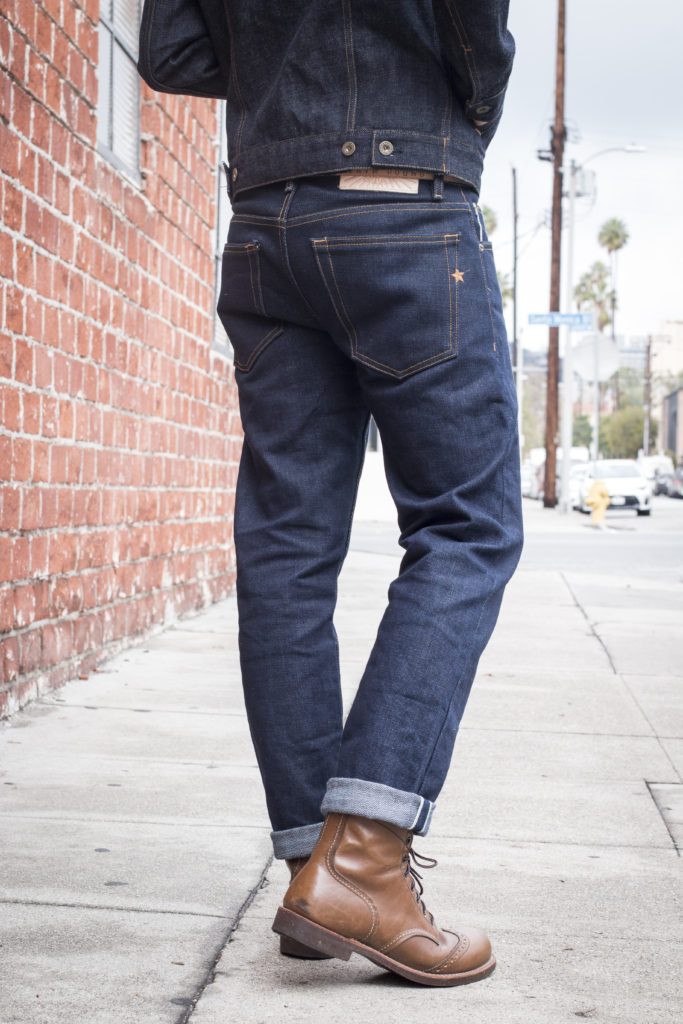 First impressions: Every new Brave Star Selvage piece I pick up reminds me why they are one of my favorite made in the US brands. The construction is sound and the Slim Taper is one of my favorite fits out there. Not to mention, for the quality, they are the lowest priced raw denim in the US. This 21.5oz Slim Straight is their first step into the ultra heavyweight denim world and it is quite impressive. At 21oz+ you don't see many pairs with tucked belt loops.
This denim seems to be a very fast fader and I'm seeing the electric blue on the creases and seams after just a week of wear. Another interesting aspect to this denim, the indigo tends to 'chip' off as it fades. This adds another element of irregularity to the patina as the denim evolves.
After about two weeks of wear The denim becomes very soft a character of the left hand twill weave and long staple cotton.
I will be wearing these regularly in the winter months. Subscribe to the blog to get updates on the progress!
Grab a pair of these limited edition heavyweights at the Brave tar Selvage website.
~ The Denim Hound 1-15-17