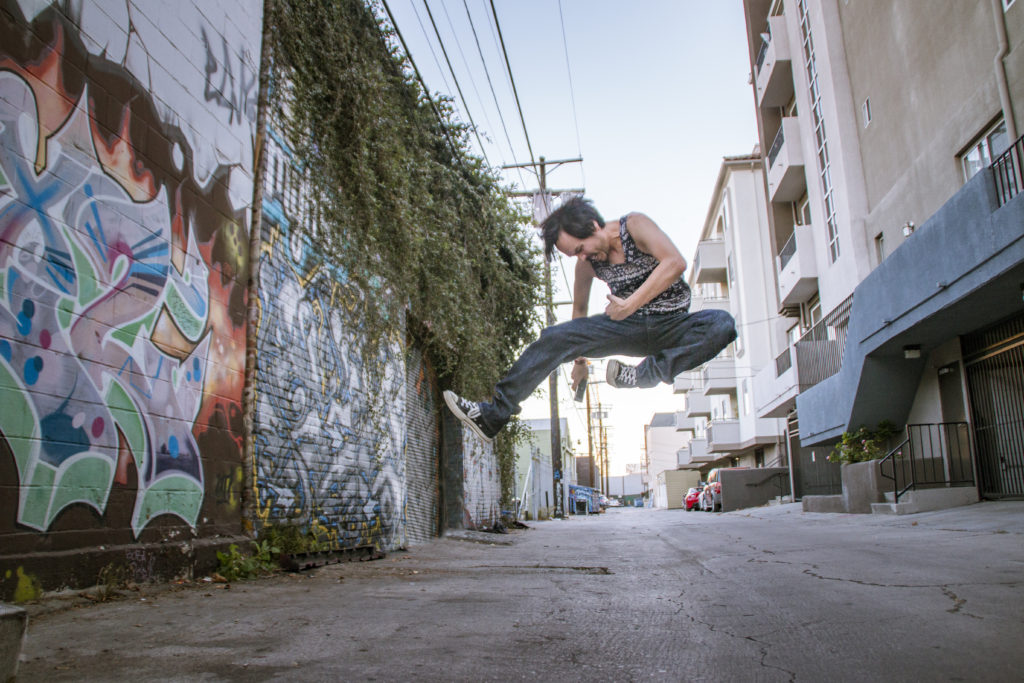 Like a lot of hardcore denim heads, I've been pretty closed off to the idea of stretch denim for a long time. My reasons were:
I thought it wouldn't last as long as 100% cotton. – In this article you will see a pair of my old Levis made from cone mills stretch denim that has at least 1,000 wears and is still kicking.
I didn't like the feeling. It used to be that it did not feel like regular denim. –  The invention of cotton wrapped stretch yarns used in todays stretch denim give the hand feel of classic denim.
Most stretch denim is in the lightweight category. What about those of us addicted to the feel of heavyweight denim? – One of the pairs in this article changes that.
Where is the texture?! Most stretch denim is usually very flat surfaced and not very interesting. Where's the slub?! – Read on and find out!
With all of the reasons I didn't like stretch denim in the past being addressed, maybe its time to give it another chance. This article is not so much as an argument for stretch denim as it is an attempt to start the conversation that in the past, I refused to have. So lets discuss!
Today I have gathered 4 examples of stretch denim that is really ground breaking, and forcing me to reconsider my previous inclination to dismiss stretch denim as fashion denim or meant for girls.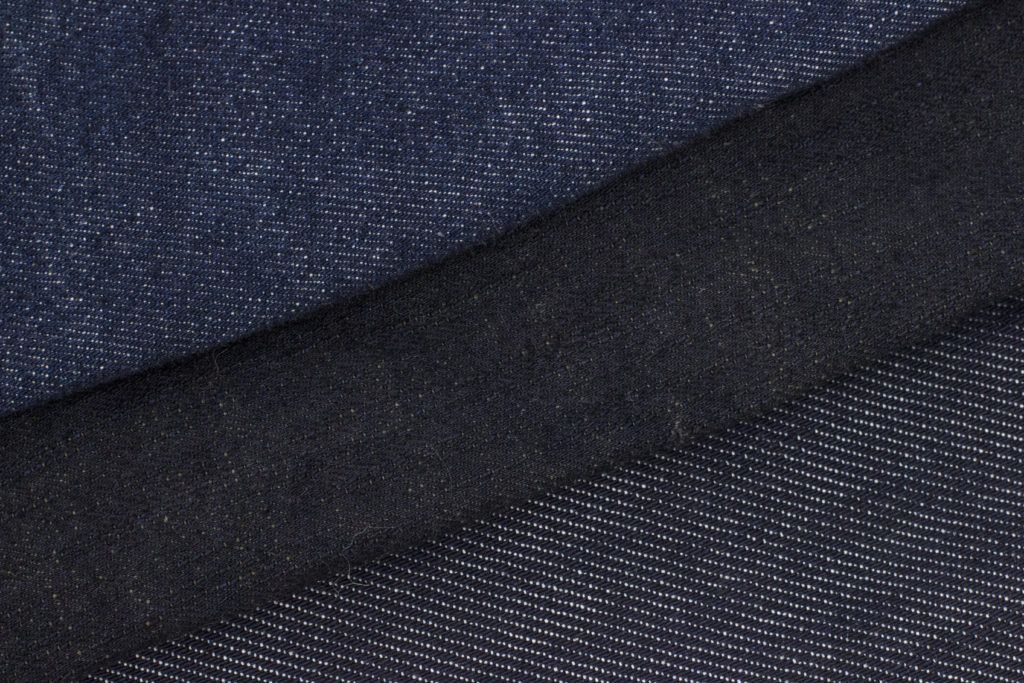 HEAVYWEIGHT STRETCH DENIM 
21oz stretch denim by Kojima Genes x SF. The worlds first 21oz stretch denim.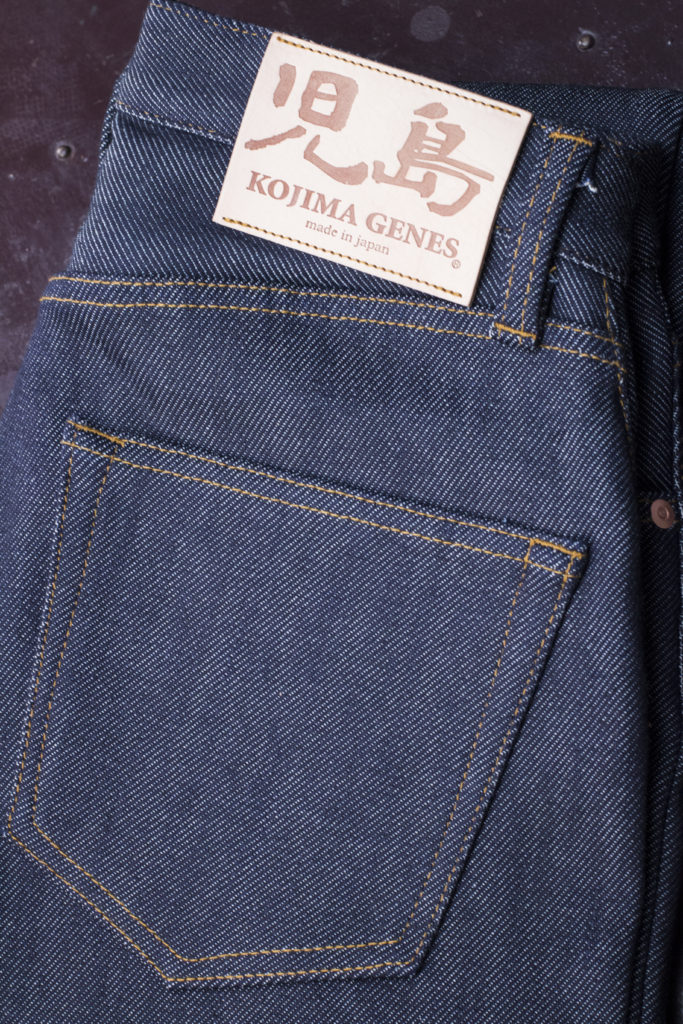 One of the most appealing aspects of stretch denim is the comfort. This pair offers the heavyweight denim experience to those who just don't want to spend a month breaking in uncomfortable jeans. I spend at least two weeks breaking in a new pair of denim for each review I post on the blog, so I am perpetually breaking in new denim, which takes its toll on my waist, hips and knees. It is nice to have a pair of heavyweight denim that I can get a break from the discomfort and still feel like I'm wearing something substantial and durable.
"Many of the most skilled craftsman in Kojima said it couldn't be done, and wouldn't even attempt to make a sample. After 6 months of searching for someone with the ingenuity to attempt what has never before been achieved, we found a world famous fabric maker who was up for the challenge.
By employing a special 'Double Weaving' process, skilled artisans had to pay extremely close attention to the exact ratio of stitches to yarn density, using a special loom. Only this kind of meticulous weaving artistry could make this denim possible.
Even after the first sample of this denim was crafted, it took another 6 months of trial and error to perfect this denim."
~ Kojima Genes
Although this pair is a loose tapered fit, this denim creates a unique opportunity to have a super skinny cut in a 21oz denim that would be too restrictive in a 100% cotton super heavyweight denim.
This denim is a non-selvedge right hand twill. The warp rope dyed 100% cotton so it will still fade like regular denim. The weft is a cotton and polyurethane blend and is a bright white color. It has a relatively flat surface with a little bit of small slub yarns in the warp. The denim has a slight vertical streaky pattern to it.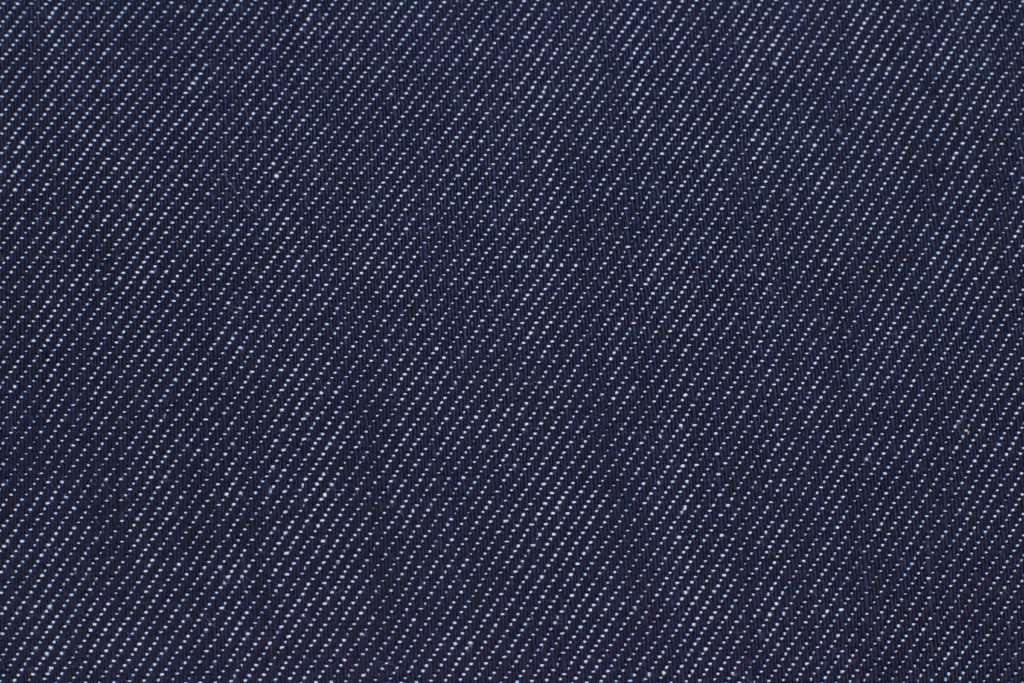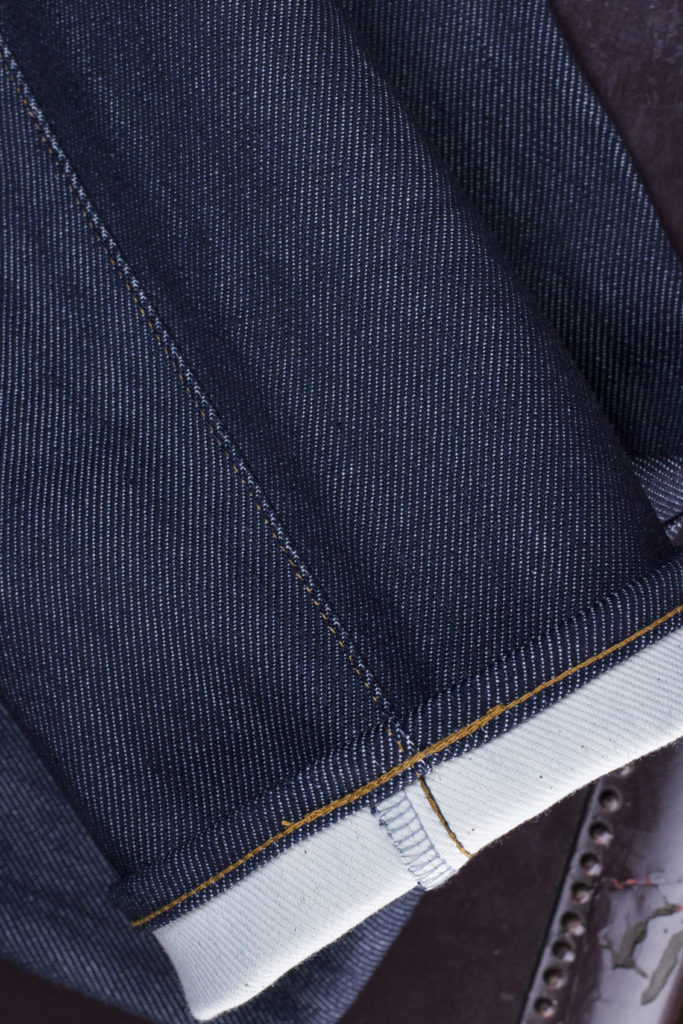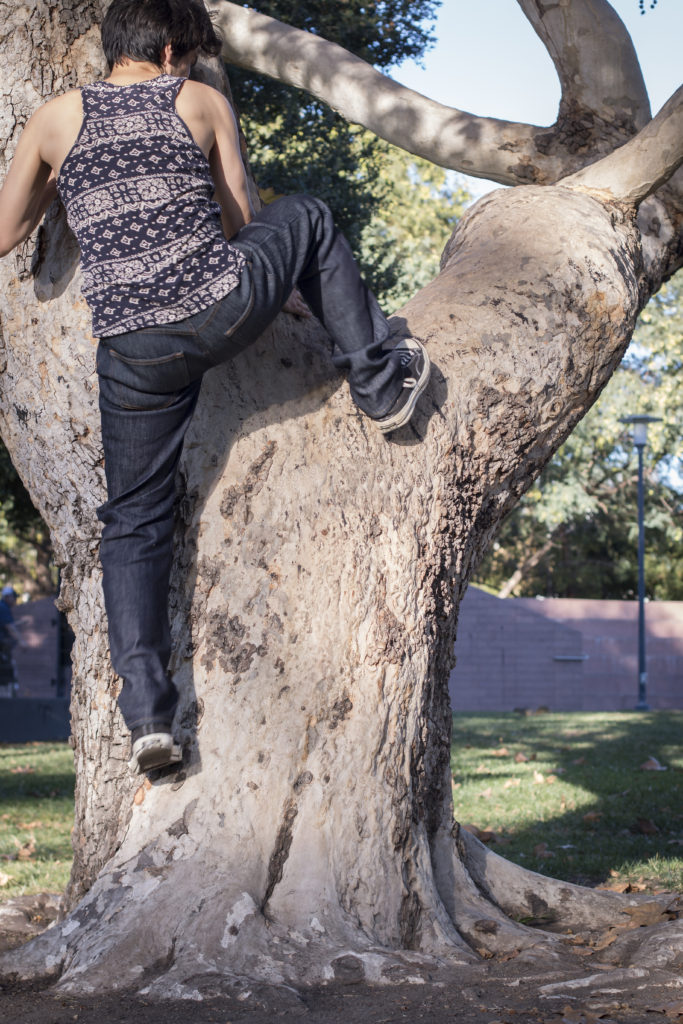 Kojima Genes x SF just launched the Kickstarter campain for the 21oz Stretch Denim, and its only $149! Get your pair of this limited run denim here.
VINTAGE INSPIRED STRETCH DENIM
14oz 4-Way stretch denim by Kato' Brand. The worlds first 4-way stretch.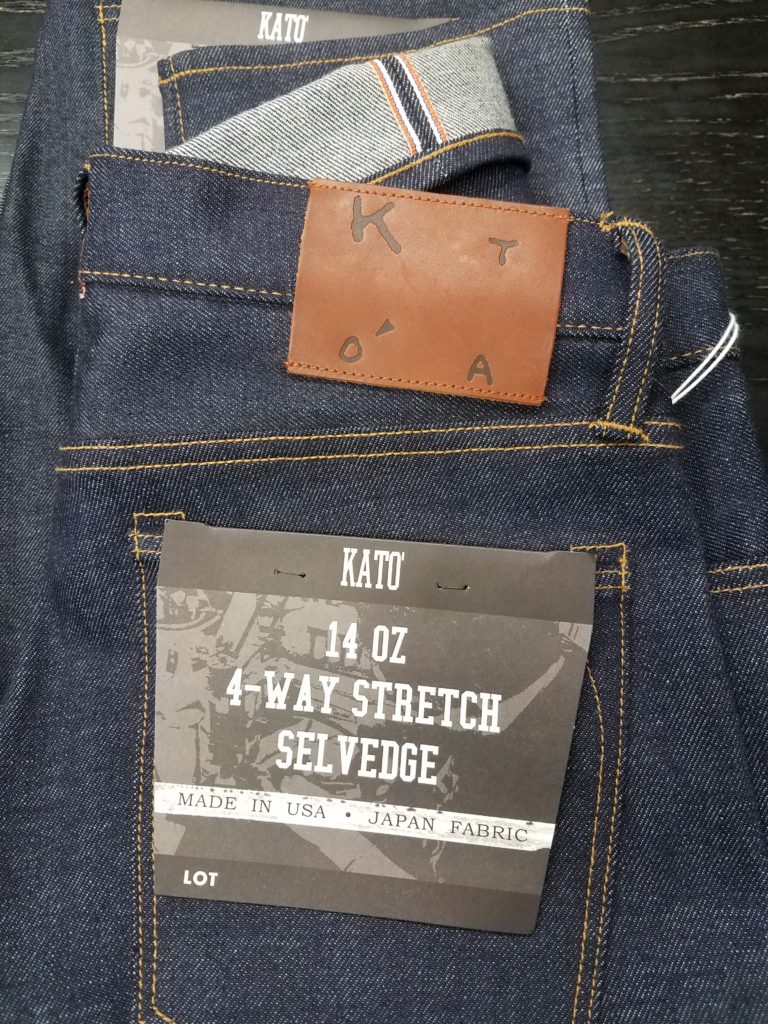 This 14oz middleweight '4-Way' stretch denim from Kato' Brand is the worlds first denim that stretches vertically as well as the usual horizontal stretch. This denim was painstakingly crafted to emulate the look and texture of vintage denim.
A 4-Way Stretch Selvedge that emulated vintage denim was the vision of Nick Noguchi. Nick worked with Kaihara Mill for a year to develop the fabric. Nick knew he wanted to produce a stretch denim on old vintage shuttle looms. No other miles wanted to work with him because using old shuttle machine and weave stretch in the war and weft was a crazy idea for them. 2way was possible to weave, but all the mills said weaving 4way stretch in old shuttle machine was not possible.
Part of the difficulty was that Nick wanted the spacing between the warp yarns to be right, with most stretch denim the wefts elasticity pulls together the warp so very little weft shows through the warp side, making a flatter surface that looks different then 100% cotton denim. Nick wanted the denim to look and feel like a vintage reproduction denim, testing out different weaves to get the right amount of weft popping through the warp.
This denim has been rope dyed with pure indigo and topped of with a slight redcast, to give it another vintage touch. After one month of wear it is clear that this will be a slow fader, which will give the denim low contrast fades and very vintage look.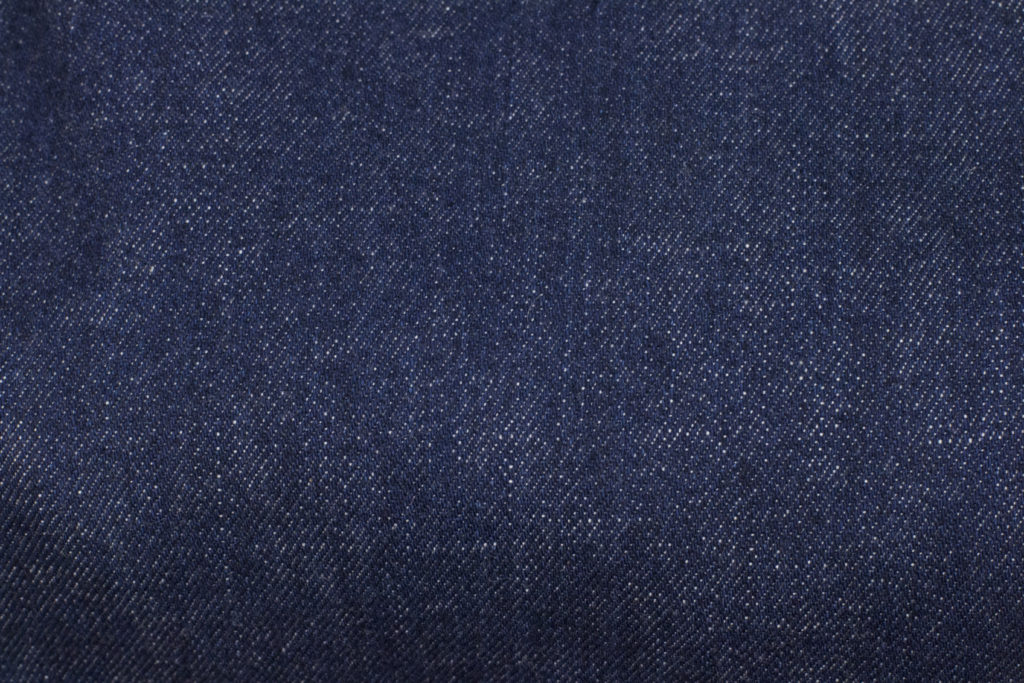 This denim is very soft and probably the most comfortable denim I own. Because the stretch yarns are wrapped with cotton (India x USA x Pakastan), the hand feel is virtually indistinguishable to 100% cotton jeans, unless of course you give is a stretch. The great thing about this denim is that it retains its shape and actually has much less blow out in the knees than 100% cotton denim, so the slim tapered fit is achieved without the baggy knees, which happens to virtually every pair of slim and skinny jeans I own. In the pics below you can see there is no bagging or sagging in the knees or seat. I have worn these jeans for over 30 days straight with no soaking or washing. I even crouched down for about 5 minutes before taking the pics to really test the bounce back of this denim.
A fit like this in 100% cotton denim would be very tight and in my opinion, very uncomfortable for at least the first few months.
This pair was released by Kato' in the fall of 2016. Recently, the same mills that said it wasn't possible and would't attempt the 4-way stretch have started producing their own version. Sometimes you have to really push to achieve your visions, once you do, others will follow.
Kato' also makes a very nice black version of this denim in a slim tapered and skinny cut. Go to Kato Brands website to find out where you can get you hands on the original 4-way stretch.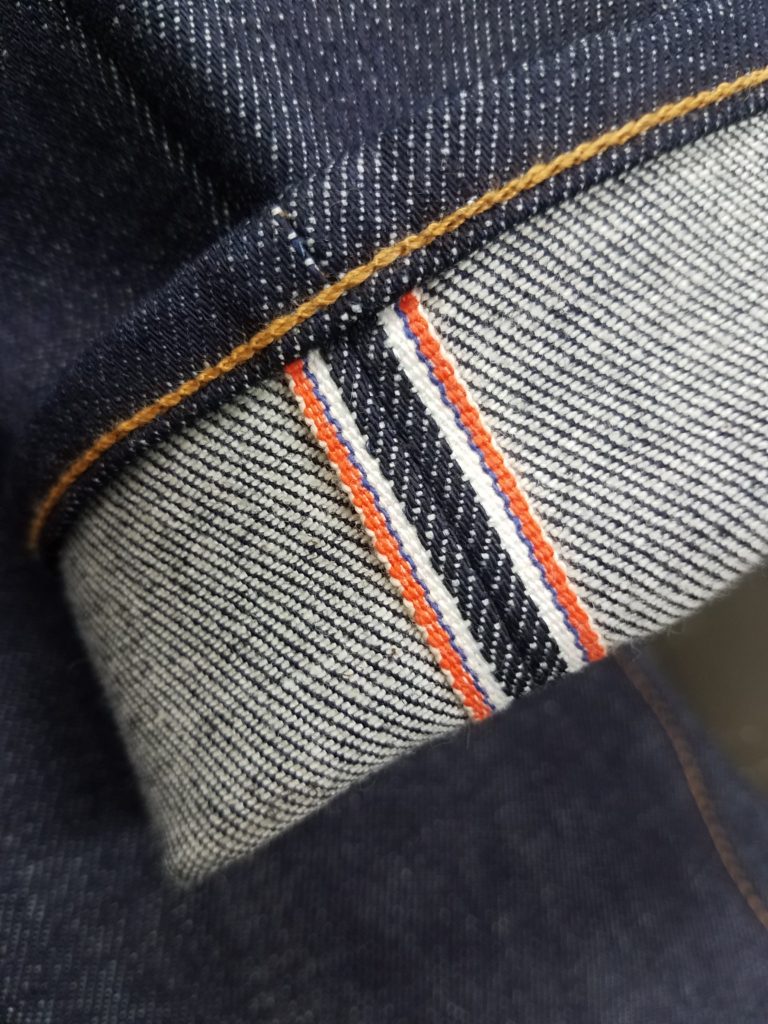 SLUBBY STRETCH DENIM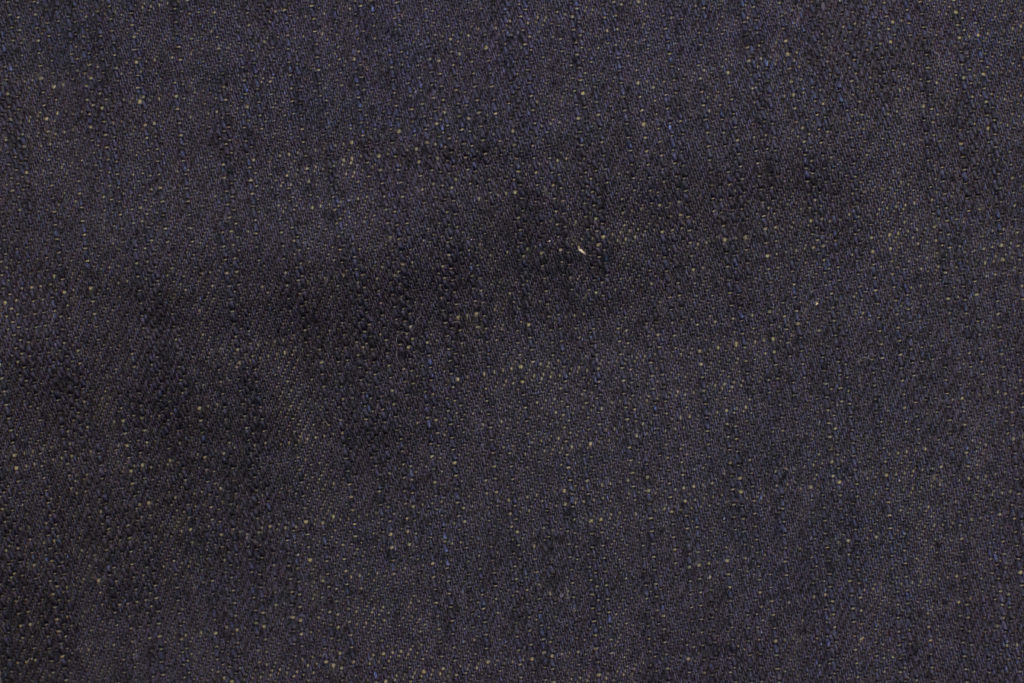 If you are like me, you need that slub in your life. One thing that most stretch denim is missing is the extreme textures of slub, nep and hair.
This pair by Naked & Famous is as slubby as any non stretch Japanese denim, The Army Green Weft Slub Stretch denim by Naked and Famous has a nice amount of small to medium slub yarns in the warp and weft giving a nice crosshatch texture. The bumpy and moderately rough texture of this denim will get any denimheads attention. Not only that, it has a sick army green weft! The warp has been dyed with a dark indigo, giving it an almost black color. This will fade like any other denim and reveal a nice indigo shade. After three weeks of wear there are little spots showing the electric blue pop promise of sweet fades. I would say this denim will be a medium speed fader.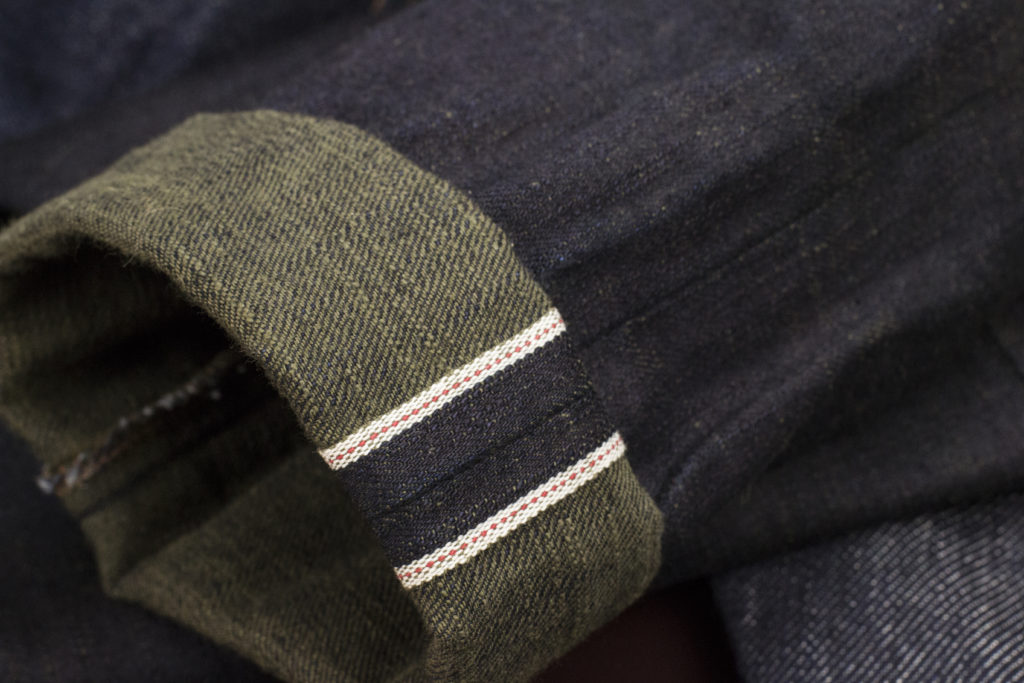 HOW DURABLE IS STRETCH DENIM?
How long does stretch denim last? This is a pair of Levis 510 that I've had for over 10 years and at least 1,000 wears
Here is some pictures of my Levis 510 non-selvedge that I've had for over 10 years. They show the potential longevity of stretch denim. This pair has over 1,000 wears and have been washed many, many times. There is nothing special about this denim, they probably only cost me about $70. It is 99% cotton and 1% spandex, probably about 10 or 11oz. The crotch has just started to blowout within around wear 970! Usually you can expect the crotch to blowout within the first 300 wears on any high end denim. The knees and back pockets have not shown any signs of holes either! I'm not going to make any final judgements on weather stretch denim lasts longer then 100% cotton, but by these pics you can see that the stress points on the denim seem to hold pretty well.
How do you feel about stretch denim? Leave me a comment 🙂
~ The Denim Hound 10-30-17