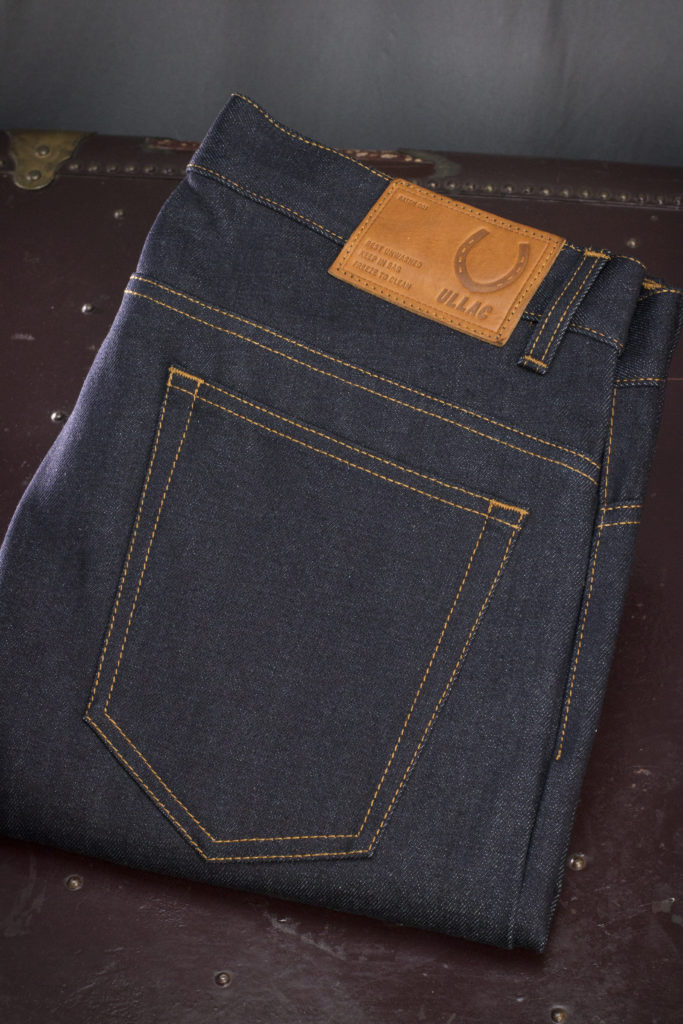 Today I'm thrilled to be reviewing the new denim brand ULLAC. ULLAC from London and Helsinki, is the first denim brand I've reviewed here that the denim mill (Candiani), and the sewing factory ('the Dini'), are both in Italy. I'm proud to own this pair is from ULLAC's first batch of jeans ever made.
Cut: 002 Slim. This is a very interesting cut that I really like.. a lot! I would call this a "hybrid" cut that resembles a relaxed high tapered cut in the top block (high rise, roomy top block and thighs) but turns into somewhat of a slim straight cut from the knee down (Strong taper down the thigh that mellows out after the knee, skinny knee and hem). ULLAC has managed to design a cut that has a strong taper but without giving the overall silhouette a "carrot" or "peg leg" look.
Measurements (size 32): Waist 35.8″, rise 11.6″, back rise 16.5″, hip 19.4″, seat 20.75″, thigh 12.5″, knee 8.25″, hem 7.25″, inseam 35.8″.
Fabric: 16oz sanforized right hand twill selvedge denim from Candiani, using 40% BCI cotton (20% Brazil, 20% Ivory Coast). This is the heaviest denim Candiani produces. It starts out slightly ridged but gets nice and soft very quickly. This denim has a nice amount of fuzzy hair to it.
BCI promotes better standards in cotton farming by encouraging fair labor practices, economic development, even training for farmers and workers.  BCI also works to minimize pesticides, fertilizers, and GMOs. You can read more about BCI here 
https://bettercotton.org/
With an indigo warp and white weft, this denim is dyed using slasher dyeing technology. It's a dark double-dip Indigo shade with a sulfur base and a red cast. After the denim was dyed and woven it was dipped twice in indigo to give it a deep dark warp and a lightly indigo tinted weft.
The fabric is gently woven on fully restored and updated shuttle looms from the 50's. The speed of the looms are set at 140-200 bpm to put less stress on the yarns and the fabric, which produces a really nice consistent surface. A really great denim for those looking for nice high contrast fades but who are not a fan of super slubby or neppy denim.
Details:
Gun metal Cobrax donut buttons and rivets

Hand branded Conceria 800 leather patch.

Handwritten cut, size and batch info on pocketbags

Each pair comes with a signed pocket letter on 40% wool paper from Japan.

Fire yellow cotton wrapped poly stiching
Double flat felled inseam
Tucked belt loops
Classic red line on white selvedge ID
Chain stitched hem and waistband
Bar tacks instead of hidden rivets on back pockets
Embroidered ULLAC horse shoe inside waitband
Another interesting aspect to the first run of 300 pairs of jeans is that ULLAC will replace your jeans if you post a pic of every day you wear them for the first 300 days (no washes). Its a challabge for sure, but one that I will be attempting on my new Instagram feed @ULLACfader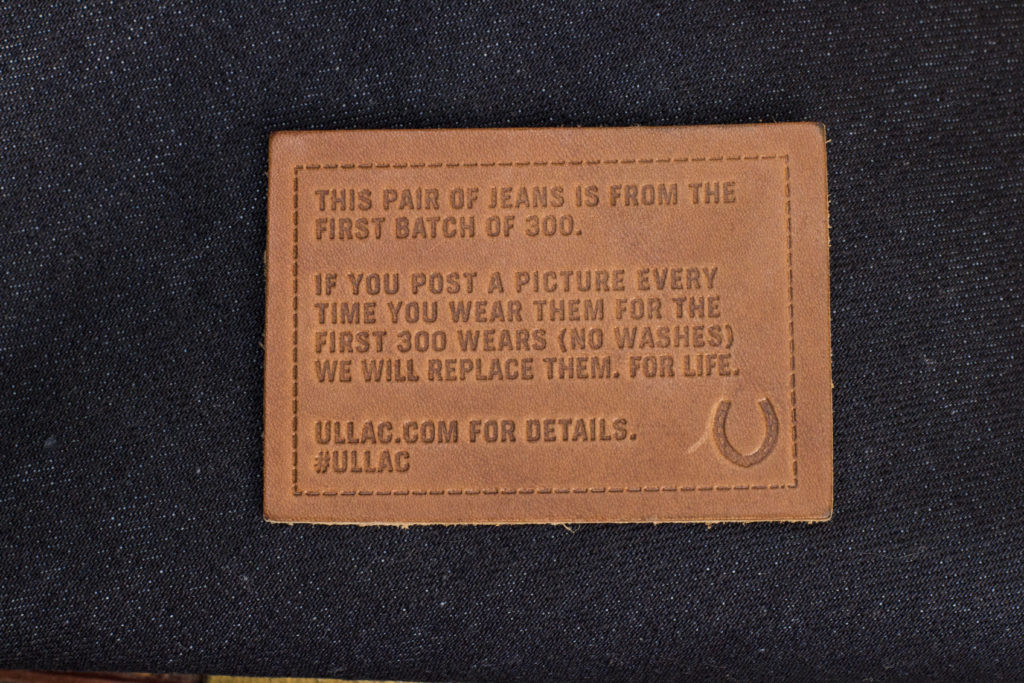 First Impressions: 
Really diggin' this cut. So comfortable in the top block and thighs but still a very nice slim tapered silhouette. This denim doesn't shrink much and stretches quite a bit so if you are in between sizes you may consider sizing down. A nice detail included in this pair, the leather used on the patch comes from a tannery called
Conceria 800. Conceria 800 is one of the best tanneries in Italy, specializing in an ancient type veg tanning known as pit tanning. Well constructed with clean stitching. This pair forgoes any extra embellishments on the details, resulting in a very clean pair of classic 5 pocket jeans. Because of the way this denim is dyed you can expect a very high contrast and quick fade, which makes it a great option for your next fade project.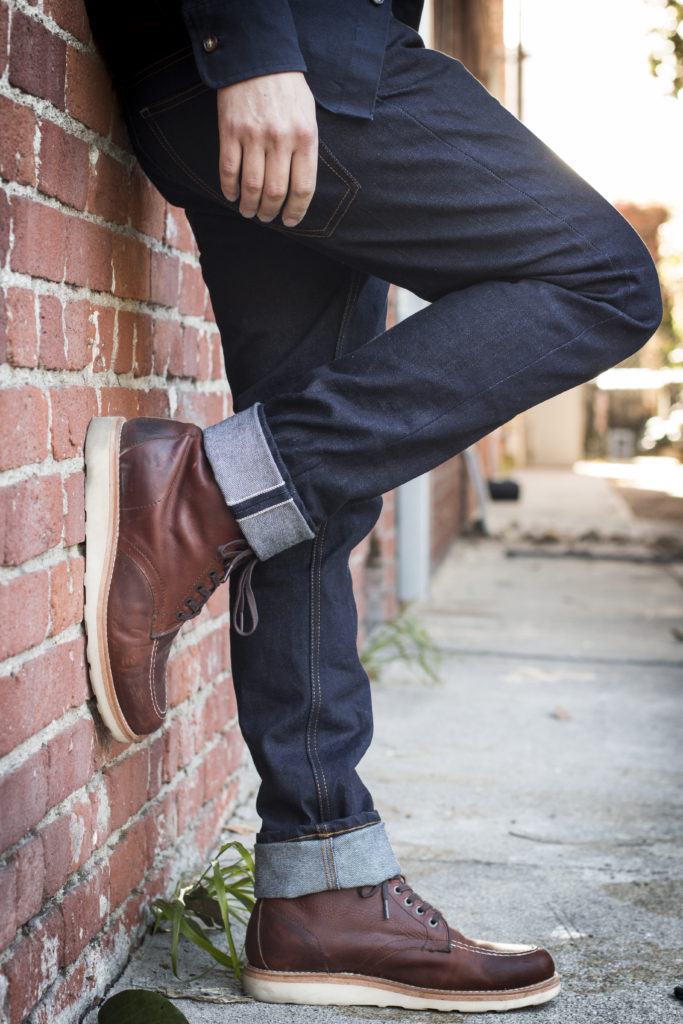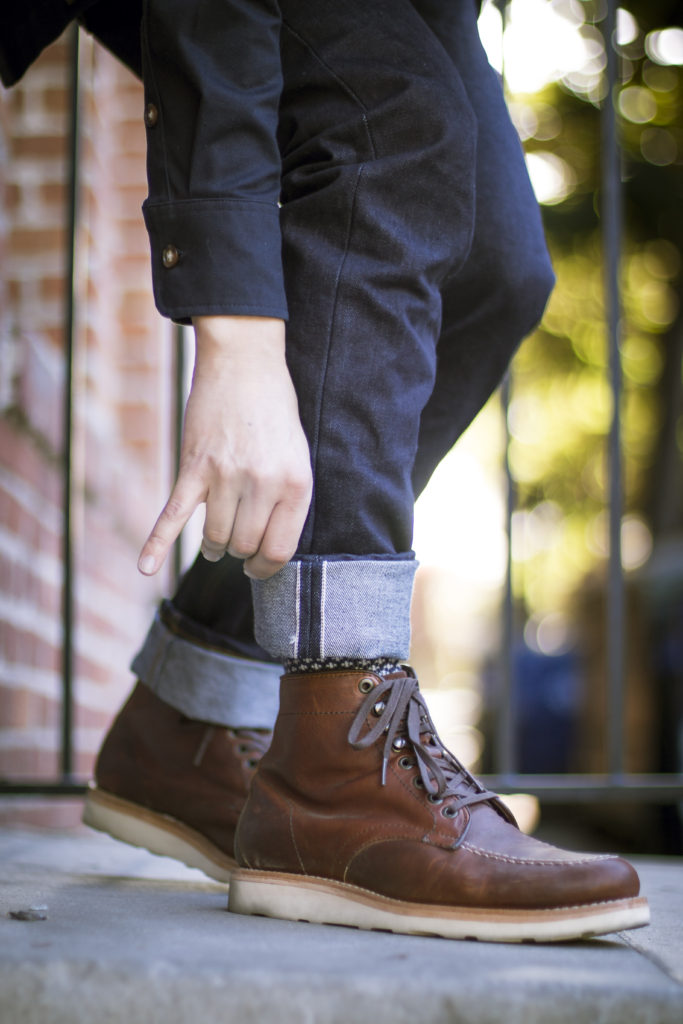 I'm looking forward to fading this denim and have even created a new account on Instagram to document the first 300 days of wear. You can follow the progress at
@ullacfader
You can purchase this pair from ULLAC'S website,
here.
~ The Denim Hound 1-15-17