In 2004 William Carnes started operating a Rickshaw and was constantly wearing things out due to being drenched in sweat all day.  After several years he grew tired of his stuff constantly falling apart.
"I have always been inspired by the durability and simplicity of the Brooks saddle. After a cross country bicycle trip it dawned on me to construct a wallet with the same simplicity and durability."
This inspiration led to the worlds first riveted wallet. 8 years later, he's still using the first copper riveted prototype  daily.
In 2011, under the name Clintonville Leather aka CVL, Bill began selling his handmade leather goods through Etsy. Devoted to creating heirloom quality items from the finest full grain vegetable tanned leather from Belgium and produced in a sustainable, environmentally friendly manner.
"My wish is that my work may make your life less complicated so that you may have more time to foster stewardship and joy within your family and community."
Here, I am reviewing the 18oz Hermann Oak – Old World Harness leather, with fine pewter buckle.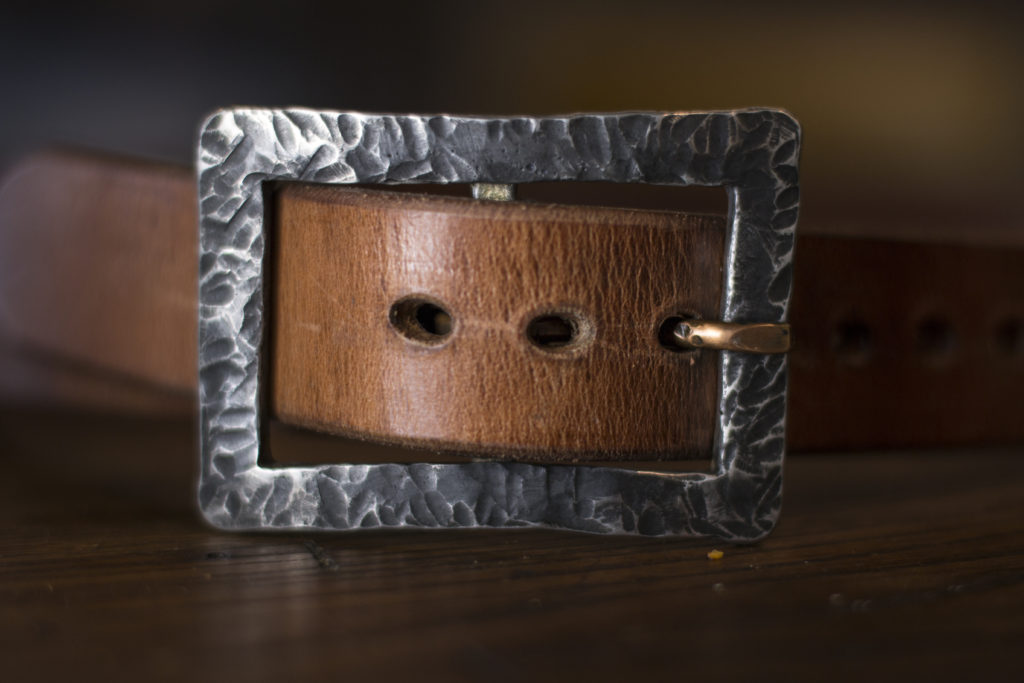 Leather: Made of 18oz Hermann Oak Old World Harness leather. The leather is hot stuffed with waxes and oils for weather resistance and durability.  The old literature from the tannery about the leather specified it for applications where the item was to "outlast the user."
Buckle: The buckle is fine pewter which is hand cast and forged.  It is an oversized center bar buckle to accommodate the oversized belt. Pewter is not a heavy duty metal so it is not for extreme wear, more of a casual buckle. It will tarnish and patina with wear.
"I have made buckles with several kinds of metal and was inspired to use Pewter after seeing some of the nice buckles Samurai (Jeans) was using on their Heavy Duty belts. I have been working on this buckle design for over two years and am very happy with this version. Every detail of the buckle is completed in my studio."
First Impressions: This belt is built like a tank. The 18oz leather feels like it can stop a bullet. if you are looking for a belt to compliment your 25oz super heavyweight denim, this could be it. After a few weeks of wear it will begin to break in, but it is not a quick transformation. The buckle is on the larger side and definitely stands out. The hand hammered finish is a nice touch and compliments the leather well. Not the choice for a someone looking for a subtile or stealthy belt but this thing will last you forever. A nice rugged grain to the leather makes this a great belt for a western or rock and roll vibe.
You can purchase CVL goods here.
~ The Denim Hound 10-12-18