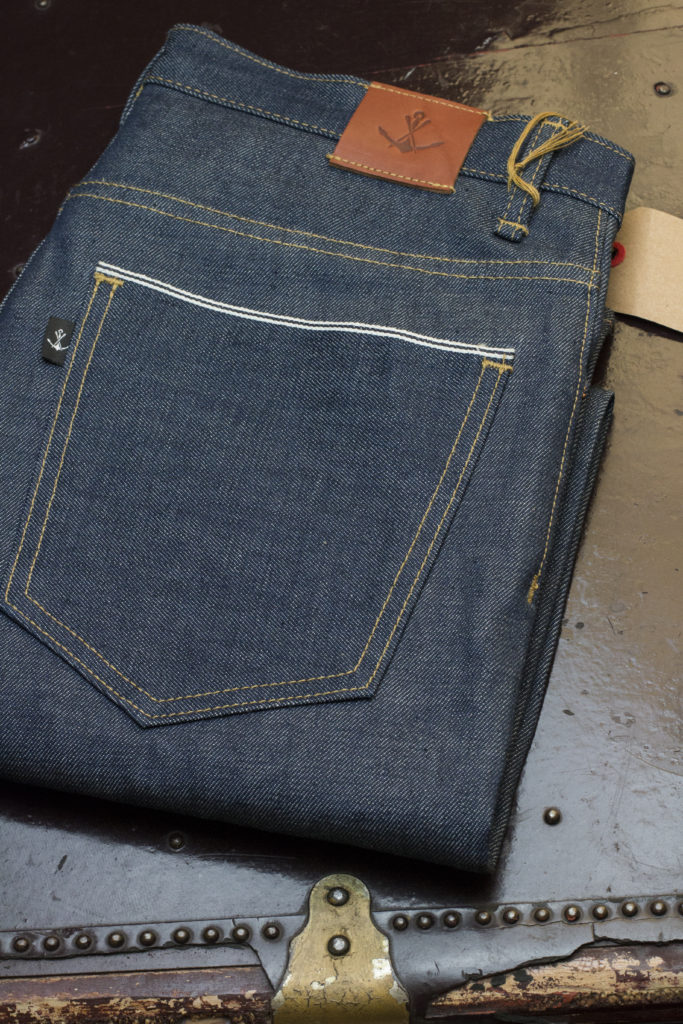 Luis Nagaki started Threaded Anchor in 2013. A one man operation out of Miami, Luis has been refining his work and building his workshop up to house an impressive 18 sewing machines, including: Union Specials, Singer, Juki, Brother, Reece. I spoke with Luis about his love for raw denim and how he got into making jeans.
Tell me a little bit about your background.
"1st off, I am a techie. 100% computer nerd. A Senior Devops to be exact, and have been working with computers ever since the weee ages of 13. Became the HS Admin to all servers / Computers at 15. I'm 35 now, so 20 years in. I also build vintage motorcycles and vintage cars, so I have always been someone who gets interested in something, finding out how it works, how it was made. This played a big role in Threaded Anchor. I wanted my own family roots to be the core of the company, and influence the ideas that I have. My great grandmother worked in cotton mills in peru and is originally from Japan, so it resonates in my blood.
Woah, a vintage car building computer nerd! How did you get into raw denim? How Did Threaded Anchor come about?
"I stumbled across Momotaro and other Japanese makers of upwards 900$ and up. I asked myself 'WTF!? Why so expensive?' Well the search started to get even deeper. What machines are used, what thread, hardware, fabric. Once I got to the machines and fabric, it was GAME OVER! I bought 1 machine, an old singer 31-15.. then another, 3 machines, 4… and now I'm at 18. I invest all my own money, no venture capital or loans. The 1st year was research, research, research. Learning patterns and sizing, I spent months to get it just how I wanted it."
I was able to get Luis to make me a personalized pair of his Slim Skinny cut. So let's check it out!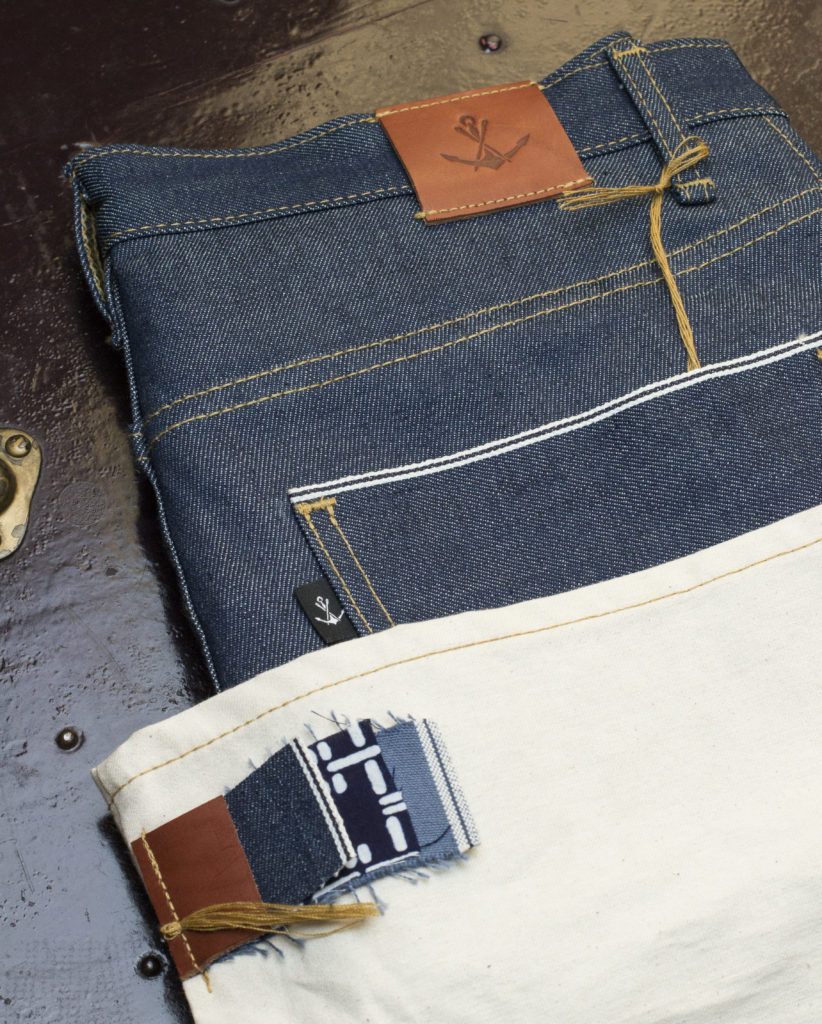 Cut: Slim Skinny. A slightly modified version of Threaded Anchors Slim Tapered cut. A generously roomy top block and thighs, with a tapered leg.
Measurements (size 31 after soak and 1 wear): Waist 34″, Rise 11″, Thigh 11.5″, Knee 8″, Hem, 7″, Inseam 30″
Fabric: 12oz sanforized right hand twill selvedge denim woven in Japan. Roped dyed with pure indigo, this denim has a very nice vintage, almost natural indigo hue. Under the sun you can see subtle irregularities in the indigo, which is very nice. A medium tension, semi-flat weave that is slightly rough on the indigo warp side and soft on the natural weft side. A little bits of nep here and there. A great summer denim with enough texture to keep it interesting.
Details:
Thread and Anchor branded, narrow leather patch
Black and white selvedge ID
Exposed watch pocket ID
Copper "nipple" rivits
Copper donut style tack buttons
All hardware made in Japan
Bar tacked back pockets
Kimono fabric yoke lining
Black Threaded Anchor back pocket tab
Exposed back pocket selvedge
Cotton wrapped poly stitching thread
Machines used in construction:

Union Special 43200G (hemming)

Union Special 39200 (overlock)

Union Special 35800 (flat felled)

Juki Straight Stitch DDL-5600

Kansai (waistband)

Union Special 7900 (belt loop)

Brother LK-430? (bar tacker)

Reece 101 (keyhole)
Fit: I  should have sized down, being that it is 12oz denim and stretches out a lot. Any shrinkage is immediately lost on the first wear. I think if I would have sized down it would be a very nice slim tapered fit.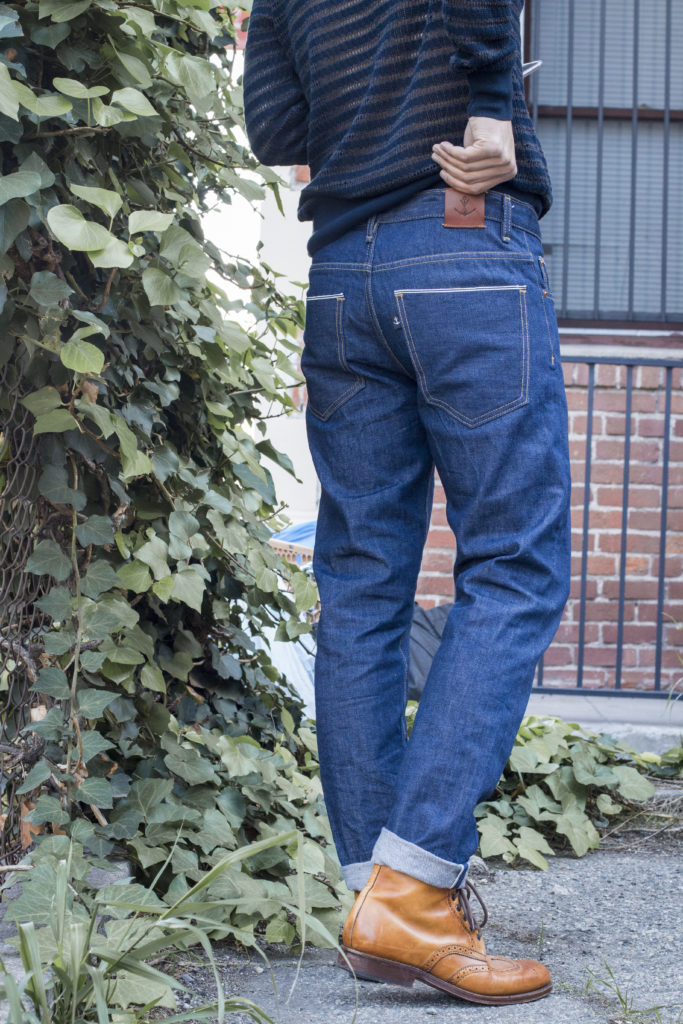 First Impressions: First I have to say I really love the way these jeans were delivered, in a hefty canvas bag with fabric samples and thread attached, creating a pallet of all the materials used on the jeans. Great presentation! This is the first pair of lightweight denim I have ever reviewed here, and for good reason. I don't really like light weight denim, usually. But I am happy to say this pair is actually going into my summer rotation. Very comfortable and probably wearable into the 90˚+ range. The selvedge ID on the back pockets is a little bit more flash than I am used to, but for a summer jean it seems to fit. All in all a good pair of denim with all its own character and charm.
At the time of posting this review the Threaded Anchor
website
is under construction but you can message and inquire about Threaded Anchor denim on the
Instagram feed
.
~ The Denim Hound 2-1-17