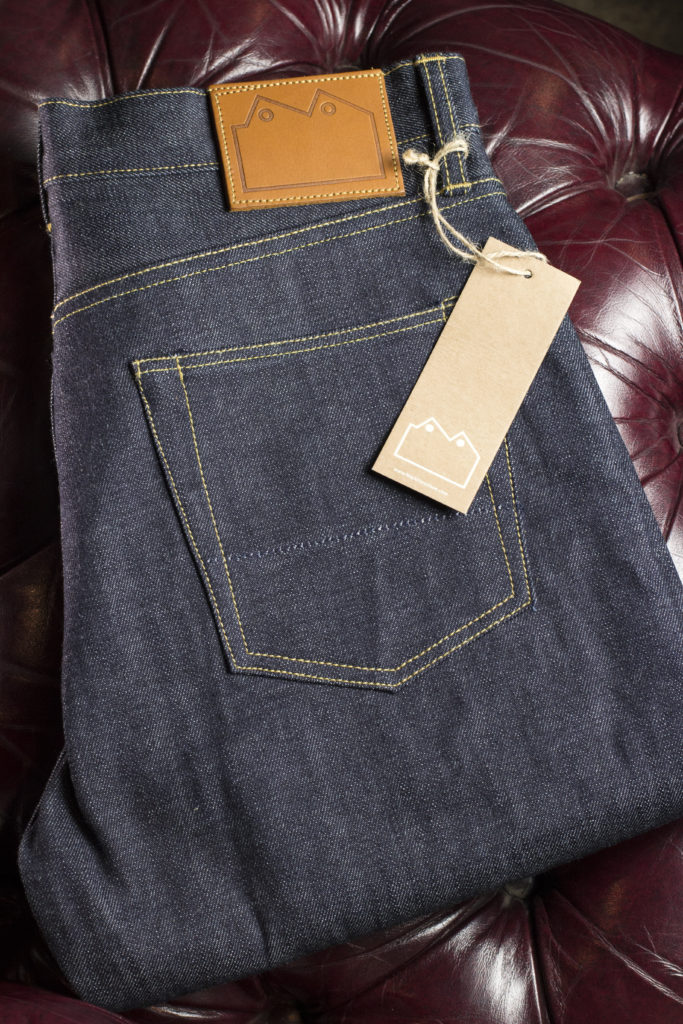 Started in 2016, Blackhorse Lane Ateliers have been the only jeans made in London for the past 50 years. Located in an old factory from the 1920's in Walthamstow, this brand is very serious about making the best pair of jeans possible, while offering fair wages and great working conditions (they have an in-house chef). BLA treads lightly and reduces their environmental impact of making denim garments by using organic cotton, denim woven in Europe. They also offer a lifetime repair policy, to discourage fast fashion.
Han the founder of Blackhorse Lane Ateliers, is a second generation Londoner with Turkish Kurdish ancestry, Han and his family have a long history of manufacturing in the clothing and textile industry. He runs BLA under these simple tenants;
All our employees will be paid a fair living wage and will not be subjected to Zero Contract hours.
We will not work with suppliers unless we have visited their production facility and observed their business practice.
We will seek organic textile materials wherever possible.
We will follow the Japanese philosophy of Kaizen, seeking continuous, achievable and realistic improvements each day.
BLA has an impressive group of specialist running every aspect of the brand, some with over 40 years experience. For more info on the team behind the brand you can read more here.
I've been interested in reviewing Blackhorse Lane Ateliers since they began in 2016 and am happy to get a chance to finally do so with their E8 Slim Tapered Indigo Selvedge Jean.
Cut: Slim Tapered. A nice med to high rise, with moderately roomy thighs and a slim tapered leg from the knee down. For me, it's a great balance between a slim and relaxed tapered cut.
Measurements (size 32): Waist 17.25″, rise 11.75″, back rise 15″, hips 18.75″ seat 20.5″, thigh 12″, knee 8.6″, hem 7.1″, inseam 36″.
Fabric: KD55 – 14oz  sanforized 100% cotton right hand twill denim woven in Japan by Kurabo Mills. Considered Kurabo's signature "Vintage Denim". A double dip indigo warp and white weft. This denim uses higher tension yarns and has a moderately tight weave, giving it a ridged and solid hand. A light, long length slub yarn in the warp and weft give it a nice subtile crosshatching texture which will show more as it fades. Overall a smoother surface and solid tight weave denim.
Details:
One piece button fly
Heritage-style reinforced waistband construction
Hidden rivets on the back pockets
Stress points are bar-tacked for extra strength
Copper buttons and rivets produced by YKK
Lined back pockets
Tucked belt loops
Cognac English vegetable-tanned leather patches are cut and stamped by hand
Locally screen printed pockets, signed off by maker
Tobacco dual duty thread by Coats
Double felled inseams
Black line selvedge ID
Peekaboo selvedge on watch pocket
"Tailored finish" seams, instead of overlock stitching
Labels are woven in Wales by GB Labels
Swing tags, rider tag and jeans sleeves are printed by Lester, E17
100% constructed in Blackhorse Lane, London
First Impressions: A really great fit. Slim tapered jeans can be tricky. Too tapered and you have the peg or carrot leg look. Not tapered enough and you have hems that or too wide, or even worse, thighs and knees that are too tight. This cut seems to hit the sweet spot, slim and tapered while being comfortable and maintaining a good silhouette. Also has a great rise length for me, not to high or too low. The denim has a very nice and solid vintage texture, interesting enough for the adventurous denimhead but still tame-able by the average jeans wearer. This is a good denim for actually working in, a good balance between tough and smooth texture. Has the sturdiness of 16oz denim, and because of the rigidity feels heavier then most 14oz denim. Blackhorse Lane has really put a lot of work into the details and construction of their jeans and the had work has paid off with a clean and sturdy pair of denim.
This pair is available at Blackhorselane.com
~ The Denim Houndla