Shop Life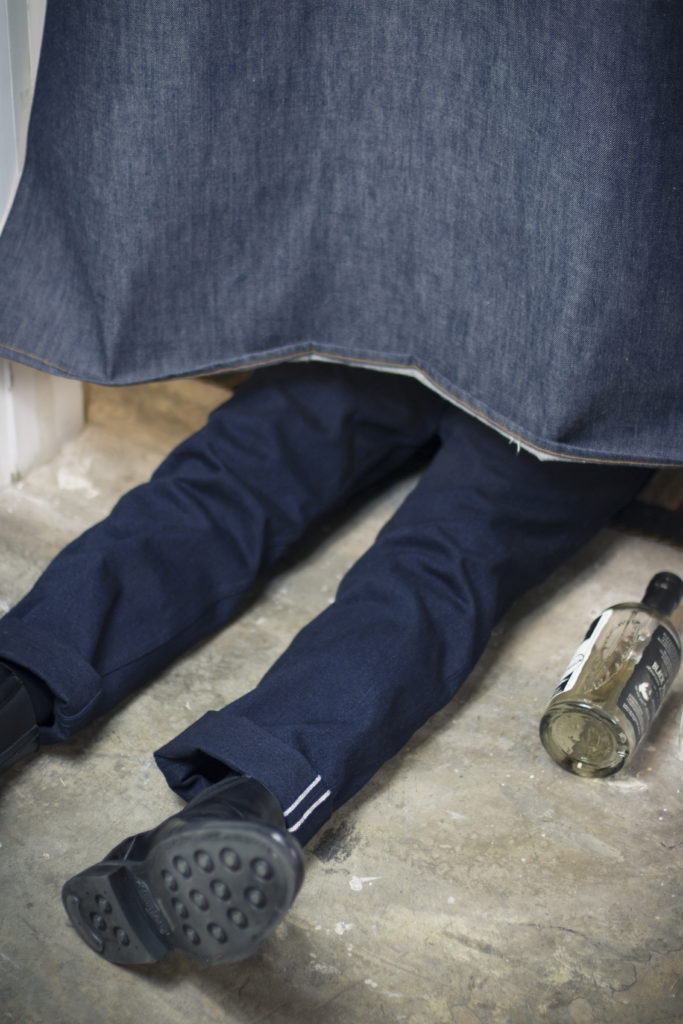 8am – My eyelids open, the light tears my brain in half. I'm laying on my back on folded cardboard boxes, in a tiny space about the size of two phone booths. I hear the groan of a bridge troll or maybe a grizzly giving birth. Matt's awake. I'm at Freenote.  I crawl out of the dressing room. "I passed out." I say and realize at the same time. The shop is just beer cans, BBQ, and clothing. I sit back down and try to pull my vision together. No luck. Water. Matt sits next to me on the couch, shirtless, hairy chest in all its glory. The shop fan that Andrew bought earlier in the week is deafening. We sit captive by its industrial cooling power. Drunken sweaty men. David made a few small sounds a while back, so I'm pretty sure he's still alive. Andrew is missing. I plug my phone into the wall by the bar. I consider taking out a Coors. Hair of the dog. But I can't. My phone turns on and I scroll through my email.
About 15min later I return to the shop from Kindness & Mischief with some coffee and an avocado toast. It's delicious. Andrew returns from his night in the van. I put the Freenote Cloth sign back out front, Matt puts on a shirt and we all go back to work. "Dial it in" Andrew says like a captain going into battle as he walks out the door and dissolves into the hot light of the day. I throw on Airel Pink's "Another Weekend" and look through a box Andrew brought in last night. The new unsanforized denim! Stoked. I pull out my camera and dial it.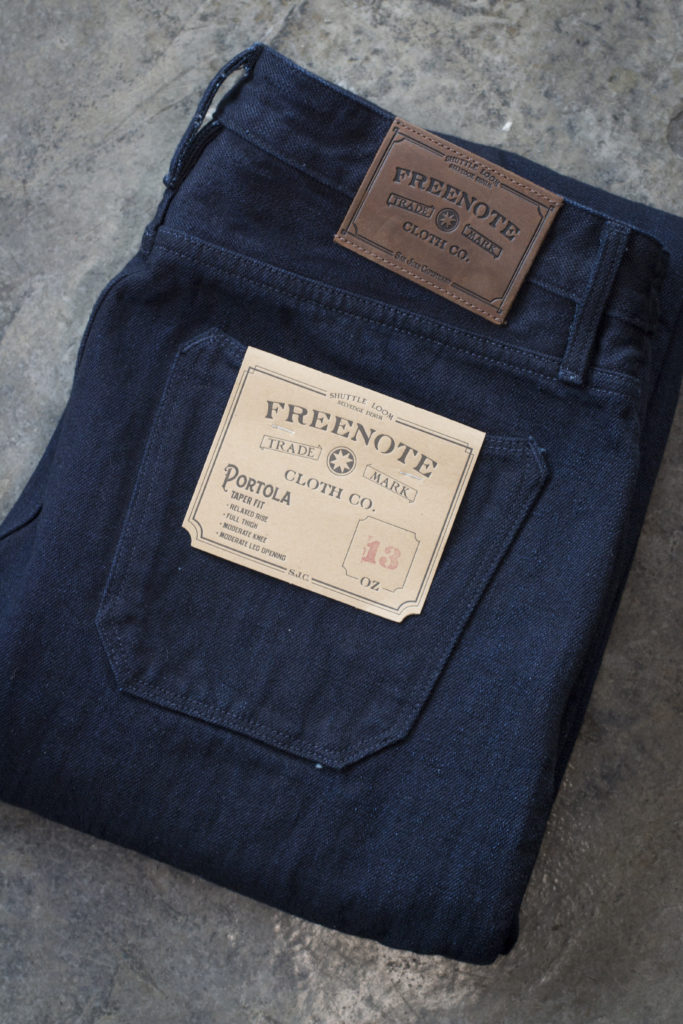 Cut: Portola – Medium rise, roomy top block and thighs with a strong taper from the knee down.
Measurements (size 33): Waist 35″, rise 11.25″, back rise 15.5″, thigh 13″, knee 9.25″ hem 7.5″, inseam 33.5″.
Fabric: A 13.25oz 100% cotton unsanforized Japanese selvedge denim. from Yoshiwa Mills. Indigo warp and indigo weft. A very slubby, loose weave denim that is already soft from the one wash process. The rope dying method has left the core of the yarn in both the warp and weft very white, so you can expect high contrast fading. The ultra slubby, loose weave of this ID x ID denim is very similar to what you will find on some of the great Japanese denim brands such as PBJ or Tanuki. This fabric has undergone an industrial wash so all of the shrinkage is taken out. It is very soft from day one.
Details:
Reversed copper rivets
Contoured waistband
1/8″ double needle accents
Branded leather patch
Japanese herringbone pocket bags
Custom rivets and button tacks
Copper button-fly
Tucked belt loops
Faded pink selvedge ID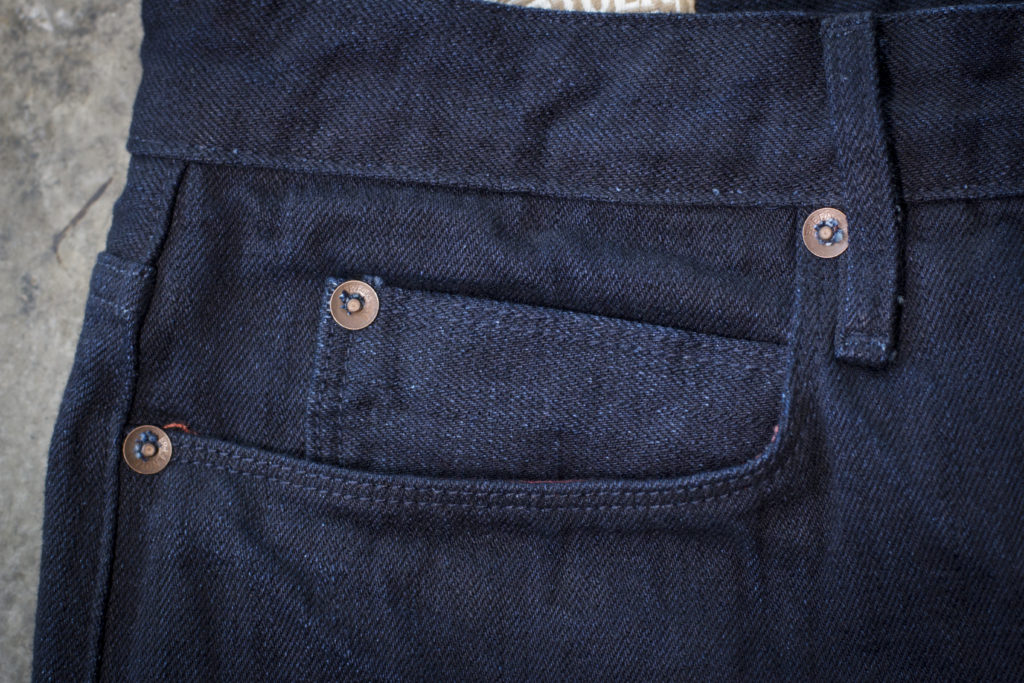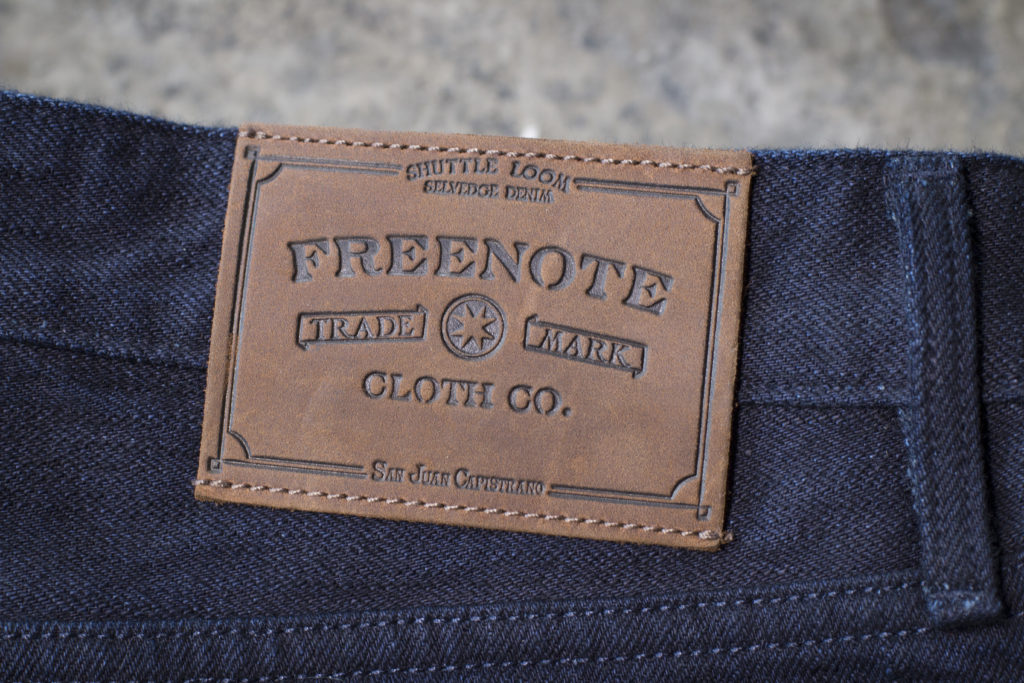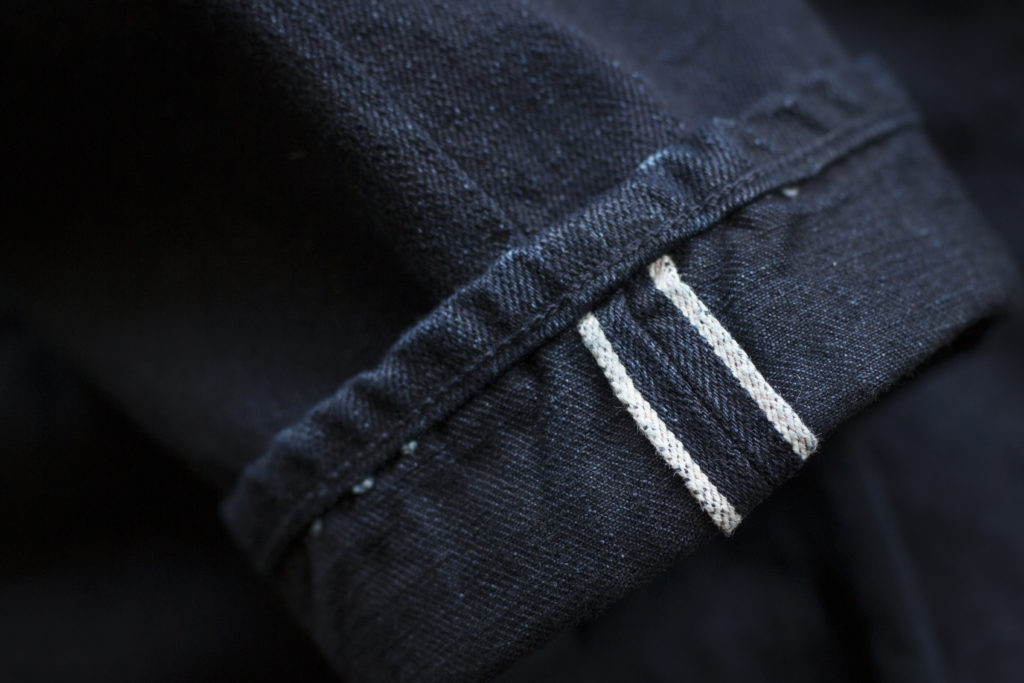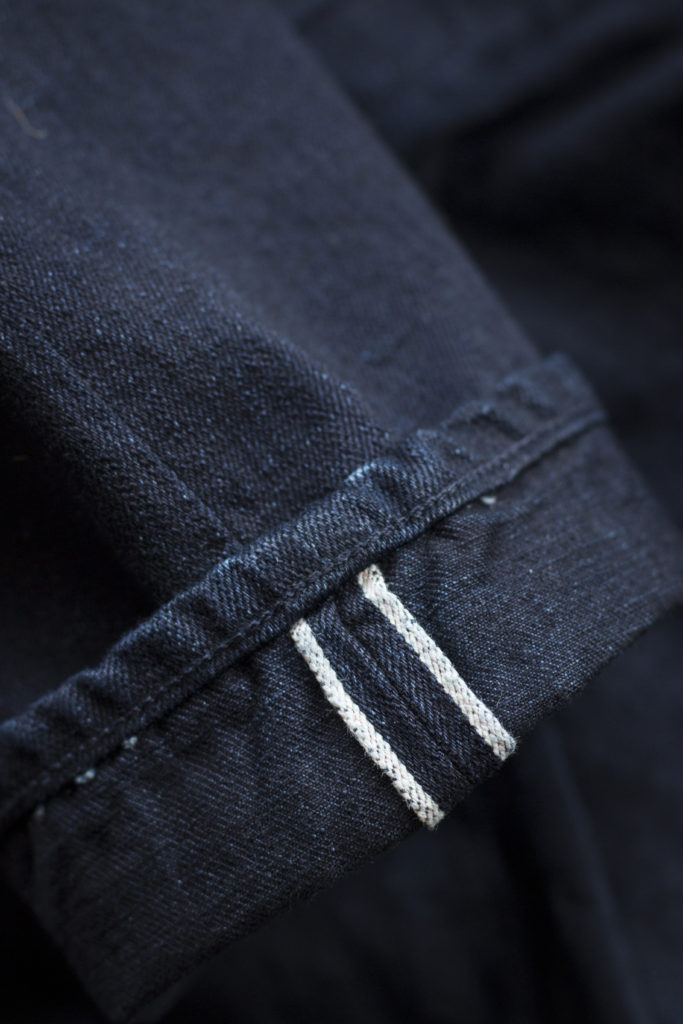 First Impressions: These jeans are comfortable from the first minute of wear. I have a soft spot for slubby unsanforized ID x ID denim, after all these years, it's still one of my favorite types of denim. The texture of this denim makes it feel more like a 14oz denim. I upsized on my pair, looking for a super comfortable wear and I found it. One of my favorite details on Freenote Cloth jeans is the contoured waistband. It make the jeans fit in the top block in a way that I haven't seen in other jeans. Something you have to try on to feel what I'm talking about. Im about two weeks into wearing now and the denim has shaped and creased nicely, compared to when I took these photos. The friction points are starting to get shiny and inky. This pair is now #1 in my rotation and I'm looking forward to seeing the fades, even just a couple of months down the road.
This pair is available at Freenote Cloth's website here.
~ The Denim Hound 09/10/18